Let's start with the basics. What is an email preference center? 
Most, if not all, organizations enable their customers to manage their communication preferences with an email preference center.  51% of people unsubscribe because the irrelevant content or lack of email personalization drives them to leave. A well-designed and on-brand preference center experience reduces global unsubscribe rates by letting the user customize:
The type of content they want to receive

The frequency of communication

Whether they want to opt-out or opt-down from these communications
Why should I have a custom preference center instead of an out-of-the-box solution?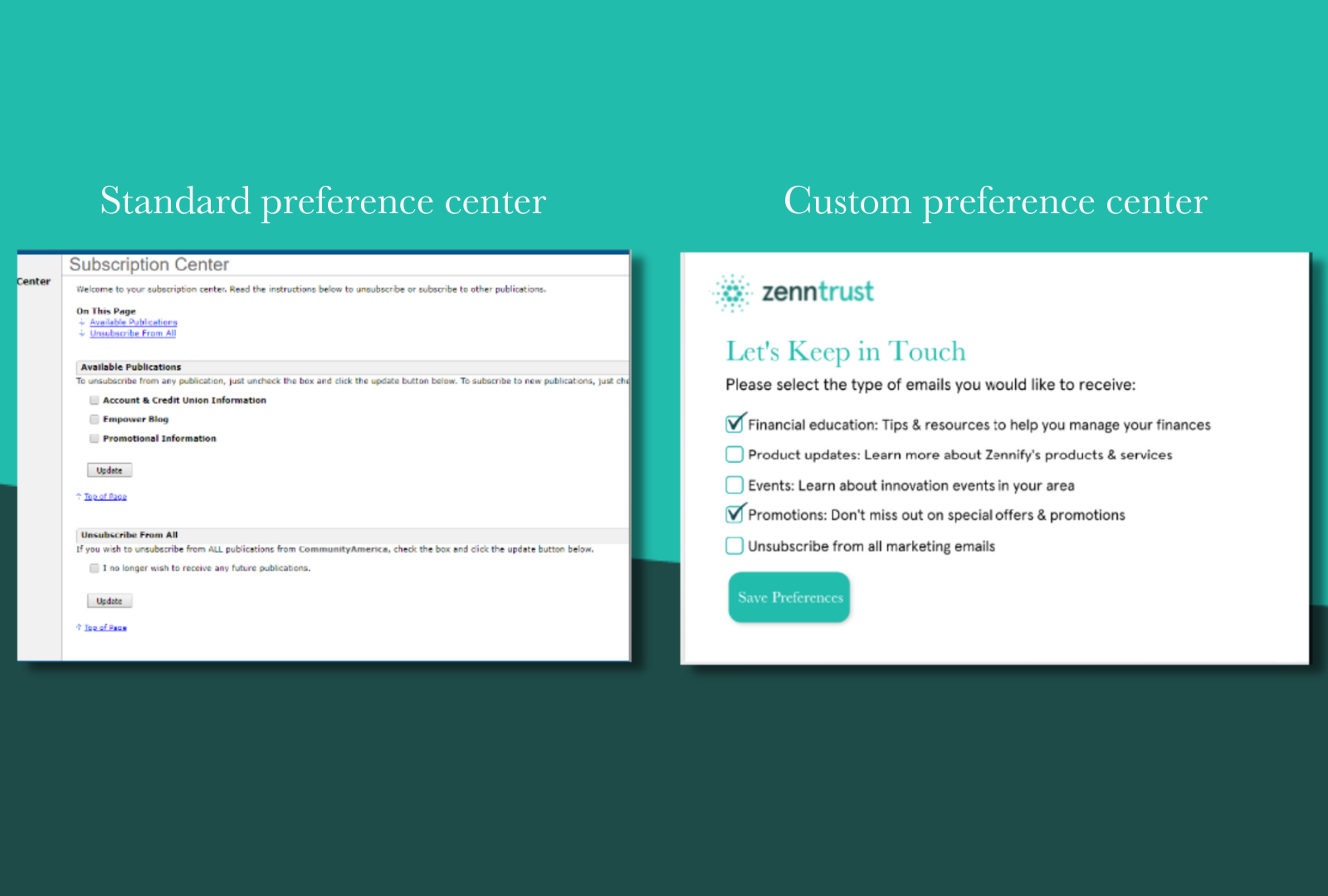 Positive brand engagement & churn reduction:

Customers who feel that they can fully manage their email communications preferences will stay loyal and trust the brands they're engaging with. They'll want to stay connected with the brand because they are receiving tailored, relevant communications. 

Stronger and more complete customer profiles:

Relevant customer profiles enable you to provide personalized and relevant offers – thus increasing the likelihood of purchase or service adoption. By using surveys and progressive profiling in your preference center (as well as your emails), you can build better customer profiles over time.
Standard, out-of-the-box solutions are limited and do not include advanced functionalities that will enhance your customer experience and reduce unsubscribes. A custom preference center solution, like Zennify's Dynamic Preference Center Accelerator for Salesforce Marketing Cloud comes with pre-built assets that help you deploy your preference center much faster, as well as additional features such as:
Custom branding – increases brand loyalty by providing visual consistency of your brand look & feel across different channels

Custom domains – reassures your consumers that they are visiting a legitimate site, with a branded domain that they are familiar with.

Unlimited custom fields – so that you can have sufficient data points to create a more complete customer profile.

The ability to add dynamic personalized content

And so much more.
It's easy to implement our Dynamic Preference Center Accelerator if you're already on Salesforce Marketing Cloud. The included pre-built assets make it easy for your Salesforce Marketing Cloud admins and developers to deploy your custom preference center quickly, and maintain it easily due to the accelerator's "clicks-not-code" nature. Unlike other preference center offerings, the Zennify accelerator is available to you at a set one-time fee, without a recurring subscription cost. 
What are the components that make a well-built & customized preference center?
The Zennify Dynamic Preference Center Accelerator helps your preference center meet the following guidelines:
Transparent and relevant communication options for your customers

, which includes what type of content they want information on and at their preferred frequency.
Compliant consent capture

that meets regulations such as CAN-SPAM or CASL.
Brand alignment

: Your preference center should have your brand look & feel, as well as a branded domain name.
Build relevant, updated customer profiles

in order to send highly personalized emails that speak directly to their specific demographics and needs. 

Have questions about implementing a custom preference center?
We're here to help you with best practices and considerations when designing and implementing your customized preference center. Get in touch with our team of experts to learn more!