Looking forward to Salesforce Summer '20 with 2020 vision
Summer means different things to different people: Vacations, no school, summer jobs, cool treats, or getting lots of sun. It also means it's time for the Salesforce Summer Release; and although there are so many new features and functionality, it would take 559 pages to fully explain it all. We've compiled our Top 5 favorite new features from the Summer '20 Release – and you don't want to miss them!
The first thing to note is that the release date for Summer '20 was pushed to July, which means you have a bit more time to prepare. As always, to get the specific details you should refer to the actual Summer '20 release notes.
The Actionable Relationship Center (ARC) is a standard component that can now be added to either Account or Contact page layouts. With the use of ARC, you see a comprehensive view of your customer and their relationships, giving you a better idea of who could be influencing them.
This new functionality requires the Financial Services Cloud Extension permission in order to access it. With this permission, you are able to see both Financial Services Cloud relationships and related list relationships all in one view.
There is some configuration available since you can adjust which related lists are visible within ARC. Within the Financial Services Cloud, the functionality around relationships was always key. Now with the use of the Actionable Relationship Center, you have a tool to uncover hidden opportunities based on a panoramic view of the customer.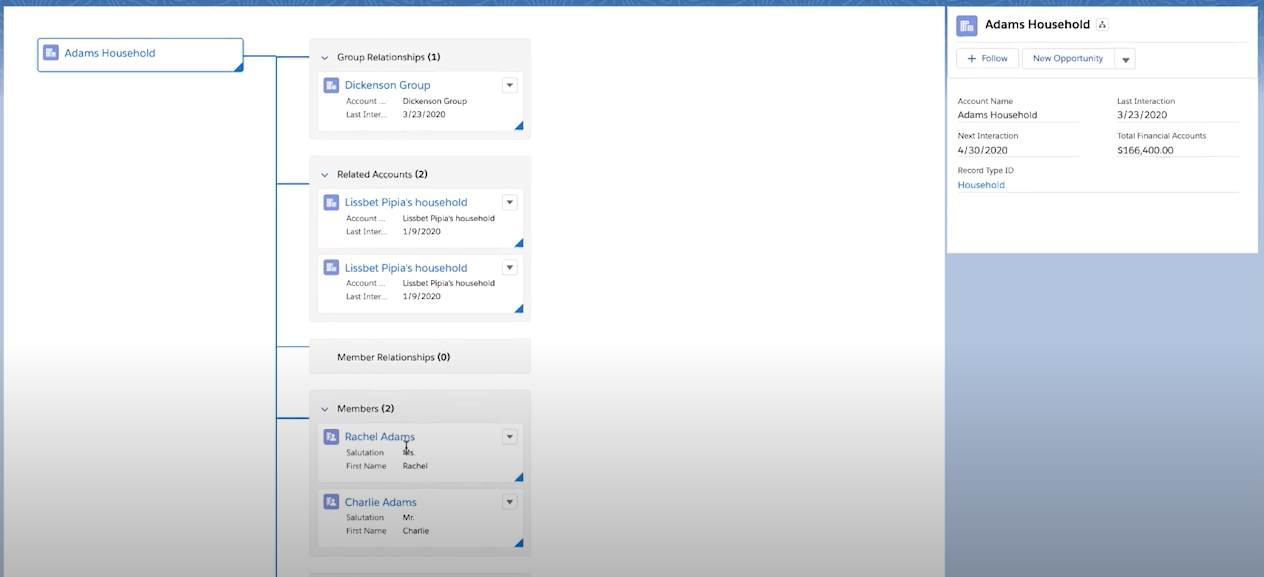 For those in the Mortgage Lending business, you receive a goldmine of information during the loan application process. With nine new Mortgage Record Creation settings, you can now automatically generate financial accounts, assets and liabilities as a result of using the Create Financial Records process. All of this essential customer data for a loan application can now be easily shared with other lines of business.
Here is a business scenario this feature could be used for; the loan application has details on existing assets, such as checking accounts, retirement account, existing home or brokerage accounts. After those assets are verified, they should be represented as assets that belong to the client. The Create Financial Records process can now automate the creation of all these assets records in Salesforce!
Read the Define Mortgage Record Creation Settings page in the Financial Service Administrator Guide to learn how to use this new feature.
This new functionality is good news for those who don't want to code in Apex. Flow is now able to work similarly to how an After Trigger works in Apex. An After Trigger can access field values like Last Modified Date or the ID of the record after the record is saved. With Flow Builder you will now be able to do the same thing. As shown in the screenshot below, you determine not only when the Flow is triggered, but also if the Flow should be run before the record is saved or after the record is saved. Sending an email after the record was saved would have required a workflow or a record change process created in Process Builder–but not any more thanks to this new feature!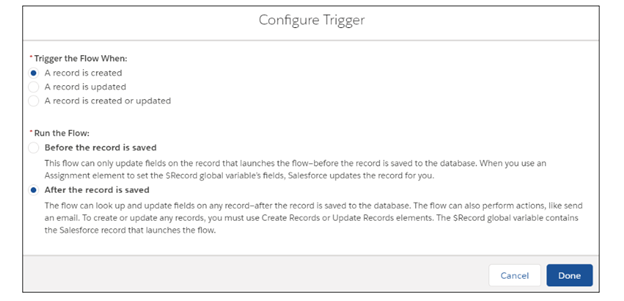 What if it was possible to have the console navigation style functionality without the console? Well, with the new Split View, you can. Split View gives you the ability to see a list view and an individual record at the same time and is accessed via the Display As drop-down menu.

In Split View, the record will open to the side of the list view. You will be able to collapse the list view or expand it using the left or right arrows.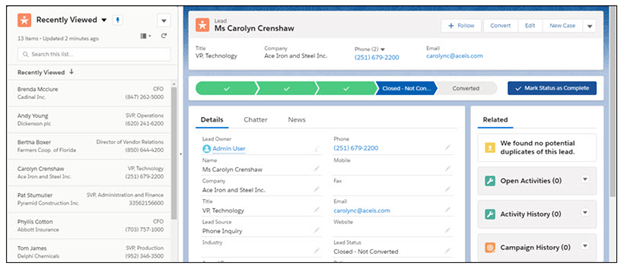 If you want to be proactive and strategic about org maintenance but don't know how, you are in luck. In Summer '20, Salesforce is introducing an interactive way to review and act upon recommendations that will help you maintain your org. Prior to the Summer '20 release, you needed to download this information in a pdf format and scroll through the content.
From the list view you can see the (1) results, (2) recommendations, and links to the actual items (3) you can make changes to.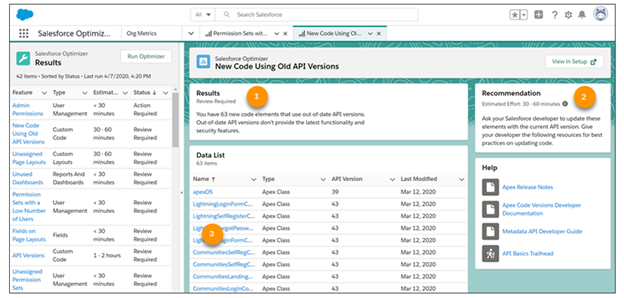 Salesforce is all about bringing you and your customers together using cloud technology. Each new release provides features and functionality to help you do that. What is not included in the release is how to actualize the value from this new functionality. This is why partners like Zennify can be an asset.
Bringing it all together
As you prepare for the Salesforce Summer 20 release and its many new features, we suggest focusing on the features that can bring you closer to your customers. If you need any help along the way, Zennify offers both project-based consulting as well as a very flexible Salesforce managed service, ZennSight. ZennSight gives you access to skilled resources across disciplines with a monthly retainer. As a premier trusted advisor with over 400 Salesforce implementations, our experience can help you take advantage of this exciting new release.