nCino Fall '21 Release Notes are now available! The focus of the Fall 2021 release is to differentiate the platform from others on the market by providing Financial Institutions with exciting enhancements and new functionality.
As a leading financial services technology consultant, we've spent countless hours reviewing the Fall 2021 release notes and have provided the top 10 new and most improved features by business line from this release that we believe will be most impactful for your business.
1. Automated Spreading for CRE Analysis

BUSINESS LINE: COMMERCIAL LENDING
The Fall 2021 release introduces Automated Spreading for Commercial Real Estate (CRE) Analysis. Now, in addition to automatically spreading financial statements and tax statements for a relationship, you can automatically spread Net Operating Income (NOI) statements for your relationship's collateral, increasing your efficiency through automation.
Allow Automated Spreading for CRE Analysis to improve your efficiency by 50% the first time you automatically spread and by 75% every subsequent time. The functionality can be launched from nCino's CRE Analysis feature or from Document Manager, and now supports Excel Documents in addition to PDFs.

2. Pricing & Profitability
BUSINESS LINE: COMMERCIAL LENDING
Commercial Pricing and Profitability feature is now generally available for the US community and regional market. Powered by nCino IQ (nIQ), Commercial Pricing and Profitability introduces the capability to price commercial loans and optimize relationship profitability seamlessly within nCino's Commercial Loan Origination Solution.
Take advantage of the power of on-platform pricing with a pricing tool natively embedded into the commercial loan workflow. Without ever leaving the nCino Bank Operating System, users can optimally price loans and deals based on your institution's policies and financial targets. After one or multiple pricing scenarios are created for a deal, users can select the pricing scenario they'd like to move forward with. This will save that scenario's data to the associated loan record.
With Commercial Pricing and Profitability, your financial institution can accomplish the following:
Establish transparent, reportable, and enforceable pricing and risk policies.
Leverage the Pricing Administration tool to create pricing matrices.
Price and reprice scenarios throughout the loan and deal lifecycle.
Analyze profitability at the loan, relationship, deal, and portfolio level.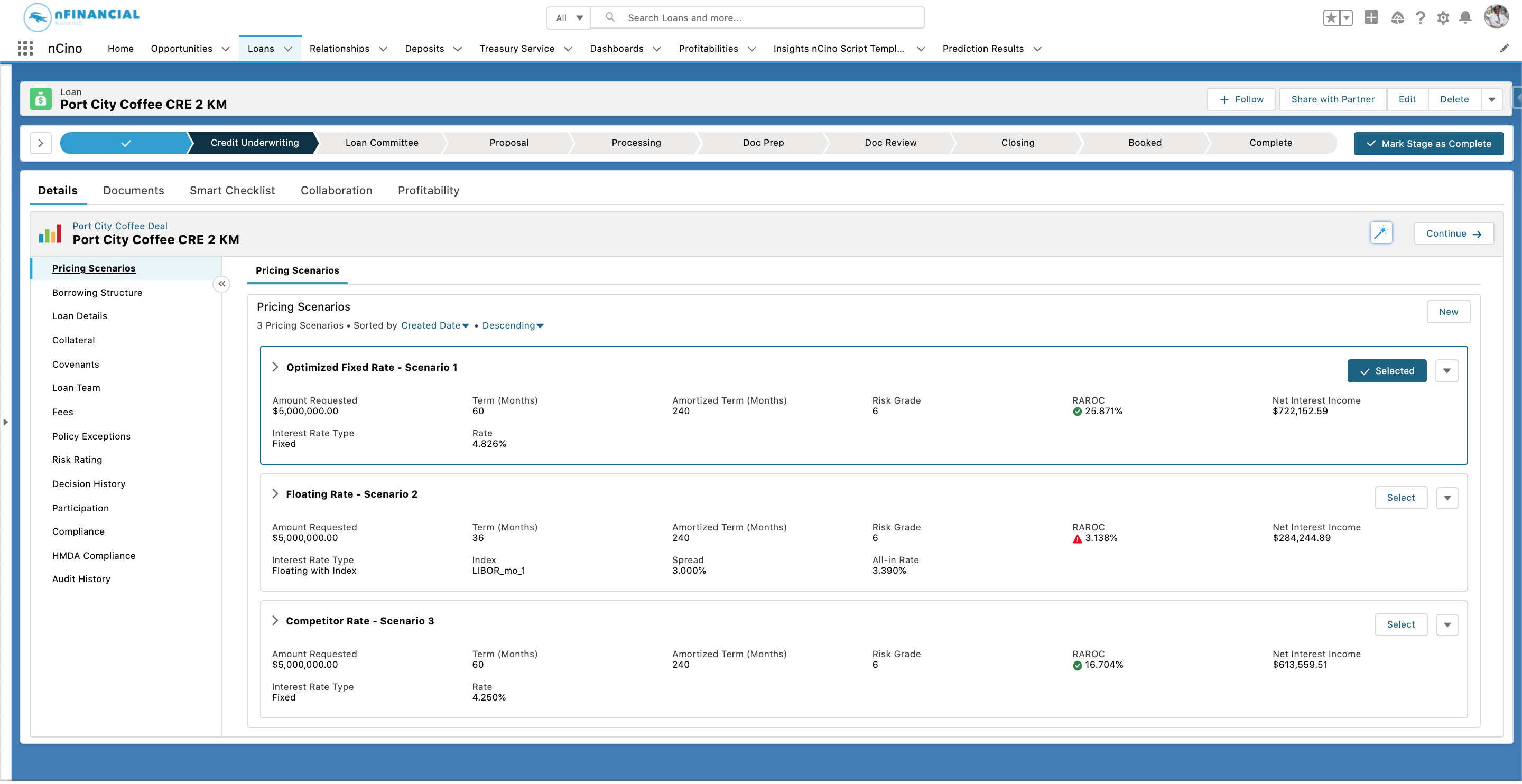 3. Auto-Applied Fees

BUSINESS LINE: ALL
After an initial launch in the Spring 2021 release, nCino continued to enhance Auto-Applied Fees for Fee Management with the Fall 2021 release. New functionality allows your financial institution to automatically populate standard fees for different products and product types using criteria from loan, collateral, and entity involvement. These standard fees can apply to products that originate across different regions including state, province, and county. Rather than manual input and overrides, use Auto-Applied Fees and let the system adjust fee amounts based on transaction-specific criteria defined by your policy.
4. Document Manager

BUSINESS LINE: ALL
What is considered to be one of nCino's flagship features just got a bit more amazing! Enhancements to Document Manager deliver improvements to placeholder creation and sharing. These enhancements provide institutions with more control over what their users and Partner Community users can access.
Administrators can now limit placeholder visibility, regardless of how the placeholder is created, based on Placeholder Viewer Groups, Roles, and Profiles. Internal Loan Officers can also manually add or remove visibility per individual placeholder.
For financial institutions utilizing the Partner Community, administrators gain additional control as they can configure which placeholders are shared on the Partner Community, reducing the number of visible placeholders accessible to external users.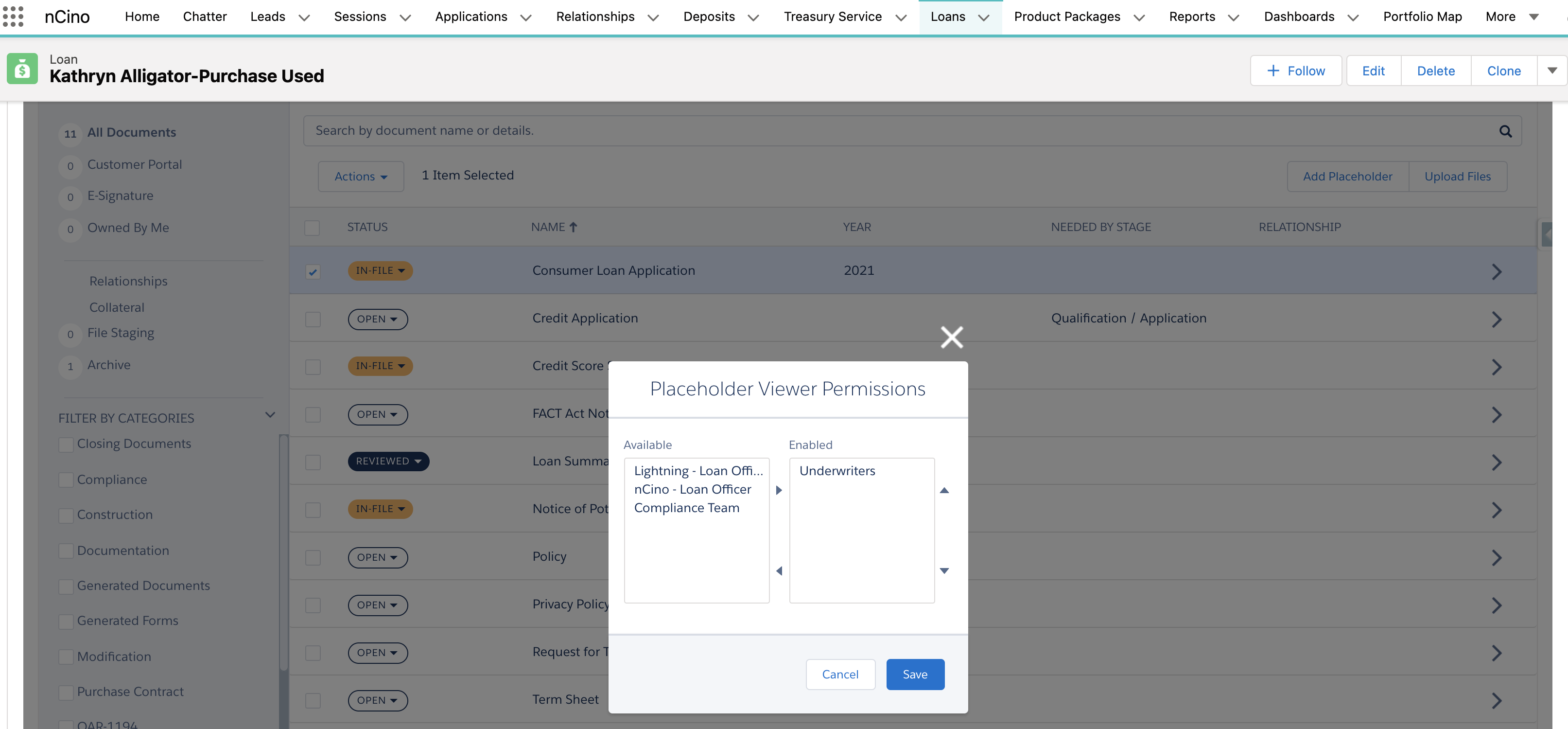 5. Schedules for Spreads

BUSINESS LINE: COMMERCIAL LENDING
Analysts can now capture data from a Schedule-E, K-1, a Sales Schedule, and many others for a more thorough analysis. Schedule templates can be built by a financial institution's credit administrator. Determine the layout and the cross-column calculations, and simply assign the Schedule to a Spreads template.
Analysts simply right-click on the value to view an additional level of detail in table form, enabling them to complete a more thorough analysis and understand the calculation behind the value.
In addition to the release of Schedules for Spreads, the Fall '21 release improves the Spreading experience by reducing the column widths for Common Sizing and Percentage Change columns in print. A new permission set was introduced to allow analysts to edit only a spreads statement row name and a new custom setting allows admins to choose whether or not to separate interims from annual periods with a divider column when printing and exporting.
6. Customer Engagement
:
Beneficial Ownership in Online Application

BUSINESS LINE: ALL
With the Fall '21 Release, nCino has introduced Beneficial Ownership functionality within the Online Application feature. Beneficial Ownership enables your financial institution to capture and store business owner information for small business loans and deposits created from Online Application.
A new 'Beneficial Owners' route can be easily added to the Online Application where the primary applicant can add beneficial owners and authorized signers. This will create records to the Account, Contact, and Connection objects.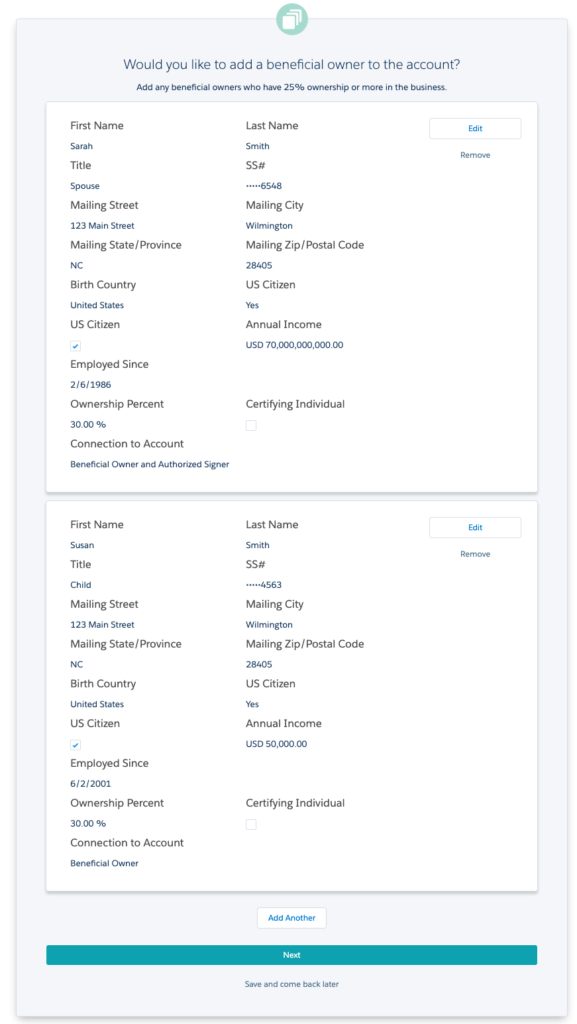 7. Escrows & Prepaids

BUSINESS LINE: RETAIL BANKING
Say goodbye to manual calculation of escrow account details, such as cushion amounts, monthly escrow payments, and the aggregate adjustment.  nCino's new Escrows feature allows financial institutions to easily designate fees as escrows or prepaids, calculate the initial escrow payment due at closing, and capture all escrow, prepaid, and estimated payment details required for documentation, making it simpler than ever for your financial institution to streamline the home lending process in the United States!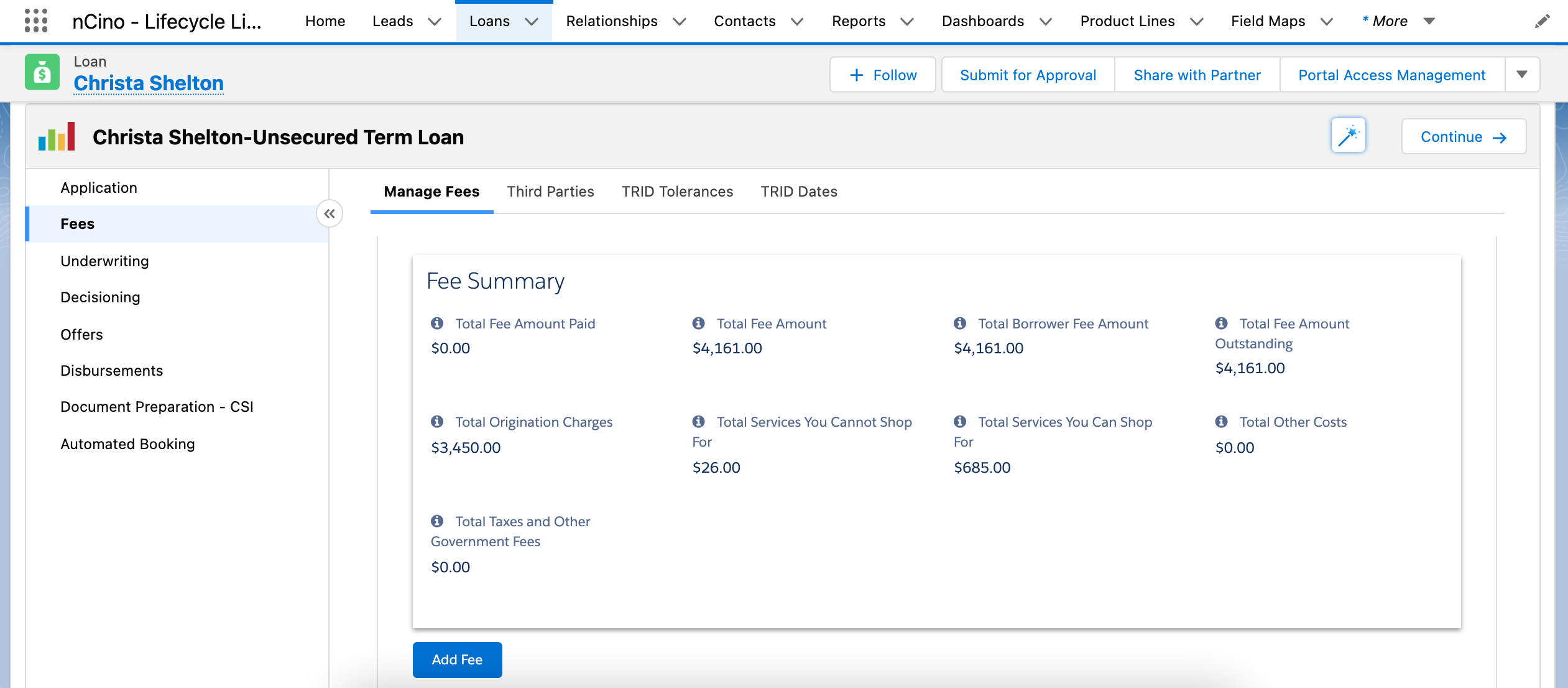 8. Portfolio Analytics Solution: Expected Loss by Year

BUSINESS LINE: ALL
Updates to the CECL and Loan Analytics Modules within Portfolio Analytics speed up reporting and allow for a better understanding of risk levels over time.  A backtesting feature is now available to compare predicted losses to actual losses during a comparable period.  Expected Loss by Year reports offer a more granular breakdown of expected loss so users can observe trends in expected losses over the lifetime of a given class.
Additionally, Report Packets are now available for the ALLL/CECL module within Portfolio Analytics.  Quickly combine multiple ALLL/CECL module reports into a report packet, ensuring your financial institution can view all of the information you need in a convenient location.
9. Customer Engagement: E-Signature from Online Application

BUSINESS LINE: ALL
With the Fall 2021 release, nCino now supports automatic e-sign with the document preparation provider Compliance Systems, adding to the existing list of Wolters Kluwer.  Not utilizing Compliance Systems or Wolters Kluwer?  nCino now offers HTML Form Generation via the Customer Portal as an on-platform solution.  With nCino's HTML Form Generation functionality for PDFs, your institution now has another way to create and tag documents for e-signature via online application.  This Form Generation capability can automatically generate forms and tag them for e-signature based on an online application submittal, eliminating the need for a banker to generate those forms.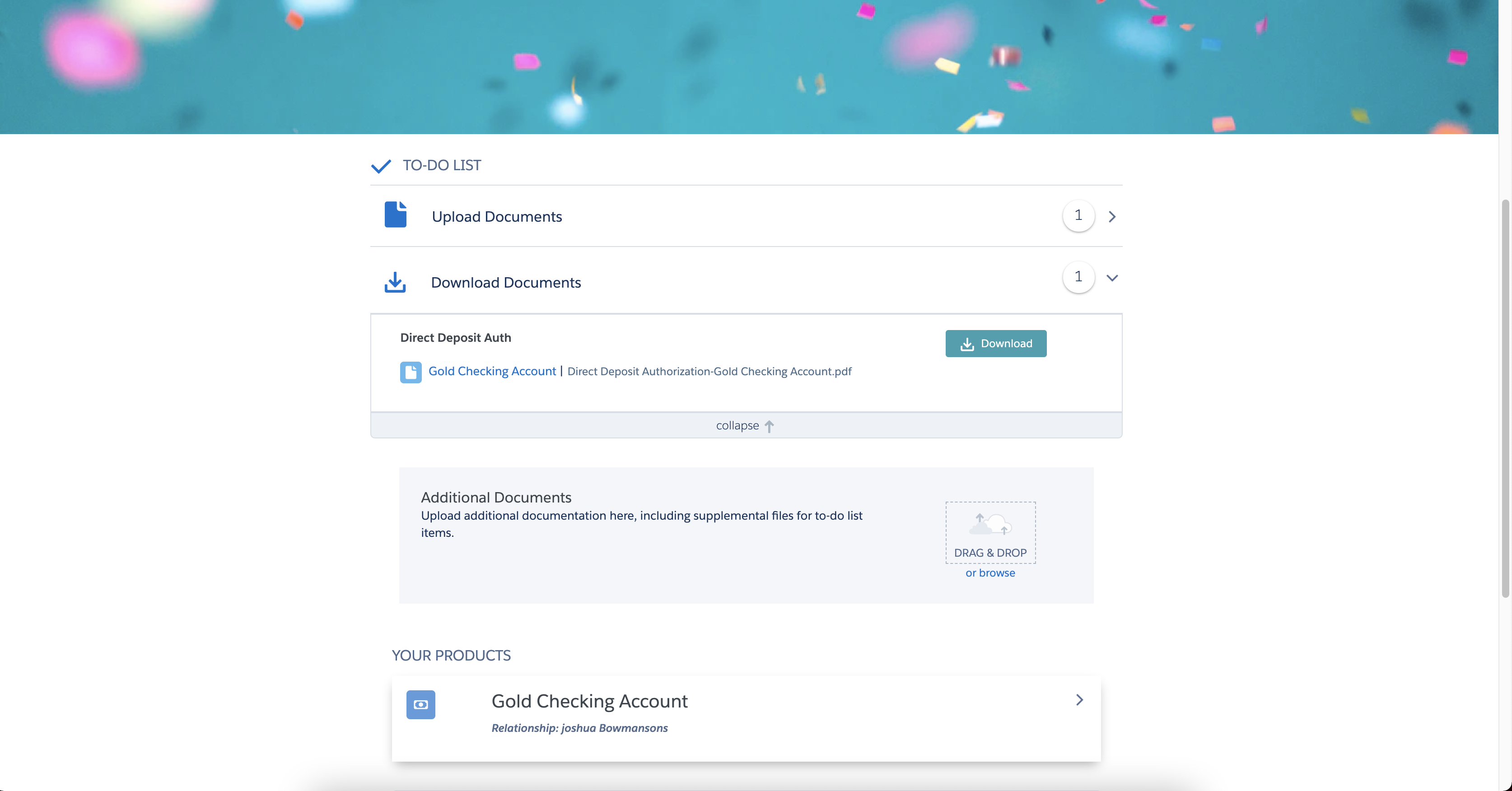 10. Covid-19 Response: Forgiveness Integration

BUSINESS LINE: ALL
It'd be a disservice to not include the valiant efforts of nCino's Paycheck Protection Program team from this list.  As COVID-19 continues to impact people around the world, nCino has demonstrated that they are committed to implementing new and relevant functionality for their customers.
nCino continues to respond to current US legislation on COVID relief and make updates to the PPP Forgiveness API integration.  The integration supports the revised SBA guidance for both first and second loan draw forgiveness.  Financial institutions utilizing nCino as their PPP solution avoid ever having to leave nCino for uploading forgiveness applications and its necessary documents into the SBA system.

Did you know? Zennify is the only nCino consulting partner with a trusted Managed Service program.