What We'll Cover
In this post we will demystify CDP, Salesforce Data Cloud, Salesforce Genie: what's a buzzword and what's real; what each can do now plus what's on the roadmap
Banks and Credit Unions have been on a journey to use their data for some time, but many are still struggling to get data out of backend systems and into a single place
For those that have gotten to that first step, the next challenge is actually doing something useful with that data, other than nightly integrations into internal systems
Why You Should Care
First, it's important to understand why all this matters, and then we can explain how it works and what you should do to improve efficiency, increase growth, and manage risk across your institution.

The first question we usually ask our clients is, "Do you have a unified profile of your customer or member?" 
With multiple origination systems, indirect channels, service channels, and card systems, it can actually be quite difficult to get a full view of a customer that combines all of their information and activity from different sources.
On top of that, how do you translate the varying data formats from each system into one common format, while also fixing data quality or conflicts at the same time. This is referred to as a common data model, meaning you define the ideal profile and attributes ahead of time, and map all of your data to it so the end result is a clean, consistent, and easy to use set of data.
With a unified profile, customer engagement on every channel–both inbound and outbound–dramatically improves because knowledge of each customer is accurate and up to the moment across all touchpoints on which they have engaged.
The next question we ask our clients is, "Are you generating unique insights using your customer data?"
Having your data available and unified is a great first step, but to really get the ROI you are looking for you need to be differentiated in your understanding of the data. Generating insights such as propensity scores, engagement scores, and sentiment analysis can enable you to be much more effective in how you interact with your customer, either in person or through digital channels. This data can also help you segment customers. One common theme we hear is "the lonely customer." In banking, a lonely customer is typically a higher asset customer who has the basic products such as a checking account, but who almost never comes into a branch or calls in. These customers are typically ignored because they don't "need" anything and aren't making noise, yet they are likely to be a great candidate for other products the bank offers. Using analytics and calculations can help you identify various customer segments, and use data to tell a story that leads to better serving your customers.
With the combination of near-real-time data, deep discovery, and generated recommendations on the fly, your customer's digital experience can evolve the moment they take action
The last question we ask is about data activation. With all the work we talk about above, it'd be a shame to let it just sit there and not be used!
Data activation typically is split into two parts; direct customer engagement through digital channels, and organizational efficiency through internal systems. As we mention above, many banks still rely on nightly batch processing, and if it's real-time, it's typically just refreshing the data you already have in case something changed. Both are necessary, but don't usually drive action.
The best way to think about this is seeing everything a customer does as an event, and the goal is to capture that event as soon as it happens–and send it (activate it) to where it should go to turn into a valuable interaction. For example, let's say a customer's purchase was declined because of potential fraud. Ideally you capture that event from the card processor, send a text to the customer asking if it was them or not, capture the response, and validate the merchant so they can try the purchase again without issue. Or better yet, you can capture that event, check the customer's segment to determine their preferred method of resolving potential fraud, and maybe for this customer you route an action to the call center to make an outbound call and verify the person over the phone if they aren't favorable to text.
Now, for Technology. 
So now that you understand the why behind using your data, what's this bunny character with a magic hat? What does Salesforce Genie mean and is it the same as a CDP?
Let's start with CDP, or Customer Data Platform. The term was originally coined in 2013, and has traditionally been seen as a marketing-only tool that focused on taking data in, allowing marketers to perform segmentation, and activating those segments on advertising channels. In a way, Salesforce Data Cloud is an evolution of CDP that turns it from a marketing-only tool, to an enterprise tool. Data Cloud adds more advanced unification and analytics features to work with all of your data, not just a marketing customer profile. Another key difference is that the activation is no longer limited to advertising; now you can send data to internal systems, external systems such as an ITM, and additional digital channels such as email and SMS.
So what is Salesforce Genie, then? Genie actually means something to the IT people reading this. To make all of this work, Salesforce had to re-architect their entire platform to support the scalability to trillions of events and the real-time propagation of these events across the enterprise. This means adding a lakehouse and big data architecture alongside the transactional database that their other clouds use (such as Financial Services Cloud). Those transactional databases couldn't support the processing of vast amounts of data in real-time, but now can by using Data Cloud.
Because Genie enables you to synchronize data across your Salesforce products using managed connections, IT teams will see lower operational support and robust real-time coordination of data between the Salesforce products. Initially, it can be set up quickly to optimize your Salesforce investment. Following, it can be extended to be the data heartbeat of your entire enterprise.
Think of Data Cloud as CDP 2.0, turning it from a marketing tool to an enterprise data tool.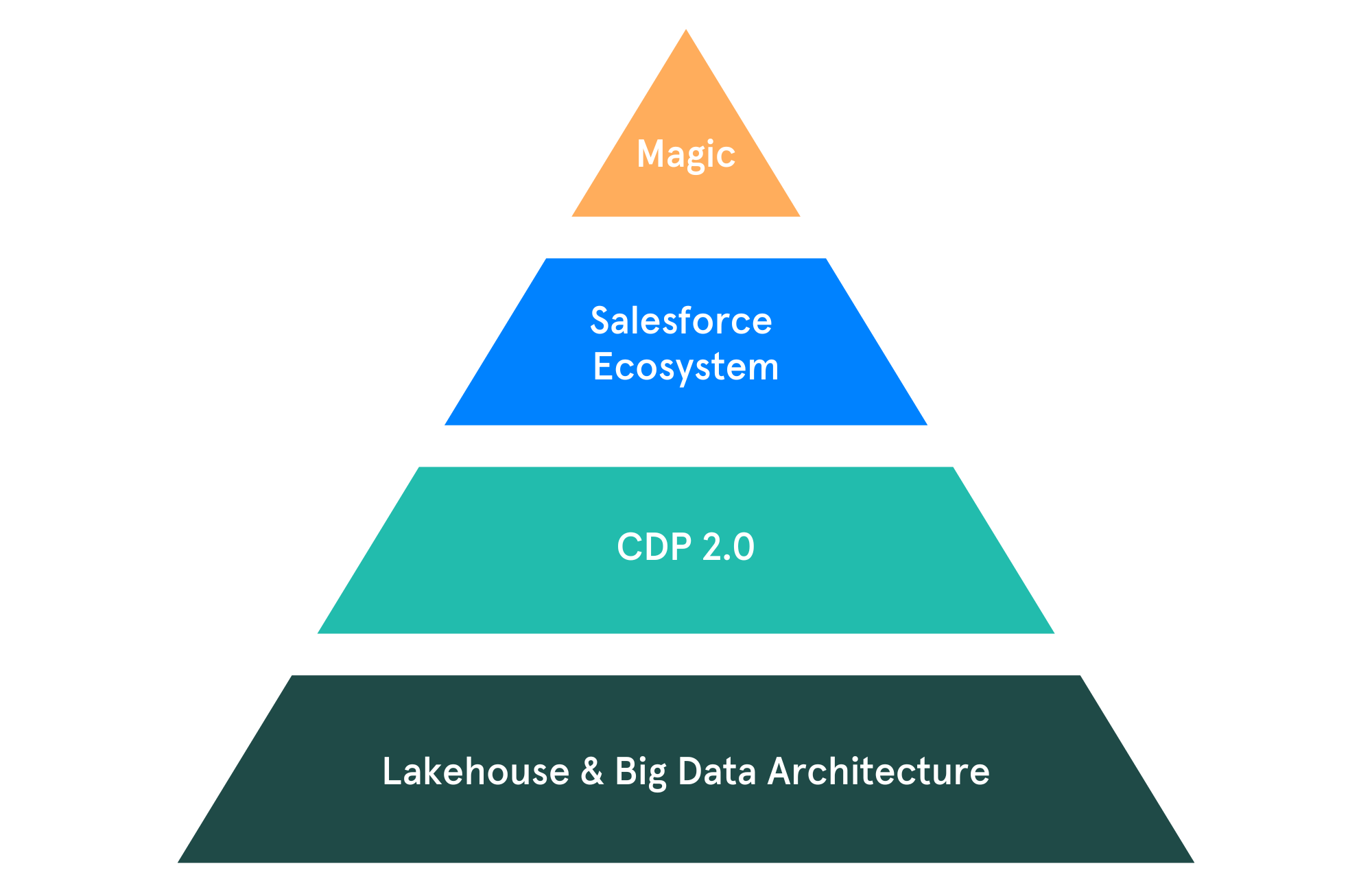 So why Salesforce Data Cloud?
On top of the modern technical architecture, there are a few reasons why we think Data Cloud is a best in breed solution on the market. One of the big things Salesforce added when evolving CDP is a number of native connectors to other Salesforce products. So unlike other tools out there, it comes with out-of-the-box connections to Marketing Cloud Journey Builder, Marketing Cloud Personalization, Marketing Cloud Intelligence & Tableau for analytics, Financial Services Cloud, as well as MuleSoft which can help integrate your legacy systems. These connectors get you live faster and simplify the implementation by using configuration instead of code.
The second reason we like it is because of the out-of-the-box Customer 360 Data Model. This includes standard objects that will give you a jumpstart on defining your ideal customer profile based on best practices. Our experts have also extended it specifically for Banks & Credit Unions, using our years of experience.
Lastly, we are also excited about the roadmap feature that enables zero-copy data sharing between Data Cloud and Snowflake, which is a common data warehouse technology that we implement for clients. This enables live sharing of data in real-time without building an integration to copy the data (where you can lose track of changes between the two sources). Overall, Data Cloud follows the Salesforce ethos of enabling you to implement the solution with mostly clicks not code, and provides you with a solid starting point with out-of-the-box features.
In Summary.
Hopefully now you have a good understanding of what Salesforce Data Cloud is and what it can do to improve efficiency, increase growth, and decrease risk at your financial institution. This powerful tool is ready to help you create customer magic today, and we can help you put a plan in place to implement it for initial use cases that will give you the ROI you need in today's environment.

Contact us for a Data Cloud Readiness Assessment.