Salesforce and its Trailblazers took over downtown San Francisco for the 20th anniversary of Dreamforce last week. As an 11x Dreamforce attendee, I still marvel at the immensity of the Dreamforce experience. While Dreamforce offers the same draws as most big conferences like famous speakers, epic parties/bands, countless sessions, and a lively expo area, it brings a level of energy, creativity, detail, warmth, and social impact you don't see anywhere else. While this year's in-person attendee count at 40k was only ¼ of pre-pandemic years, the event was still fully abuzz.
By the Numbers
40,000: In-person attendees
150,000: Salesforce+ streaming viewers
70°: Average daytime temperature (the best weather I've ever experienced at Dreamforce)
15,000: My average number of daily steps
Highlights
I'm a big fan of experiential moments. This year at Dreamforce I saw a 30′ waterfall, a full-sized hot air balloon, heard the sounds of birds chirping in the Campground expo, sat under a moving chairlift at a Snowflake session, and so much more.
This year's keynotes felt focused, energetic, and educational, with product demos that made the conceptual relatable.
Benioff continued his focus on sustainability with no routine conference swag, compostable meals, and an environmentally-conscious menu.
Both a highlight and a lowlight were the number of sessions. I don't think I've ever seen such a chock-full agenda with something for literally every role, BU (Business Unit), industry, etc. The drawback was that sessions in different areas of the campus were really hard to get to and the most popular were impossible to get into.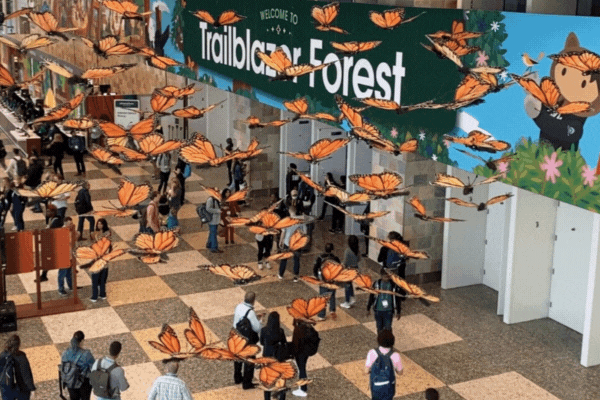 Dreamforce Main Keynote
"The average company has 976 different software applications just to keep their company running," said Salesforce Co-CEO Bret Taylor, "which means 976 different versions of me, your customer." With the thesis of bringing all of a company's disparate customer data together into a single source of truth, in real-time, Salesforce announced Salesforce Genie (watch main Keynote here). Genie is the first real-time CRM.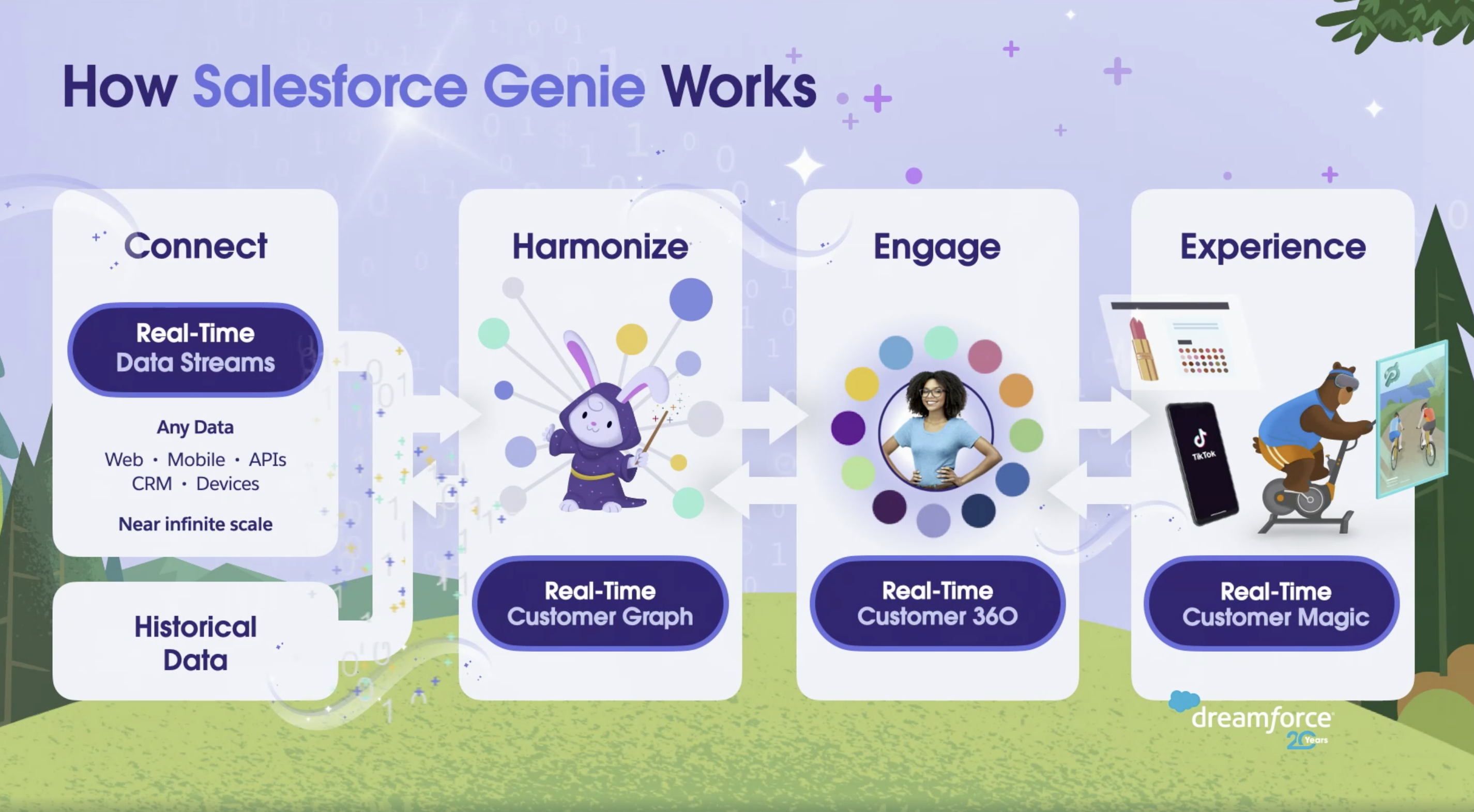 So, what do you need to know about Salesforce Genie?
This is a rebrand of Salesforce CDP (Customer Data Platform).
Genie is a suite of features that combines AI (Artificial Intelligence), Flow automation, and a Customer Data Platform to trigger actions across all its clouds in real-time.
Genie enables use-cases beyond the Marketing BU, unlike a standard CDP.
Genie builds a customer graph based on Salesforce metadata. It is a data lake itself and ingests data within the Salesforce platform and from outside sources, such as data lakes and lakehouses hosted by other cloud vendors.
Genie has harmonization built-in.
Source: Salesforce Genie integrates automation, CDP, AI features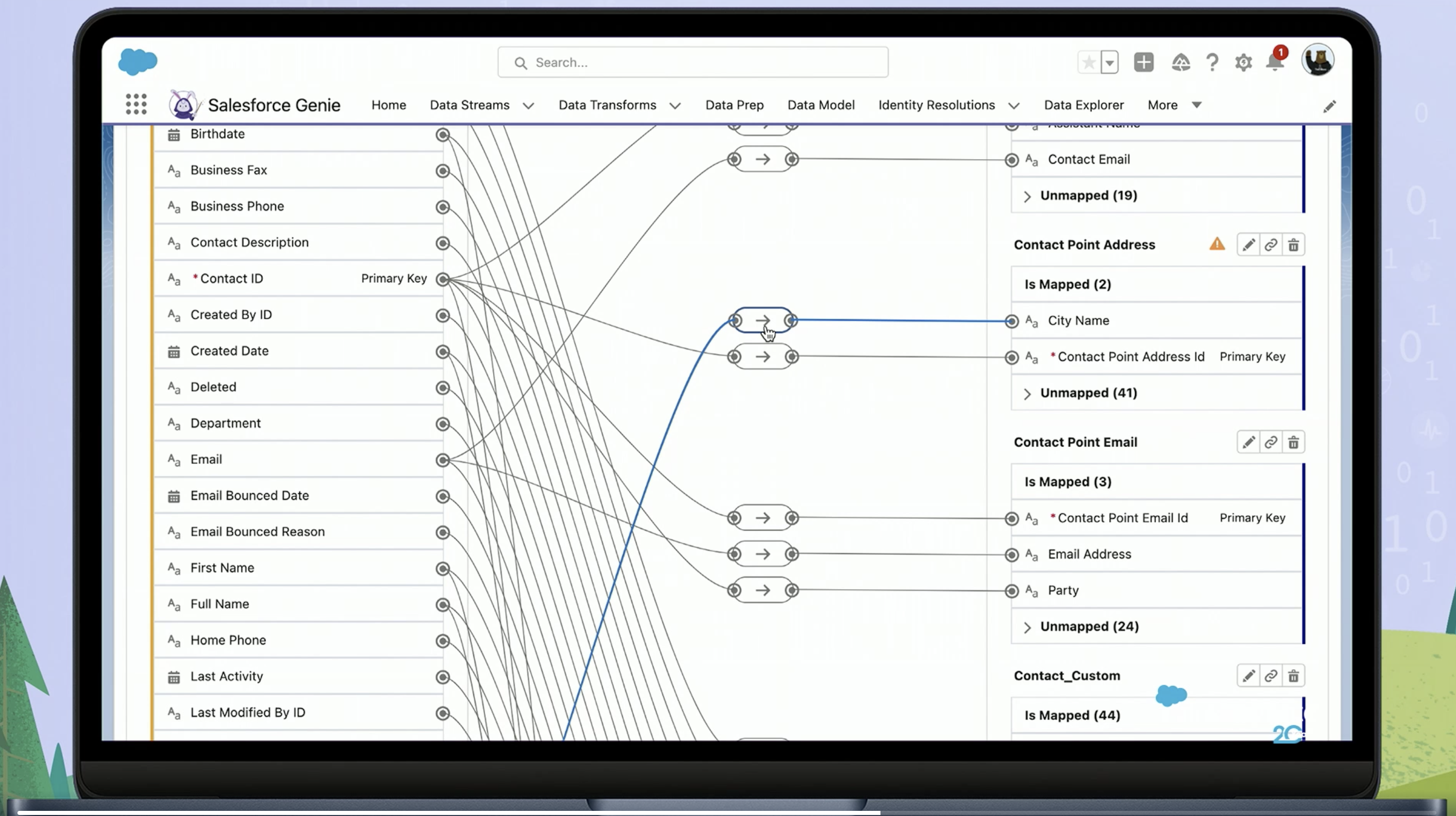 Genie taps the CDP to find a single customer or group of customers with AI and ML and connects that data to a Flow automation, which triggers the next action.
New Snowflake and AWS partnerships facilitate two-way data exchange with Genie.
Genie is now generally available (no pricing shared).
Salesforce Genie Use Cases 
Sales: Real-time feedback and insights while on calls, delivering personalized sales.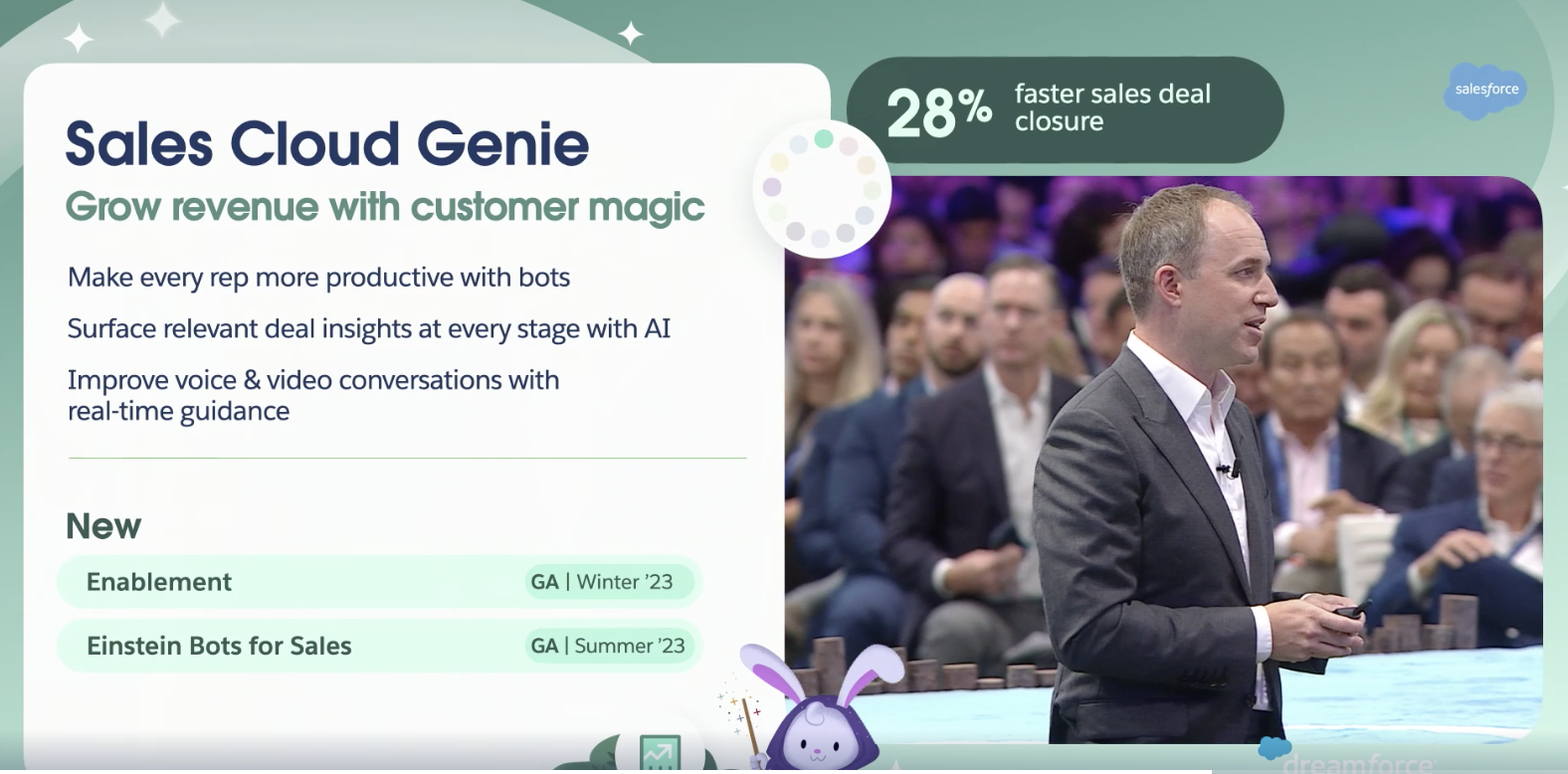 Service: White-glove service powered by real-time insights. New self-service platforms.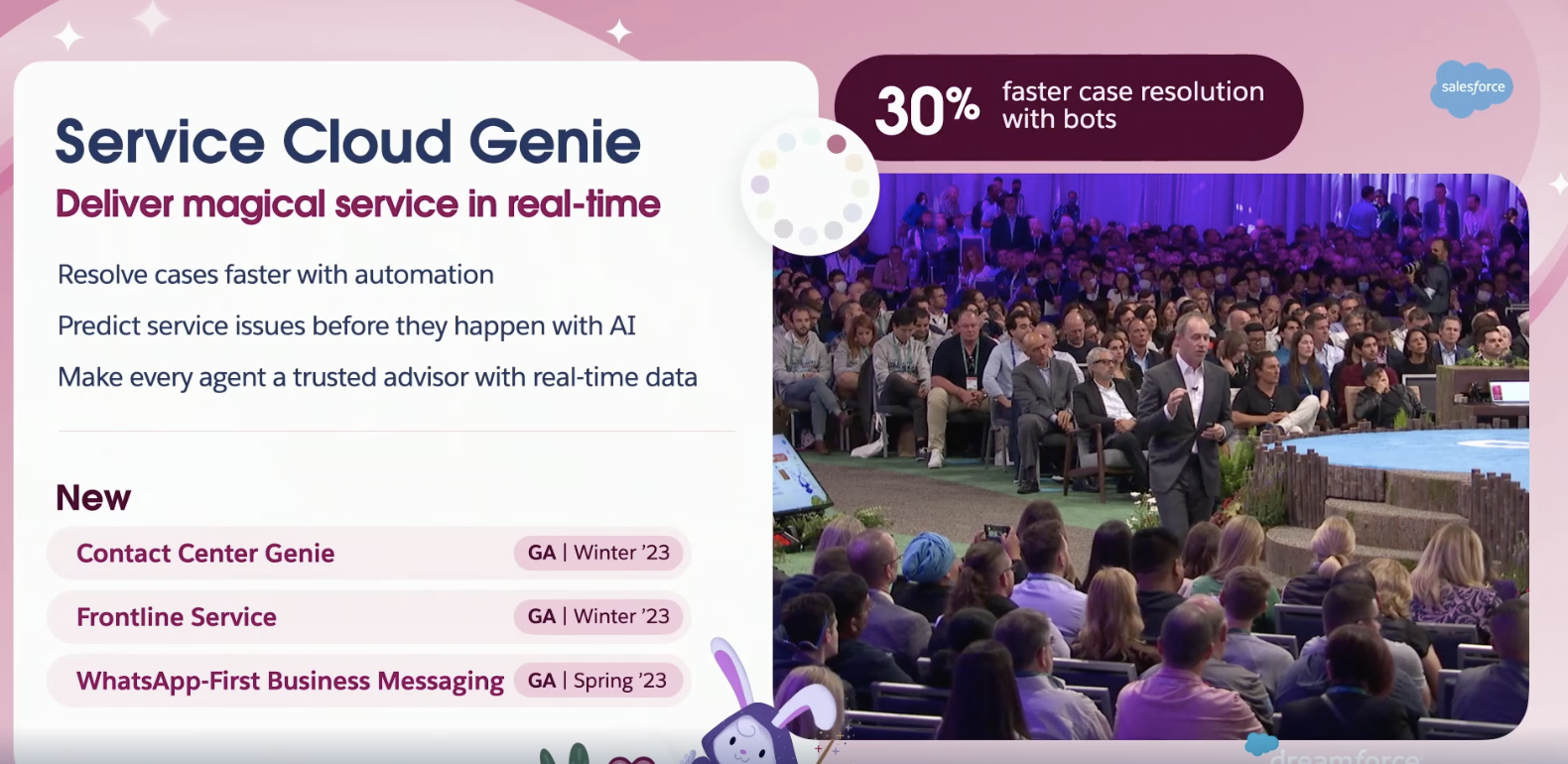 Marketing: Personalized, action-based ads, content, offers.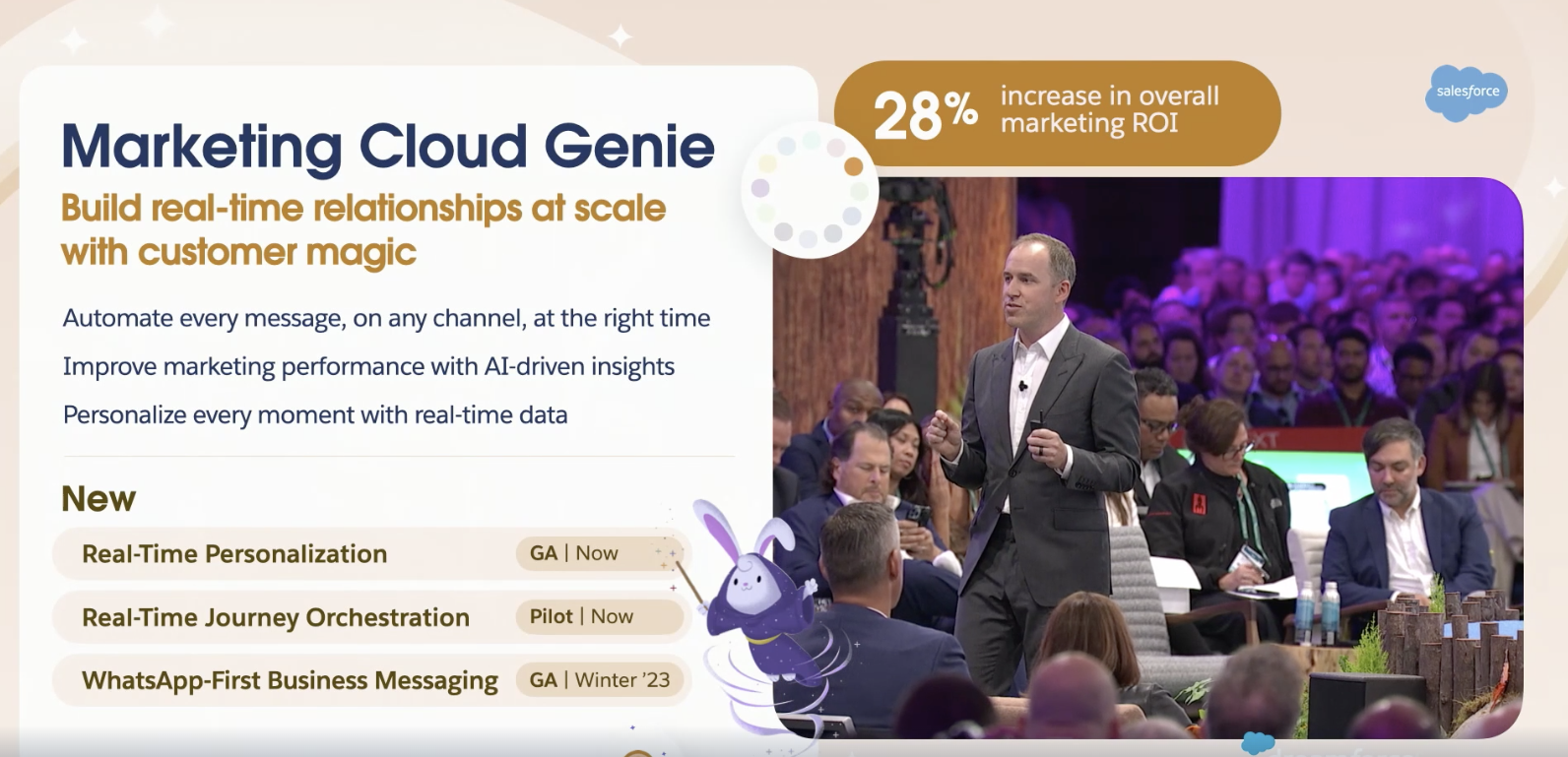 Slack
In the Keynote, Slack Canvas was also announced. Using a native integration of Quip, it is "a new surface in your digital HQ, where teams can curate, organize and share mission-critical resources. Paired with the Slack platform, anyone can customize a canvas with time-saving automations that move work forward." This will be available next year.
Slack has also evolved Huddles to include video and animated effects. Finally, they announced 15 new integrations.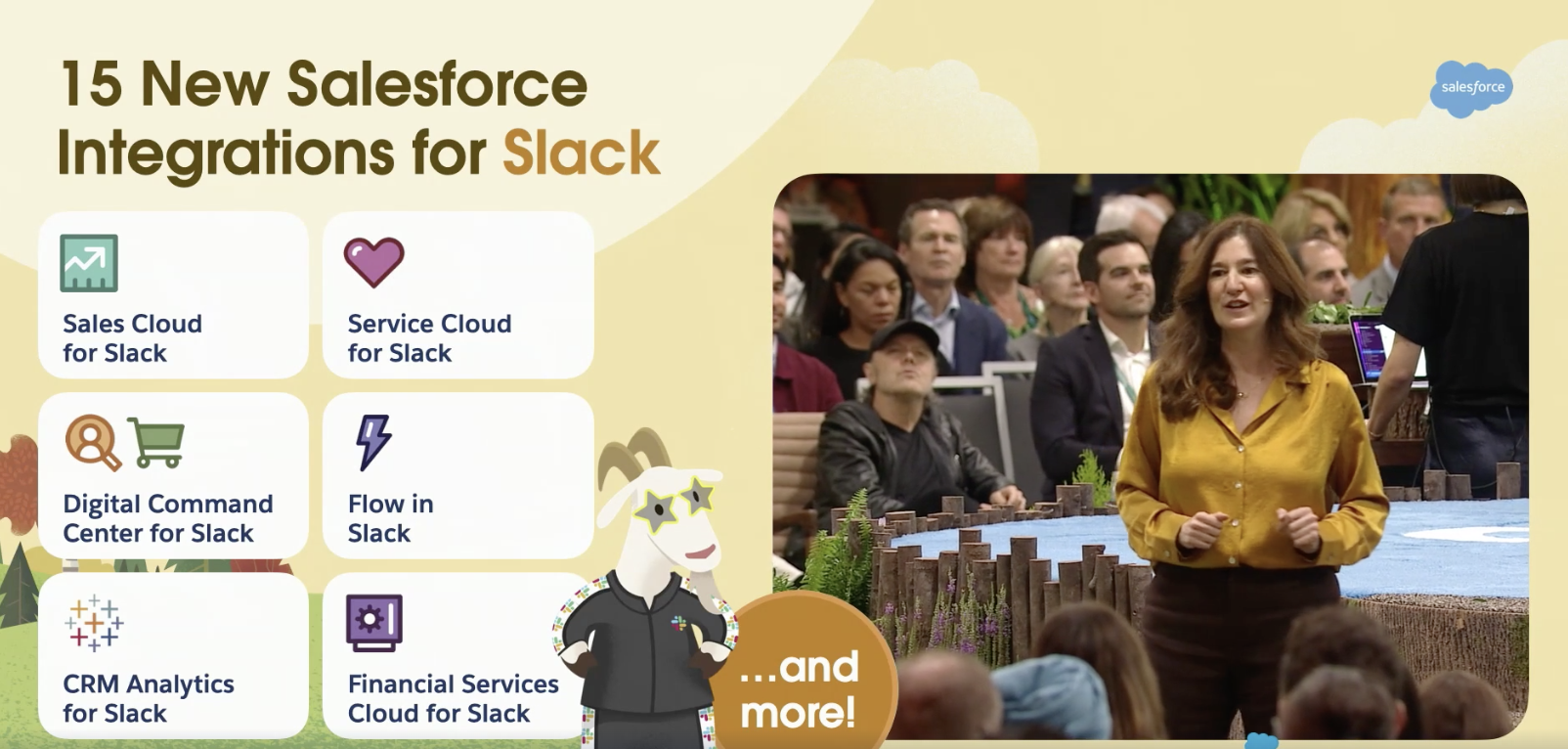 Net Zero
A new Net Zero Marketing unveiled that supports Net Zero Cloud, with continued focus on carbon offsets with tree planting (on the way to 1 Trillion by 2030!)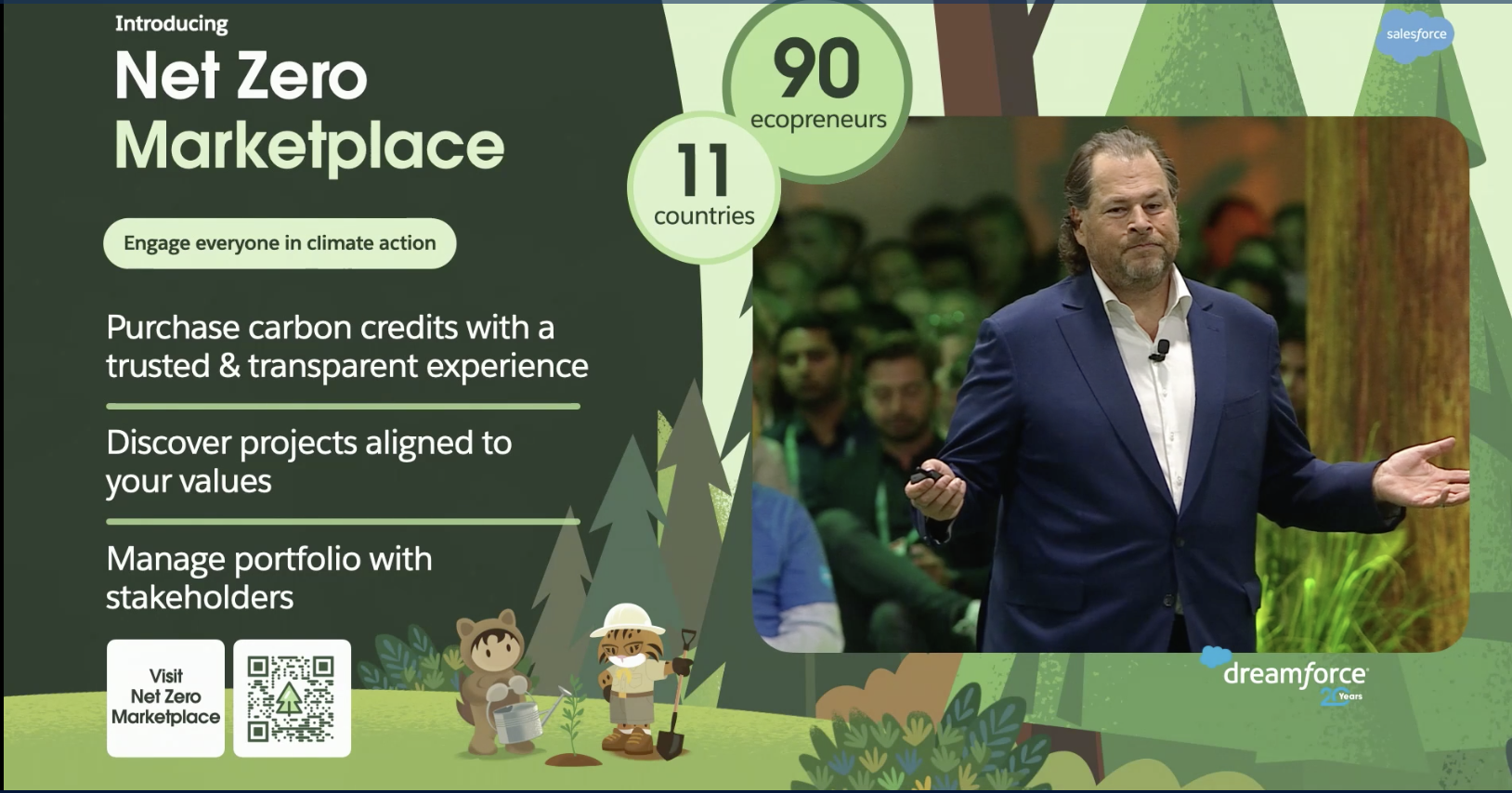 Financial Services Keynote
The Financial Services Keynote (watch here) focused on creating "moments that matter" and the ongoing challenges institutions face with growing amounts of data. Announcements included:
Digital Onboarding: To combat manual onboarding processes and the number of systems in which data changes hands for banks during onboarding, Salesforce announced new Digital Onboarding (without going into more detail than this).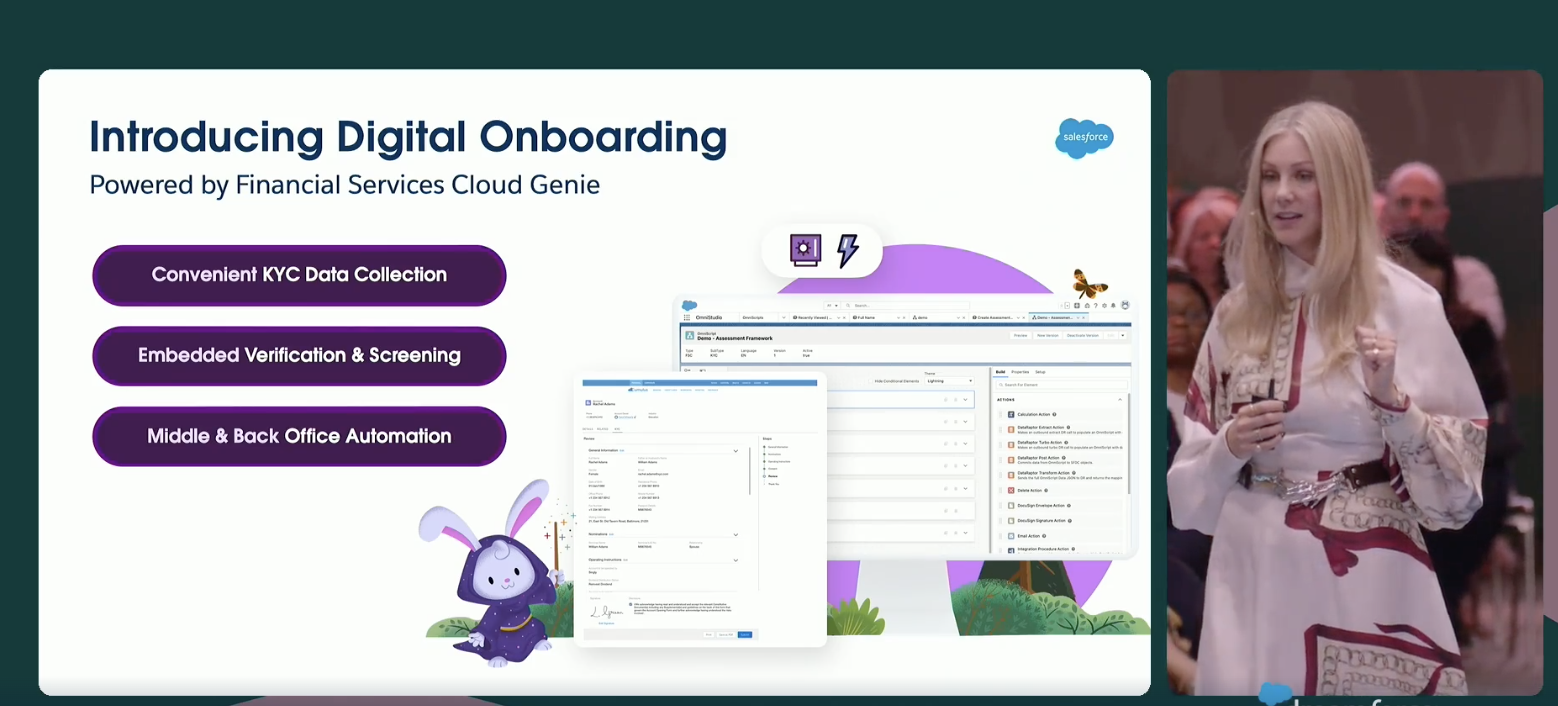 Core Banking Integrations: "For the first time, our APIs speak the language of financial services." Using BIAN, an industry standard for banking architecture, repeatability and interoperability are created to power customer moments that matter.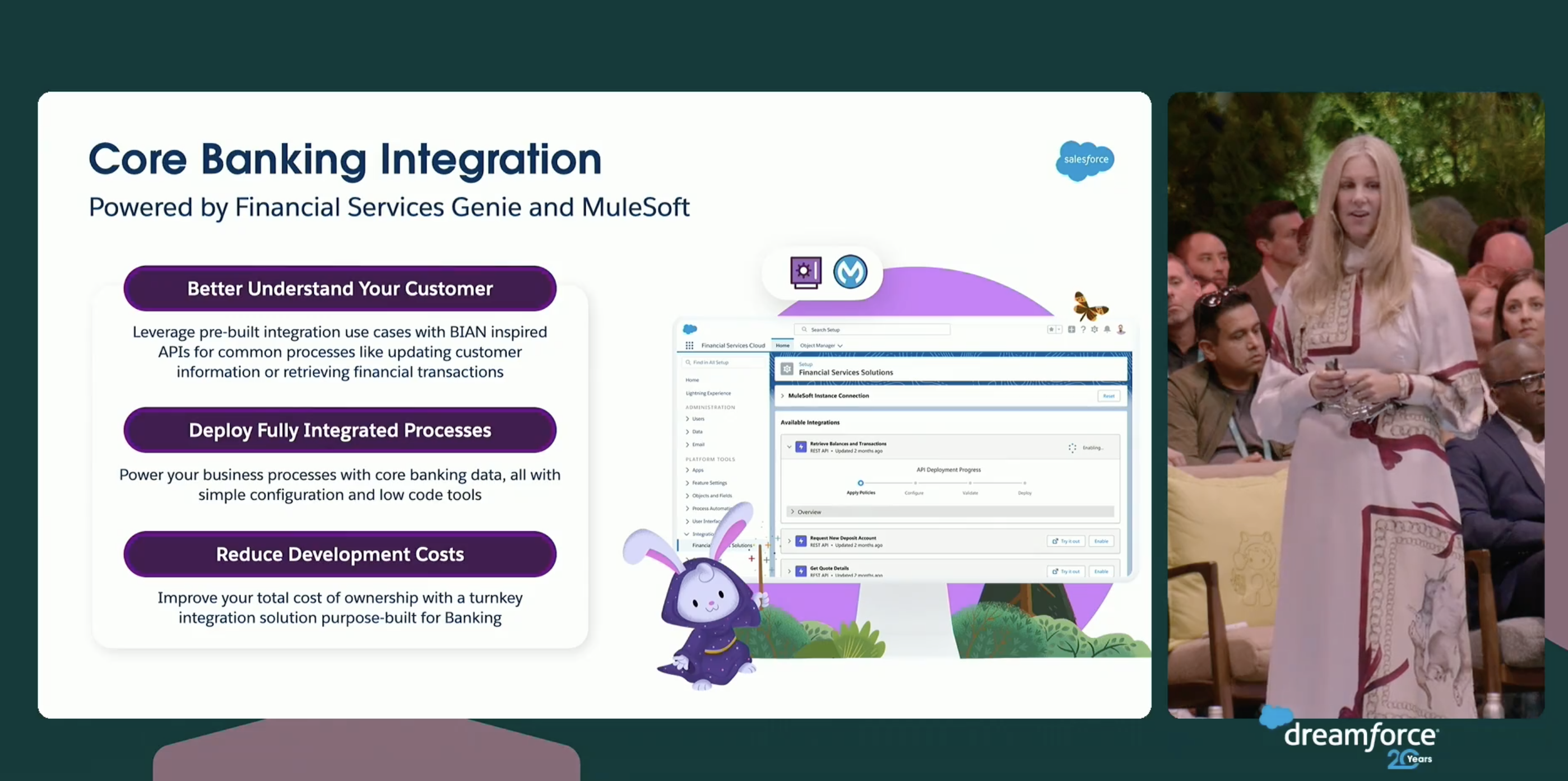 Partnerships with Charles Schwab, Fidelity, and FIS
Salesforce Genie: Harmonizes data for a Golden Customer profile that drives experiences like real-time offers, recommendations, and creates customers for life.
Virtual Financial Services Assistant: Out-of-the-box common processes in days.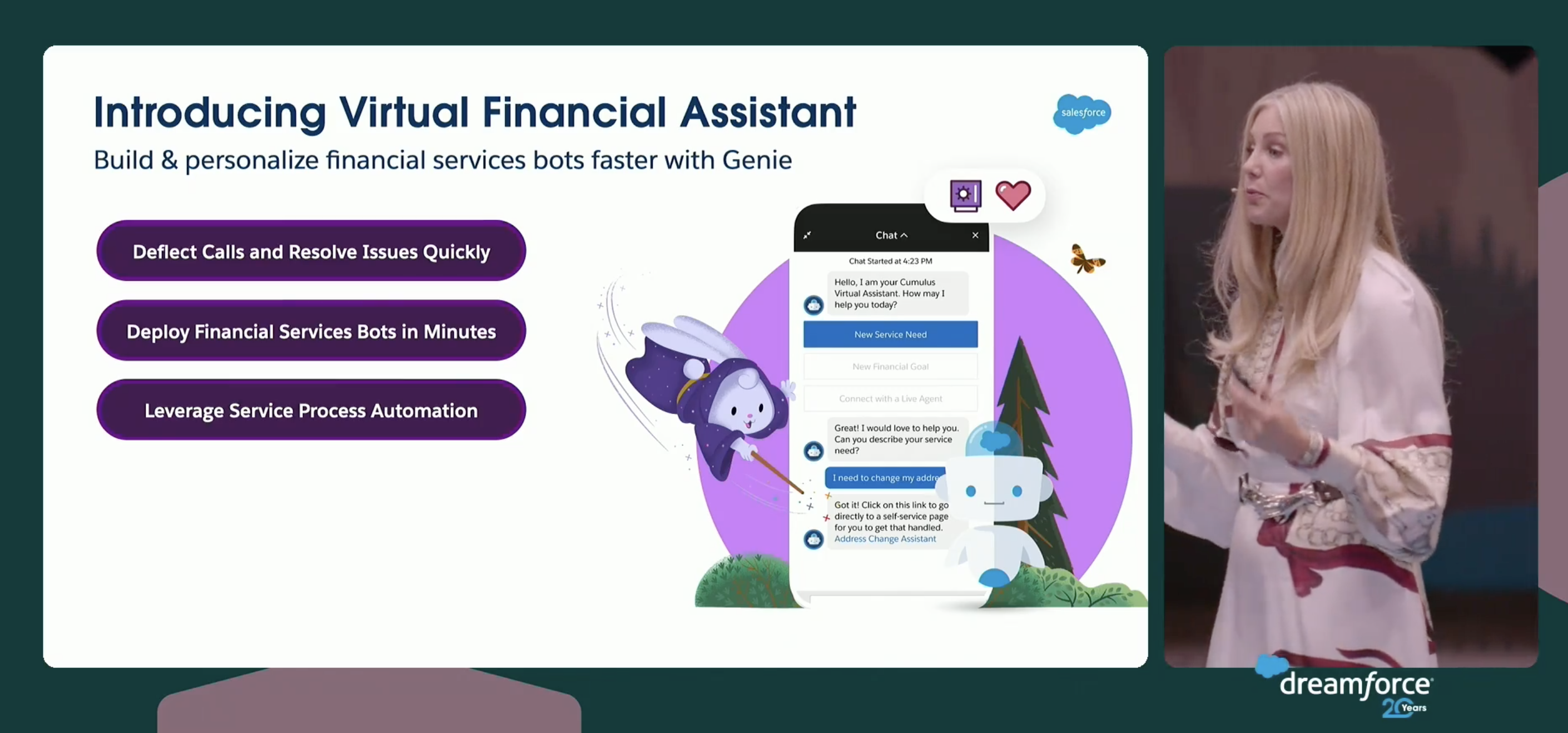 Contact Center Genie & Service Process Automation: Action launcher and pre-built library with common processes out-of-the-box.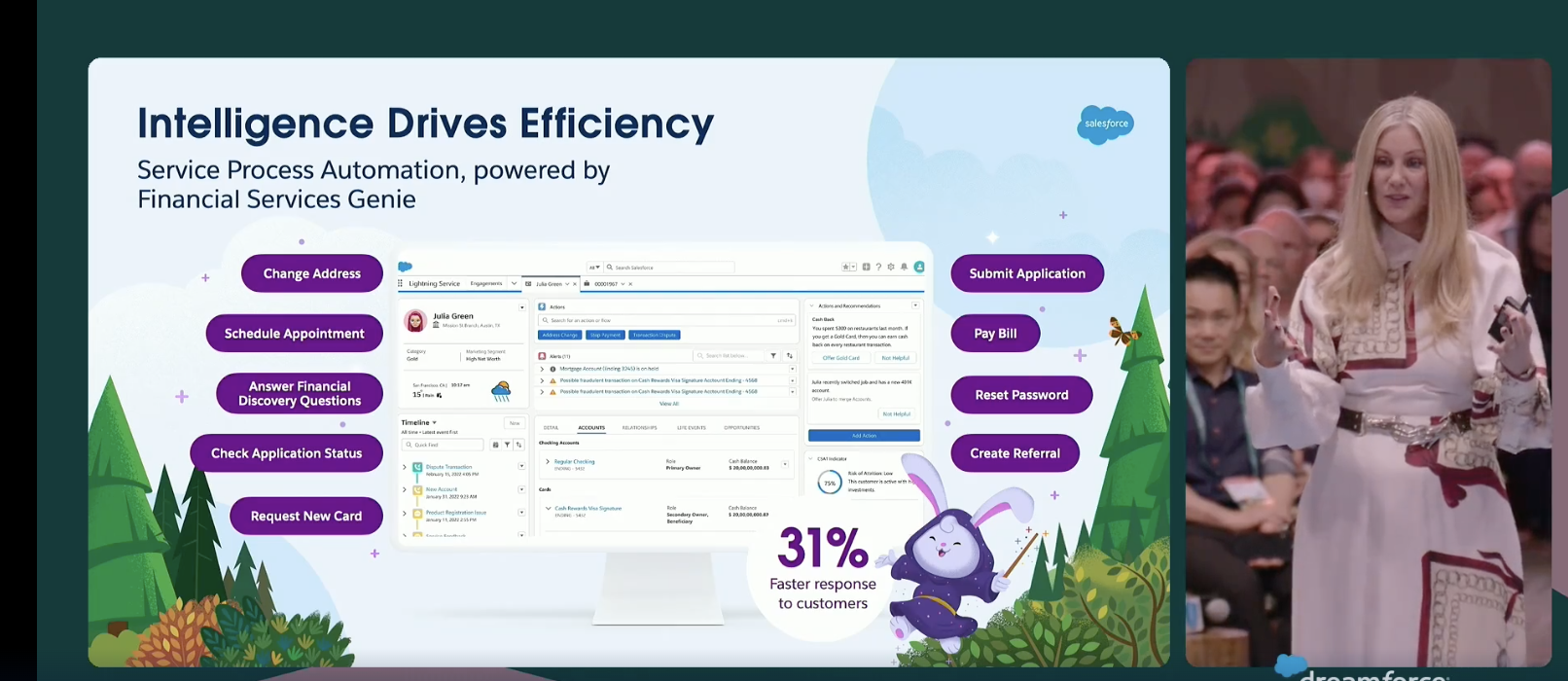 Real Time Collaboration & Insights: Swarm a case in real-time in Slack and reduce data silos.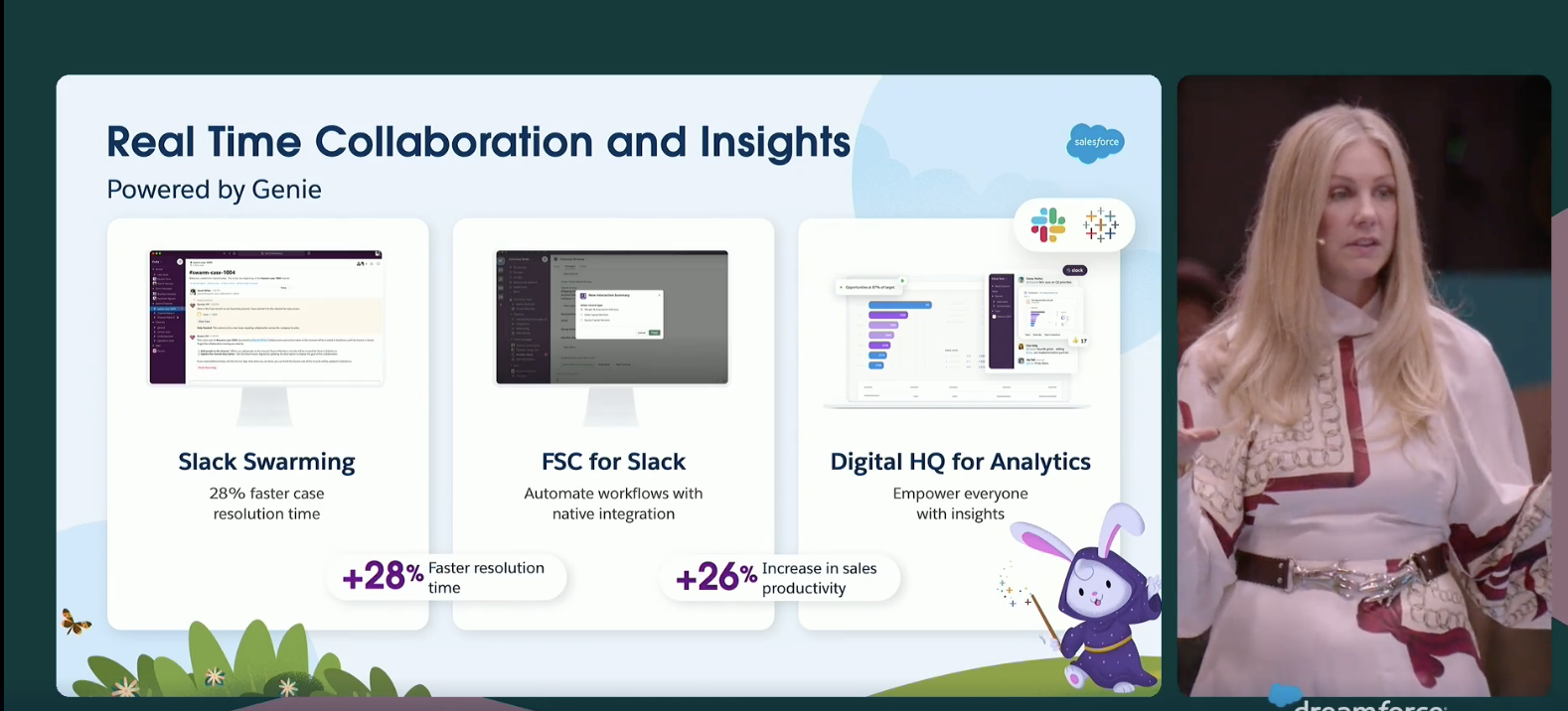 Marketing Cloud Keynote
The Marketing Cloud Keynote (watch here) was all about delivering personalized moments in real-time despite inflationary pressures and our cookie-less future. Here are some of the exciting announcements:
Salesforce has new ad partnerships with Meta (Facebook, Instagram), Google, and Amazon for the use of first party data from all channels (a necessity for a cookie-less reality)
Snowflake and Genie integration / open platform for real-time data without copying
"Bring your own AI": Amazon SageMaker (leading Machine Learning tool) and Genie allow you to build and train models using Salesforce data, including audience creation
Salesforce will now support WhatsApp for messaging, providing a single, unified customer experience across marketing, commerce, service, and more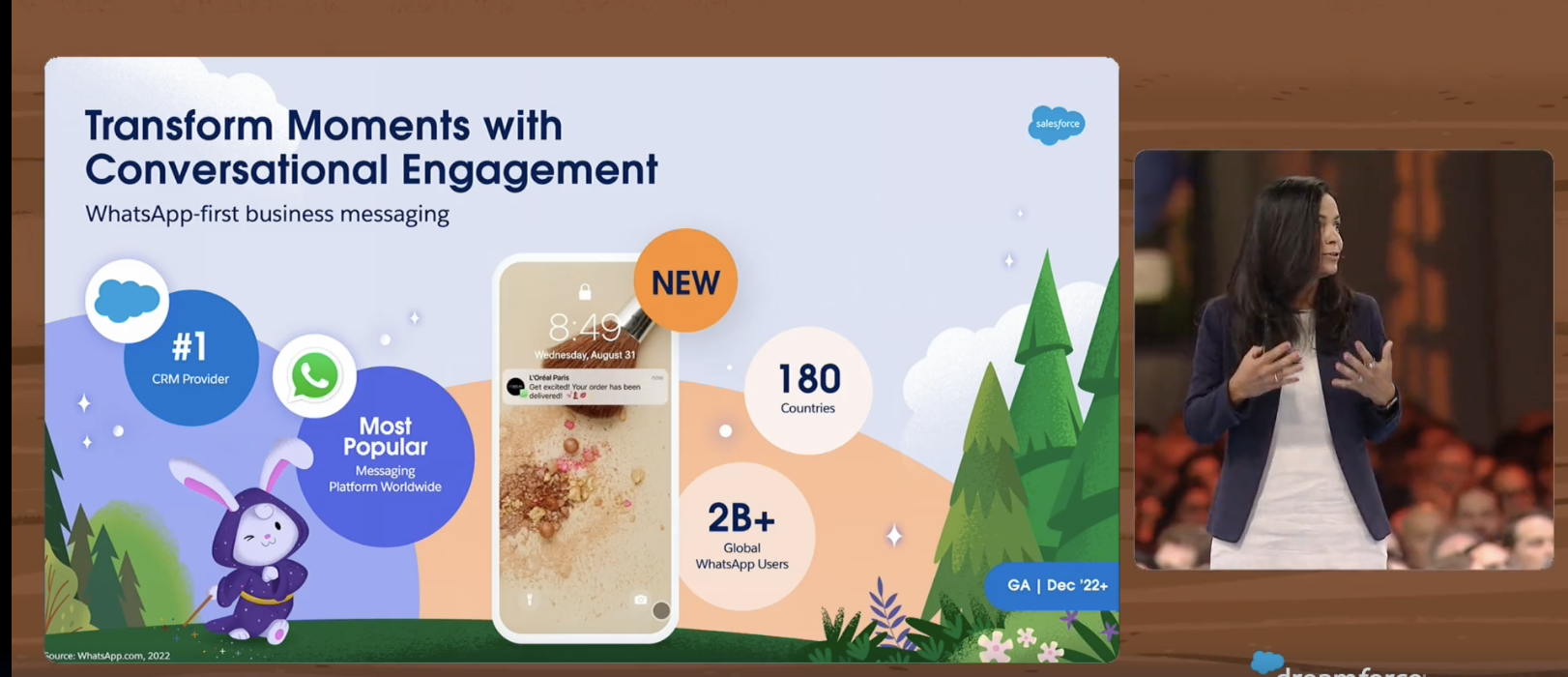 Real-time data visualization with exports to Snowflake
Push data/interactions directly to Slack for engagement with your marketing team
MuleSoft Keynote
Brent Hayward, MuleSoft CEO & GM, kicked off the Dreamforce 2022 MuleSoft Keynote, Connect & Automate Your Business.
As a refresher, MuleSoft empowers you to connect, automate, and accelerate your business to drive efficiency and cost savings. Highlights from the keynote included:
Companies are being asked to do more with less, save cost, and drive efficient growth.
Connecting your data and making it actionable is key to creating amazing customer experiences.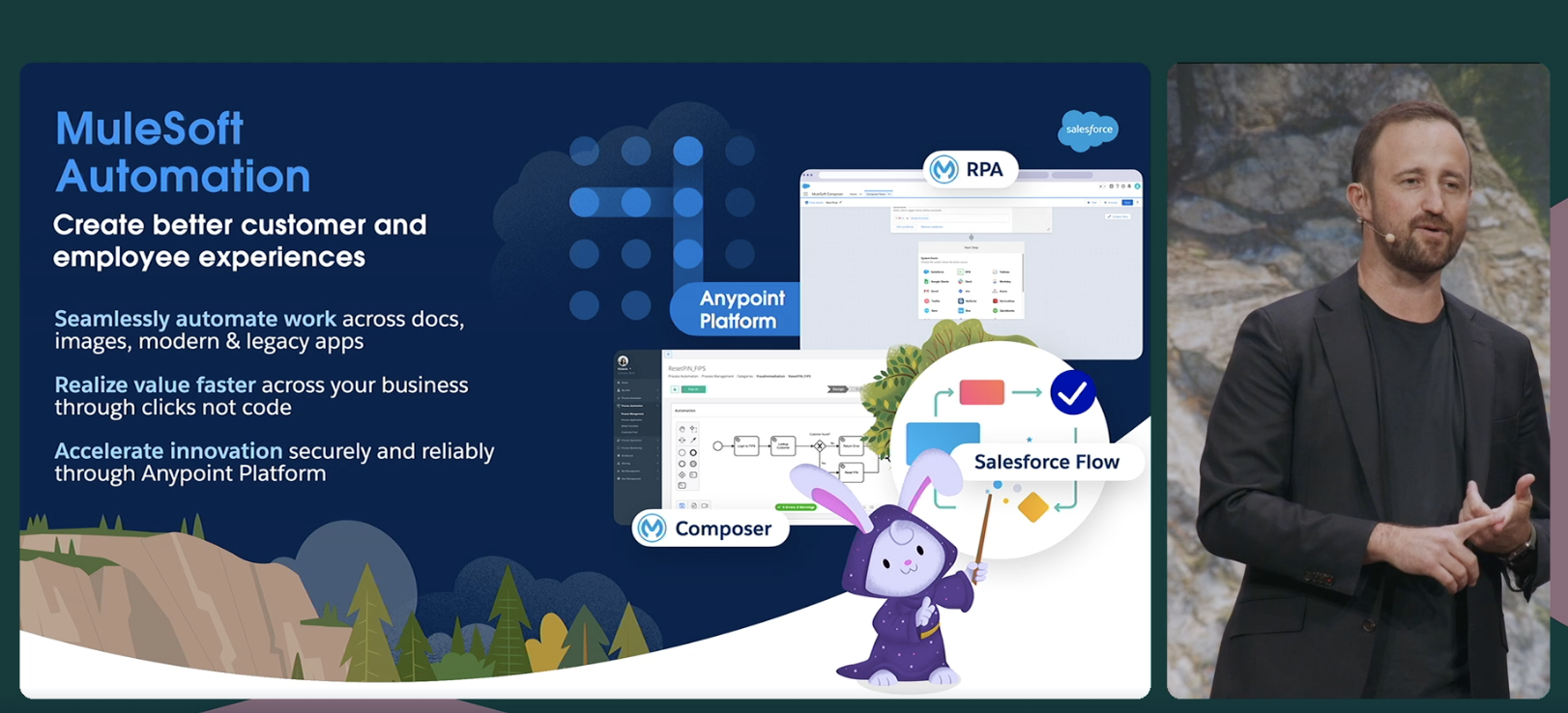 With MuleSoft Automation, you can take action by automating processes end-to-end and empowering business teams with agility.
MuleSoft Automation is key part of Salesforce Flow and powered by the magic of Genie.
You can automate faster with new MuleSoft Composer capabilities: Anypoint API Sharing and Composer Templates.

Get a complimentary Genie Readiness Assessment
Want to open Genie's bottle? Reach out for a complimentary Genie Readiness Assessment and we will advise if you have the requisite Salesforce technologies like Hyperforce in place to make Genie available to your organization.
---
More on Dreamforce '22