Did you know that the health of your Salesforce org is one of the most accurate indicators of your organization's ability to meet business objectives? According to the Hubbl Benchmark Report on Salesforce Optimization 2023, 80% of customers have more value they could unlock using the platform.
Zennify's Salesforce Health Recharge addresses this this. You get a fast multi-pronged tech diagnostic with a clear path to remediation—delivered by a team of real experts that work with you on quick wins. From partnering with hundreds of Salesforce customers, we guarantee that this is the most effective Health Recharge on the market.
Common Signs of an Unhealthy Platform
Do any of these challenges sound familiar?
Poor Adoption
Lack of value-add functionality
Ineffective training & awareness
Not aligned to current business process
Limited automation & integration
Legacy Features
Using old features such as Classic or Process Builder
On outdated versions of installed packages
Not taking advantage of new releases
Technical Debt
Hitting technical platform limitations
On retired API versions
Cumbersome to maintain & enhance existing code
Lengthy deployment & testing times
Buggy releases
Security Issues
Complex web of permissions that are hard to untangle
Not sure who can see what
Unrestricted API access
Data Problems
Poor data quality & integrity
Can't use demographic / behavioral data as desired
Siloed data across business lines
Difficulty in creating reports & dashboards
Key data not readily available
Introducing the Salesforce Health Recharge
Our proprietary and data-driven approach uses a diagnostic tool to reveal platform issues for Sales Cloud, Service Cloud, and Industry Clouds. It identifies business challenges and provides a clear, prioritized roadmap to optimal performance.
Technical Health
Quantitative Analysis
Automated Org Diagnostics
Data Hygiene Analysis
Quantitative Health Scorecard
Functional Maturity
Qualitative Analysis
People & Process Assessment
Domain Maturity Assessment
Qualitative Health Scorecard
Roadmap to Value
Path to Health
Benchmarked Findings against Salesforce & Industry Best Practices
Readout & Remediation Proposal
Roadmap with Quick Wins
Technical Scan Example Outputs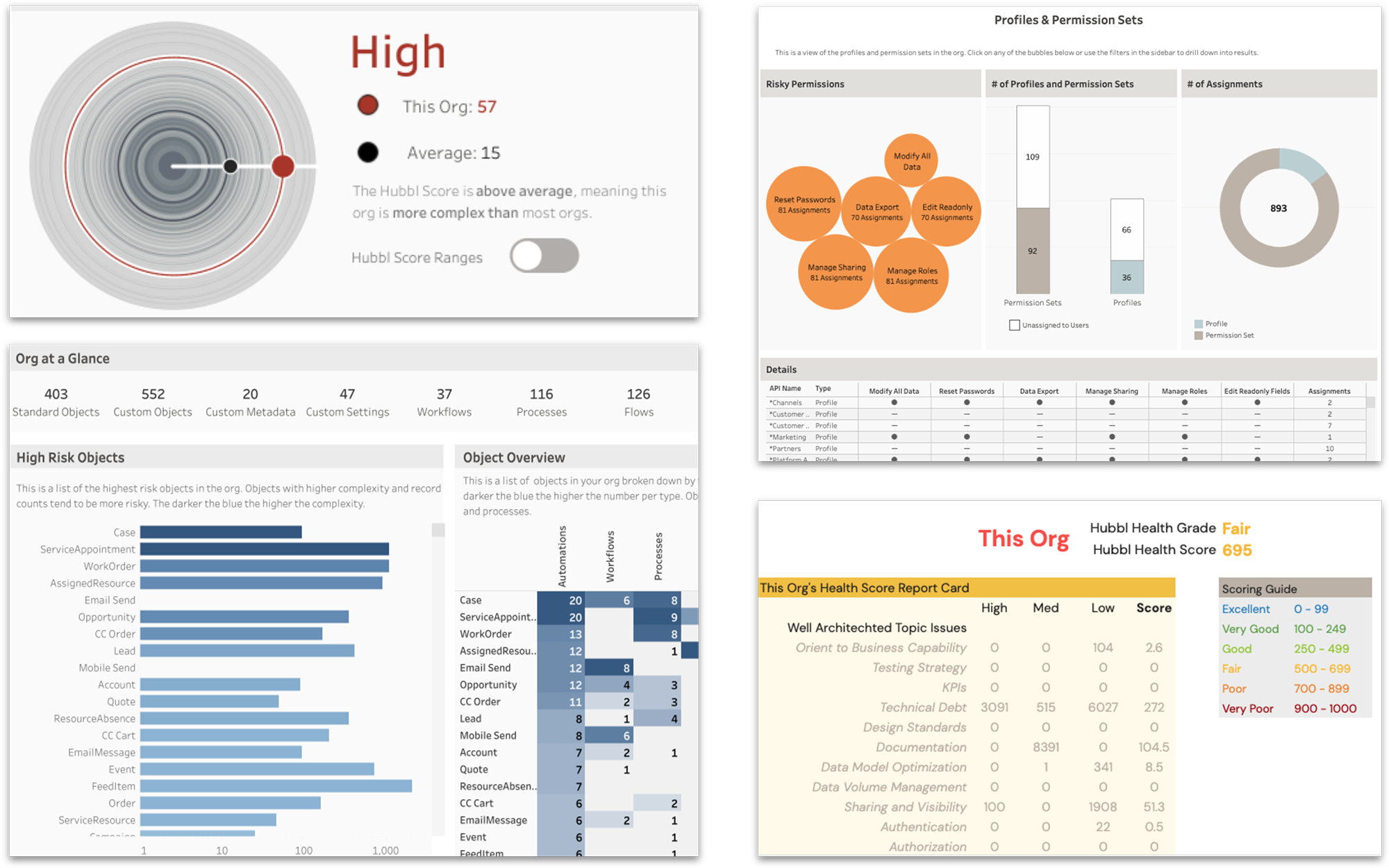 Get started today and we'll include the Technical Health portion at no cost to you (a $50k value).