There are more than 200 enhancements and new features that came out in the Spring 2020 Release. As your trusted advisor, we have digested all of the important pieces to provide an in-depth and educational highlight reel.
Breaking it all down
1. In the last release we were introduced to the Lightning Experience Recycle Bin, but it was a little lackluster compared to the Classic Experience Recycle Bin. In this release, Salesforce added the button which empties the entire Recycle Bin. You can also now access deleted reports and dashboards, and leverage all the Recycle Bin features so you'll never need to go to Classic again for any recycling needs
2. The App Launcher received a few small changes to make it more user-friendly. Instead of clicking on the 9-button icon and waiting for the full-screen modal that took a little while to load, a little menu now pops open and shows you the top seven or so apps you recently used. You can use the menu, or go ahead and search for a specific object, such as an account or case. It's a small change, but it made one of my colleagues really happy when he saw it!
3. Salesforce is also introducing a service called Einstein Voice Assistant. This works very similarly to Siri, Google Assistant or Cortana, but is obviously more focused on Salesforce. For now, the interaction is limited to your Salesforce data; it can't tell you a joke or order groceries like Alexa, darnit. Nonetheless, it is a cool service with some great skills, e.g. users can create or update customer records, get personalized daily briefings, or explore dashboards all by voice. With this being our first introduction to Einstein Voice Assist, future releases will undoubtedly provide further capabilities. We are super excited to see what this feature can and will do.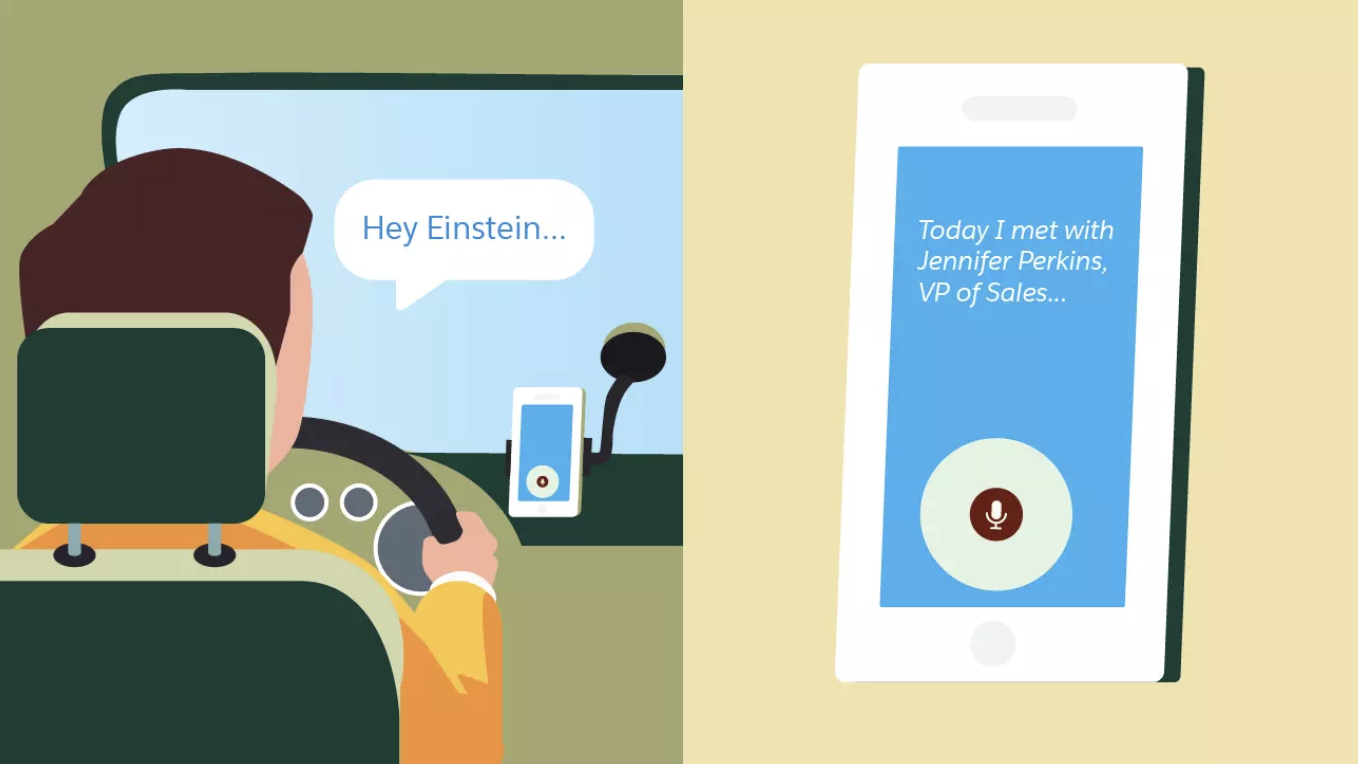 4. The long-awaited 'Clone Objects Along with Their Related Records' action makes it simple to handle a variety of repeating business processes. When you click 'Clone with Related', all of the original object's related records are also added to the cloned object. This was something we often built as a custom feature in our client's Salesforce implementations. We're so glad it's finally available out of the box!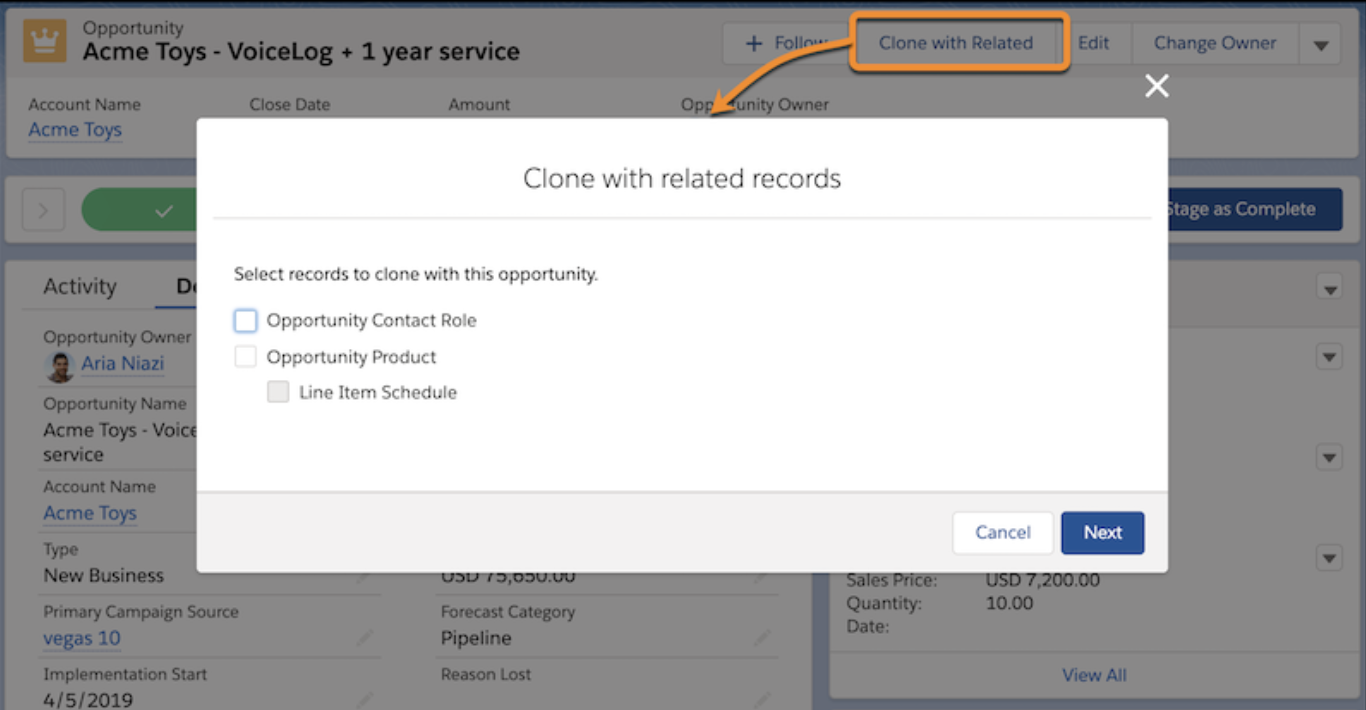 5. Previously you had to have an Einstein sales license to create predictions within Salesforce. But now with Einstein Prediction Builder you're allowed to create up to ten predictions for free, to kind of 'try out' the feature. Ten predictions is too few to fully appreciate all that Einstein can offer, but it at least gives users the opportunity to explore the feature
6. Now, Admins who are managing Next Best Action Recommendations will have some additional tools in their toolkit. This release introduces some recommendation strategy metrics and a dashboard to show what's happening with an org's recommendations, such as how many were accepted or rejected. This allows Admins to optimize their recommendations to ensure their end-users are getting the most out of them.
7. Opportunity contact roles are first-class objects now. You can now use Process Builder, Flow Builder, and workflow rules to automate processes for opportunity contact roles. For example, you can create a process that adds a required opportunity contact role to every new opportunity, or you can send notifications to opportunity owners when opportunity contact roles are created or updated. You can also better define the role or level of influence a contact has in relation to an opportunity!
8. Here's one that makes a lot of Salesforce admins very happy! You can now Assign Tasks to a Queue. When reps assign tasks to a queue, those tasks are available to all members of the queue, which means everyone can pitch in to help. No more relying on one sales rep to do it all. This new feature allows everyone on the team to lend a hand without having to wait for work to be delegated or reassigned.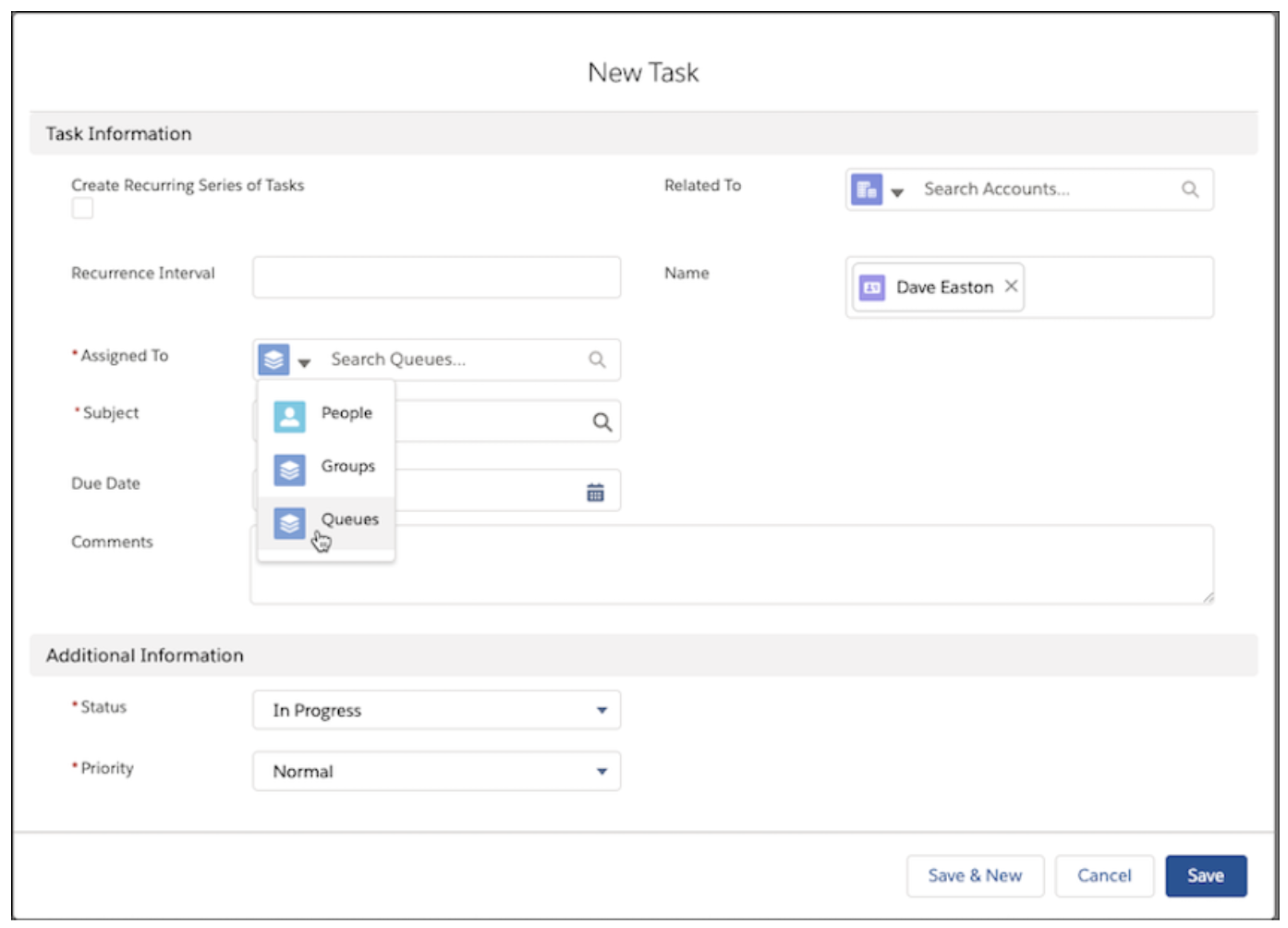 9. Einstein Reply Recommendations now analyzes data from chat transcripts to create and suggest chat replies that address your customers' inquiries. Agents can select the most relevant chat reply from a suggested list in the Lightning Service Console as they are communicating with customers. This is a pilot for now, but based on my experience with contact centers, I'm guessing this will be a huge hit and will become globally available with additional features in the coming years.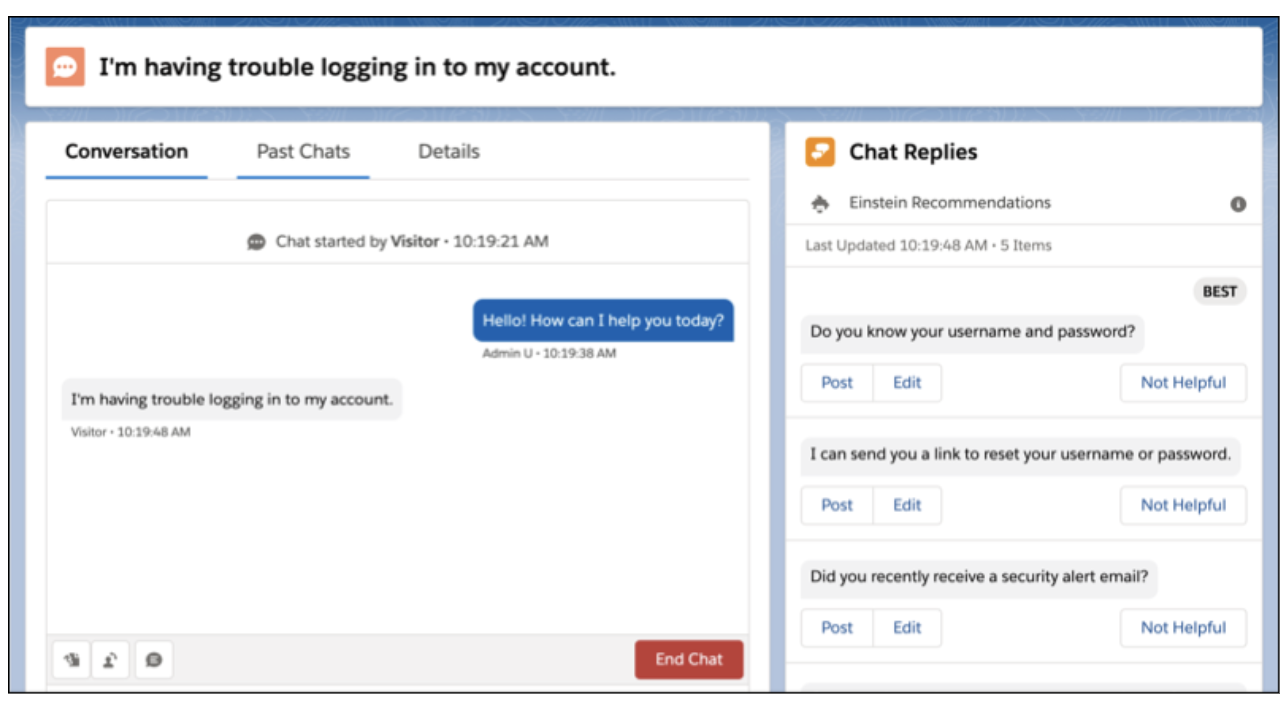 Users can now Explain, Predict, and Recommend with Einstein Discovery. Einstein Discovery exposes relevant facts and themes in your data without you building sophisticated software and statistical models.
10. In recent years, new regulations such as the European Union (EU) General Data Protection Regulation (GDPR) and California Consumer Privacy Act (CCPA) require companies to evaluate their technical and organizational controls to ensure compliance. Data governance issues can cause significant repercussions for your business, including loss of customer trust, legal consequences and possible regulatory fines.
One of the recurring concerns when creating sandboxes is exposing such PII data from your production org, where proper restrictions are in place to a larger set of users and admins who have access to a sandbox. Instead of manually securing data and access for sandbox orgs, admins can now use Data Mask to automatically mask the data in a sandbox. Data Mask uses platform-native obfuscation technology to mask sensitive data in any full or partial sandboxes. The masking process lets you mask some or all sensitive data with different levels of masking, depending on the sensitivity of the data.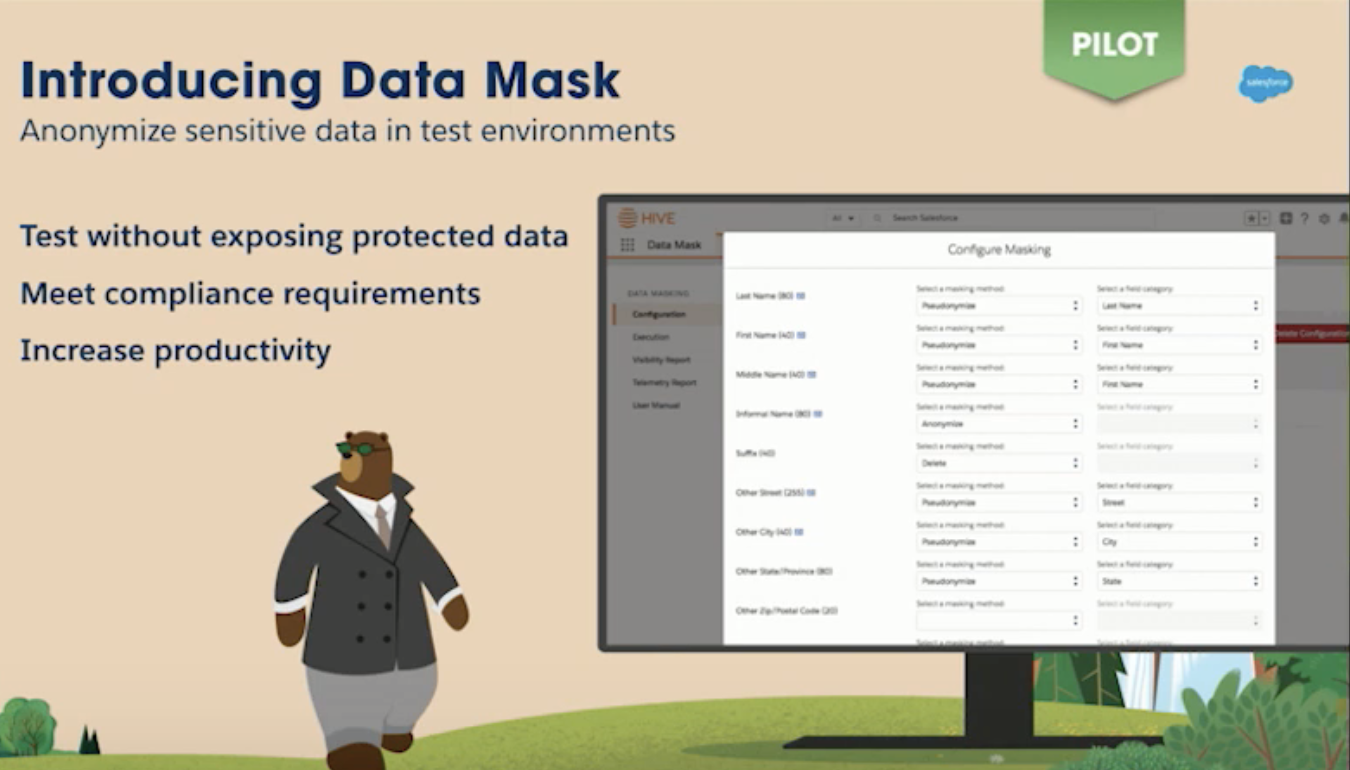 Wrapping it all up
As you can see, this release provides a lot of highly-anticipated features. Zennify is your trusted advisor when it comes to anything related to the Salesforce ecosystem. Contact us today to learn how we can help scale your tools, processes, people, and data.