In early June, Salesforce deployed the Summer '21 release, one of three releases that take place each year. With Summer '21, there were many incremental improvements and enhancements. I'd like to highlight 5 key enhancements.
1. Lightning Flow Enhancements
Hard to believe it has been barely six years since Process Builder functionality was released. Prior to that, workflow automation was limited to Workflow Rules for field updates, task creation, email alerts and Outbound Messages to SOAP endpoints. Admins with deep understanding of the Flow Designer could also configure automation and screen interactions with users. Lightning Flow capabilities have continued to expand with the last several releases and Summer '21 is no different.
Notable enhancements include:
Ability to build multicolumn screens (now generally available).
Is Changed can now be used as conditional logic for start elements and decision elements and setting default values for any screen component that displays a choice (i.e. picklist, multi-pick, radio buttons, checkbox values). In addition, ISCHANGED, ISNEW, and PRIORVALUE formula functions can now be used in record-triggered flows for new and updated records. This means that process builder or workflow rule functions using these formulas can be moved into record-triggered flows.
Collection Sort Element allows results from a collection to be sorted and limited in number. This allows data in the collection to be sorted, for example a set of products to be sorted by price or product family. And by limiting the data set, flow limit errors can be reduced or eliminated when working with large collection sets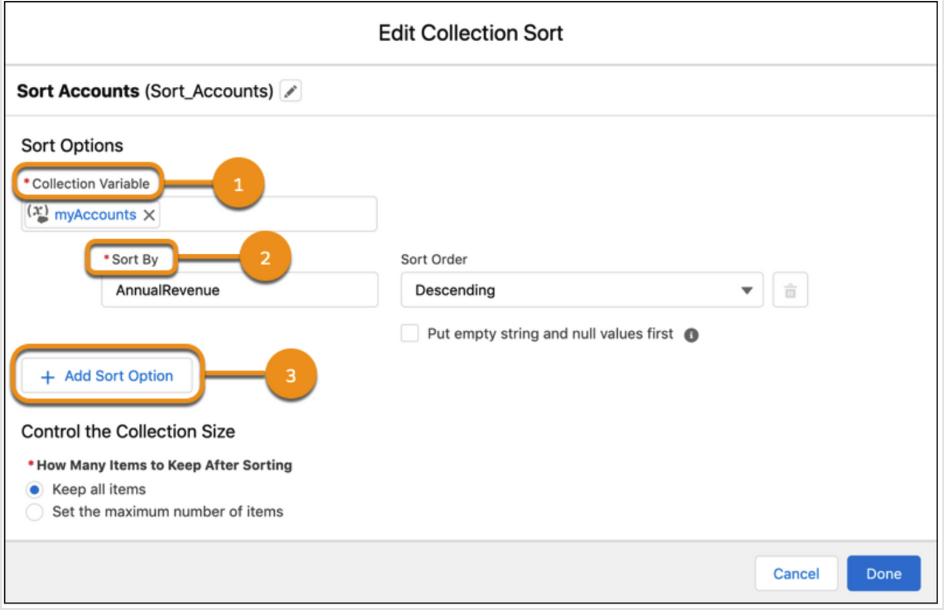 2. Financial Deal Management
Financial Deal Management is an exciting extension of the Financial Services Cloud data model for FSC users. The Financial Deal Management features allow teams to effectively track every aspect of deal-related interactions and take advantage of compliant, role-based data sharing options. This feature will have applicability for private equity, investment banking, corporate financial and mergers & acquisition teams among other users that can benefit from tracking deals through the full deal lifecycle. The Manage Participant component can be used to add users and groups to the Financial Deal as participants along with their role in the deal (Participant types) resulting in complaint data sharing for the Deal.
3. Inline Report Editing
Although just now being offered in Beta, Inline Editing in Reports is going to be a game changer for users. How many times have you been in a pipeline review meeting and the opportunity data is out of date and needs updating? Previously, users had to switch back and forth between the report results and the record detail view to edit data, which results in lots of clicks. Now you can edit the data right there in the report!
With inline editing, you can update certain types of text, numeric, and checkbox fields without leaving the Report Run page. For example, Sales reps can run an opportunity report and review and update the opportunity amounts in one place.
Contact Salesforce Customer Support and request to have inline editing turned on.
4. Pipeline Inspection
Pipeline Inspection gives sales teams a single view of their pipelines with key metrics, opportunities, and weekly changes in close dates, amounts, stages, and forecast categories. With these insights, sales teams can focus on the most important opportunities, and sales managers can spend more time coaching reps to close more deals.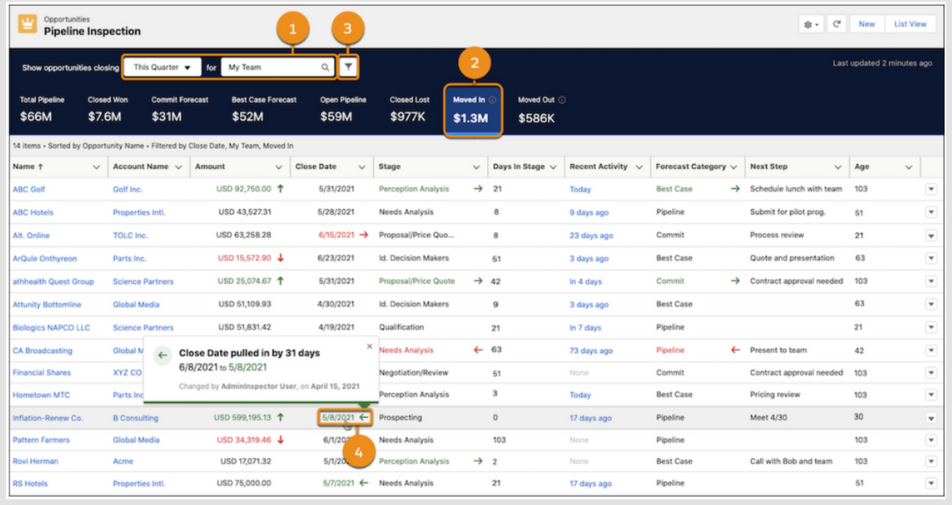 Quick filters can be used to narrow the view by time period, team, or sales rep and the overall view can be refined with filter criteria. Also, recent changes are highlighted in the opportunity list and any changes to amounts, close dates, forecast categories, and stages are highlighted with red and green text and arrows. This new feature allows a more informed and detailed pipeline review process for sales managers including trends, recent changes, and ease of filtering/drill down. This capability will reduce the amount of switching between various Opportunity list views, pipeline history reports, and more easily identify deal drift during pipeline review sessions.
Note: Pipeline Inspection is only available in the Lightning Experience for Sales Cloud users in Performance and Unlimited editions.
5. LinkedIn Navigator
Sales and Marketing professionals using Sales Navigator from LinkedIn to identify and further develop relationships with potential prospects and customers will appreciate the new LinkedIn Sales Navigator component. This Lightning component now supports native Salesforce integration to Sales Navigator and replaces the existing AppExchange app. Admins can add this component to Lead, Account, Contact and Opportunity pages. Also included are 2 actions for InMail and Connection requests. In addition, High Velocity Sales users can now incorporate InMail and Connection requests as steps in a HVS Sales Cadence as additional channels to connect with prospective customers.
Many of these new capabilities can improve the experience of your users and increase the business value your organization realizes from Salesforce. Please reach out to the team here at Zennify to learn more about these expanded capabilities. We strive to serve as an objective and trusted advisor to our clients and provide strategic advisory, implementation expertise and ongoing innovation / managed services across the Salesforce ecosystem.
Make the most of Salesforce Releases with Zennify
As you prepare for the Salesforce Summer '21 release and its many enhancements, we suggest focusing on those that bring you closer to your customers. If you need help along the way, Zennify offers both project-based consulting as well as our flexible Salesforce managed service which gives you access to our skilled, experienced resources across multiple disciplines, all on a monthly retainer.
As a trusted premier advisor with over 400 Salesforce implementations to date, Zennify can help you take advantage of this exciting new release—and those to come in the future.