As customers blend their digital and physical worlds, banks and credit unions must evolve to keep up (while abiding by ever-changing regulations). Many credit unions are pursuing a true 360-degree member view while managing account openings, deposit pipeline, member growth, and compliance, but find this tough to achieve given the disparate systems required to manage their day-to-day operations.
Our ZennLab created a real-time core integration accelerator to enable you to get to the holy grail of Member 360 faster by connecting Symitar and Salesforce Financial Services Cloud using the MuleSoft platform.
With our Member 360 Accelerator, you can:
→ Turn The Account-centric View into a Member-centric view
The most common challenge we see with credit unions who use Symitar is that it's difficult to see everything about a member all in one place. Our built-in logic aggregates all of a member's accounts into a single view.
→ Use Standard Salesforce Objects with Core Data
Core sync uses Salesforce Financial Services Cloud for Member data without writing custom code—and updates in real-time.
→ Reduce Cost & Development Time by 60+%
Reduce the risk and cost of building solutions in-house with our proven pre-built connectors.
→ Enhance Member Experience
Connect member, financial account, and transaction data across all systems and channels for accurate, real-time member view.
Our most common use cases for the accelerator are: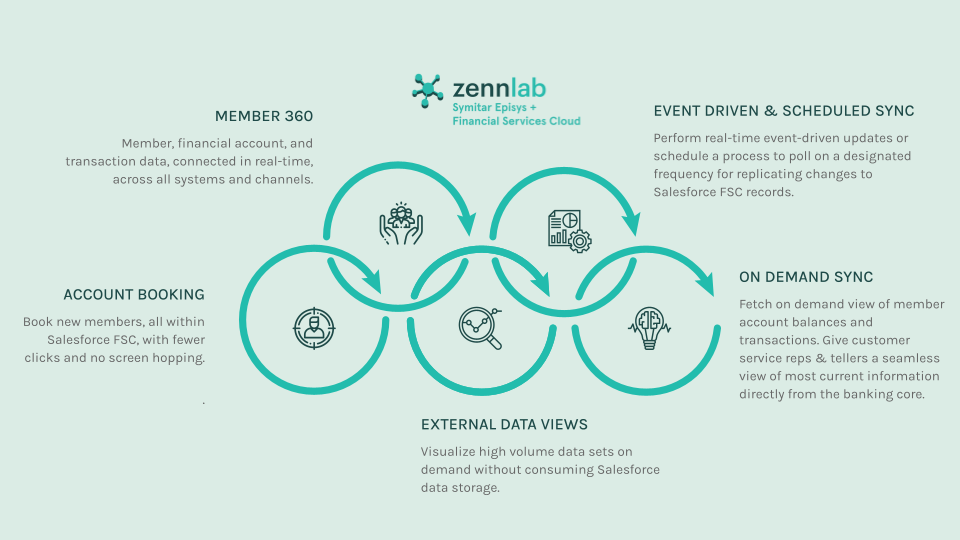 A look at the MuleSoft API-led architecture: