The latest updates for Tableau are now available in the 2021.3 release. Read on for the key changes and highlights that can make Tableau easier and faster to use than ever. 
Data Management Updates
Tableau's 2021.3 release is jam-packed with new features that will make daily data management easier and more accessible. Here are the four main data management updates:
Use

Linked Flow Tasks

in the Tableau Prep Conductor to schedule flows to run in unison. This will make the data available as soon as possible while also reducing load times and overhead of Tableau Server resources. 

Generate Missing Rows

in a table using the Tableau Prep Conductor. This enhancement allows Creators to develop accurate visualizations by using data from Tableau Prep to fill in missing data, which ensures datasets are properly developed and prepared for the visualization process.

Data Quality Warning subscription emails mean you can now get instant notifications when there's a potential problem with your data.

Web authoring inherited descriptions now give you fuller context for your data.
Tableau Notifications in Slack
After Salesforce's landmark acquisition of Slack this year, we knew it was only a matter of time before we started to see some crossover between Salesforce products and Slack.
In the latest Tableau update, you can now use Tableau directly in Slack.
The Tableau for Slack integration means users can now receive direct notifications in Slack for data-driven alerts and for content shares and @mentions in Tableau. These integration updates will promote open collaboration and increase data-based decision-making across your organization. 
The following is an example of how the Tableau for Slack integration would appear once the user received a notification that their current quota was met. As you can see, you're able to make edits to this alert directly in Slack, along with sharing, collaborating or exploring the overall visualization.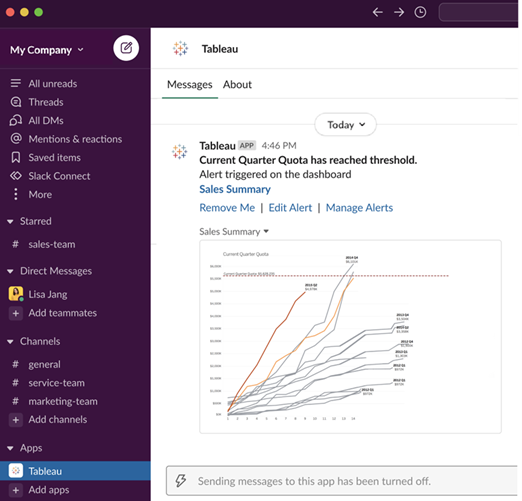 The Slack integration is available for both Tableau Online and Tableau Server, and you can set up Tableau for Slack in just 3 easy steps. Click either link below to get started. Please note the setup process differs between the Tableau Server and Tableau Online products.
A few key things to consider:
You are limited to one Slack workspace connection per Tableau site.

When a new version of the Tableau Slack application is available, Tableau recommends reinstalling the application to maintain app performance and use new features.
Personal Space
In the latest update, data exploration is now freely available to any user with an Explorer or above license. What does this mean? Admins no longer need to create private projects for users who want to create content and stage workbooks. Users can also save their content in their private personal spaces until they're ready to share it with others.
Coming Soon: Tableau CRM for Slack
Tableau CRM for Slack will be available as a pilot in the Salesforce Winter 2022 release. The Tableau CRM for Slack app will allow users to run Einstein Discovery predictions, receive notifications, and also collaborate directly in Slack.  
If you're interested in the upcoming Salesforce Winter 2022 release of Tableau CRM for Slack, reach out to your Salesforce Account Executive for additional information and steps to join the pilot program.

Interested in a 1:1 briefing on the latest Tableau update? We love talking data.