Fall has arrived, bringing with it pumpkin-spiced drinks, Halloween decorations and turning leaves. And as the leaves are changing, so too is the Salesforce platform, with its Winter '21 release. The full release notes stretch out to 607 pages, but the Zennify team has compiled our top six favorite features from the release. Here are the ones you won't want to miss:
1. Dynamic Forms and Actions
With this new release, Dynamic Forms will be generally available, enabling user-centric page layouts that display the right information at the right time. Now, you can place fields anywhere on the page layout without having to confine them to the traditional record details section. You can also control who sees which fields, using visibility rules to make the fields in a form component appear and disappear based on profile or device permission criteria. This capability—previously available only on custom object record pages—eliminates the need to create multiple page layouts for multiple profiles.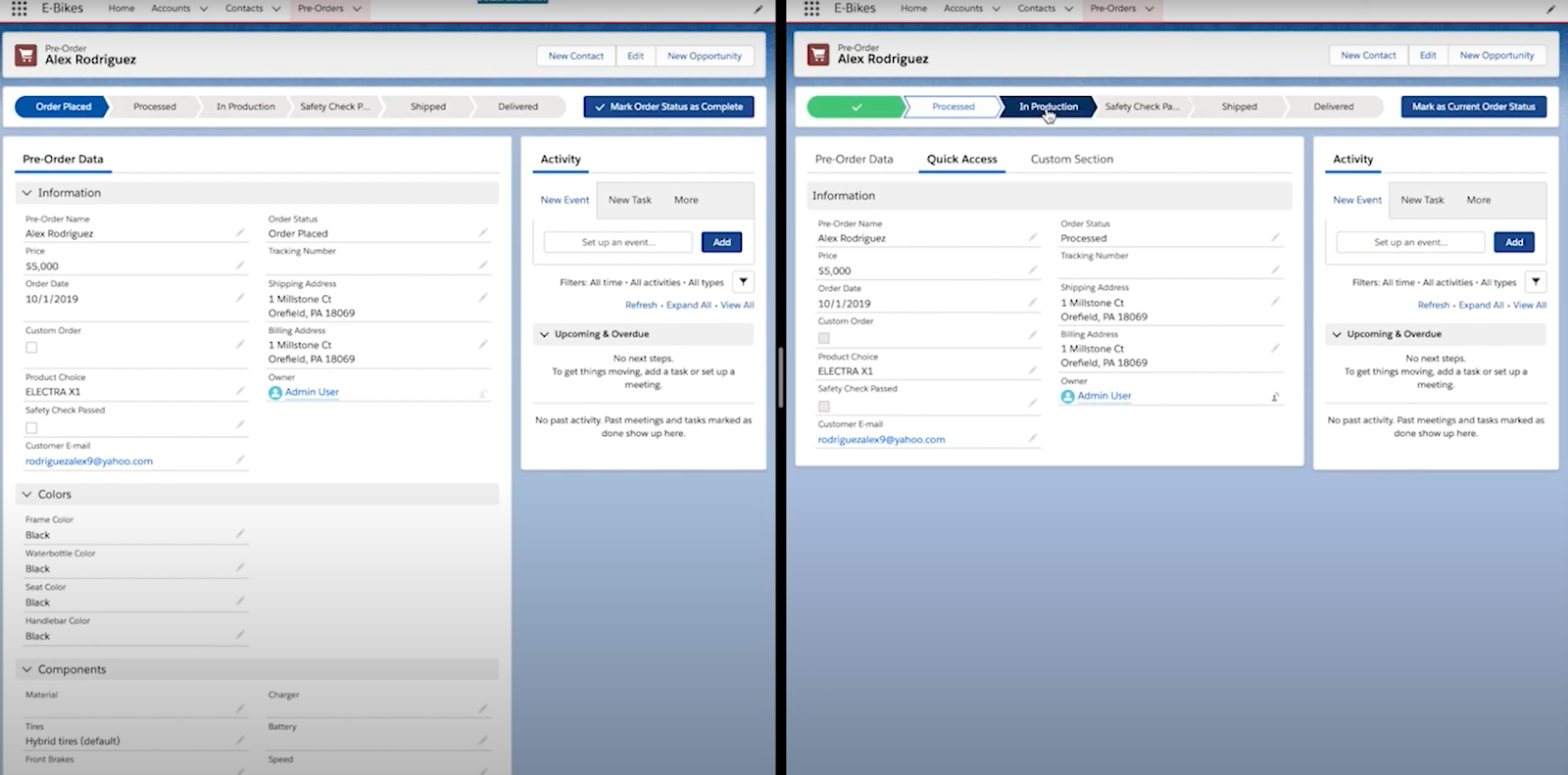 A comparison of an older layout (left) with a new layout (right) using Dynamic Forms to clean up and remove the Details section of irrelevant data
Dynamic Actions will also be generally available, enabling you to assign Actions in the Lightning App Builder instead of on the page layout. In addition, you can choose who Actions are displayed to, for a cleaner, more user-friendly experience.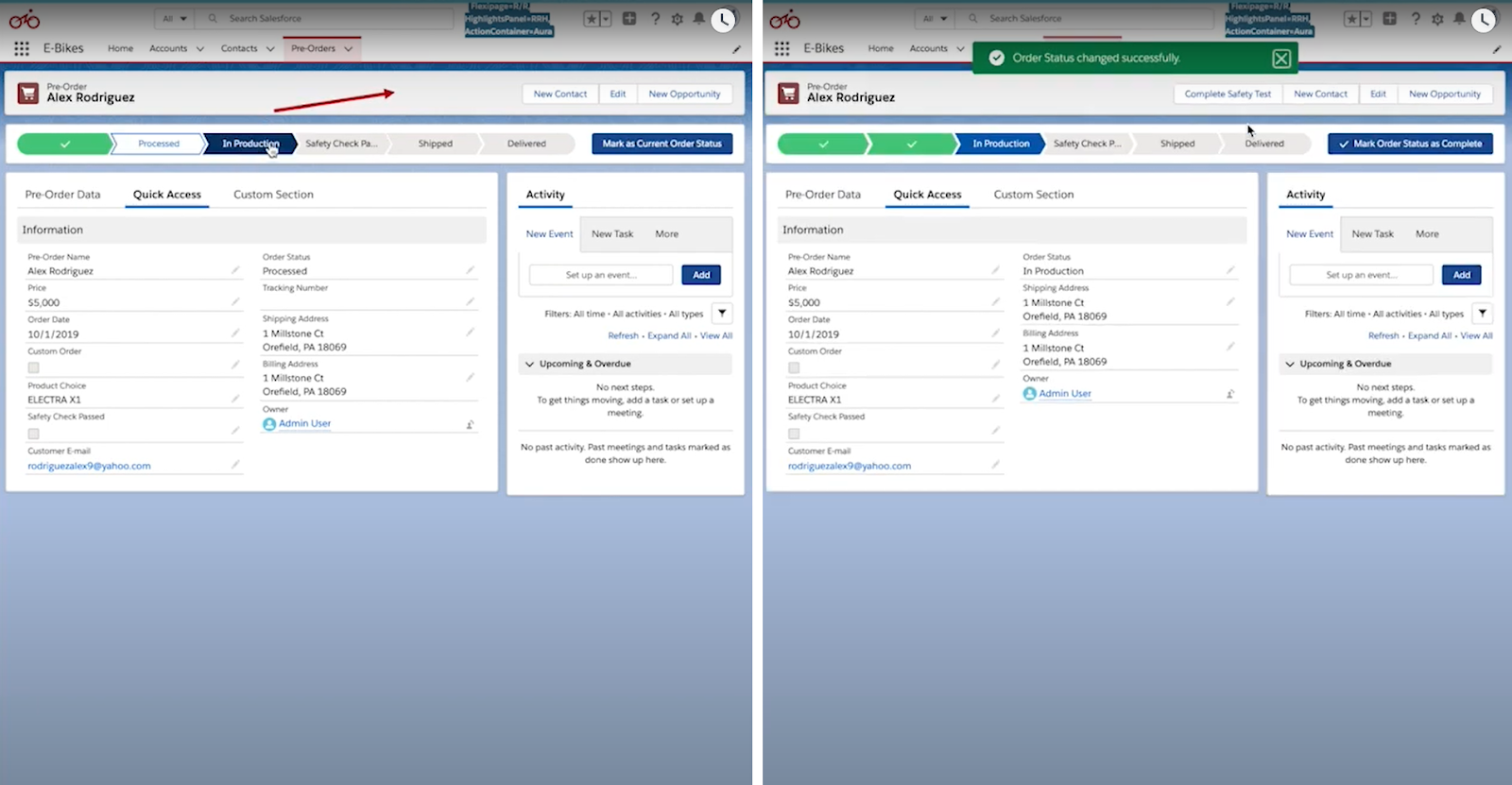 Displaying how a new action, "Complete Safety Test," appears once "Pre-Order" is moved from "Processed" (left) to "In Production" (right)
If you're encountering problems with slow-loading Lightning pages, you can now discover ways to improve their performance—right inside Salesforce. Just click on the "Analyze" button at the bottom of the Lightning App Builder page, and you'll get instant recommendations for boosting page performance. Now, any Salesforce administrator can quickly and easily find out exactly what adjustments are needed to improve end-user experience.
Sample Page Performance recommendations
3. Einstein Lead and Opportunity Scoring
With Einstein Opportunity Scoring, you can now exclude specific records and fields from your scoring model to fine-tune and improve its accuracy. And while Einstein Lead Scoring previously required 1000 new leads and 120 lead conversions over six months to activate lead scoring, now smaller organizations with fewer leads and conversions can take advantage of the capability. With the Winter '21 release, Einstein Lead Scoring will utilize anonymous, aggregated data to help smaller orgs score leads. Once the Salesforce org amasses enough data of its own, Einstein will automatically switch to scoring based on that information only.
Taking advantage of these enhancements to Einstein Lead and Opportunity scoring, sales teams at companies of all sizes can better determine which leads to focus on nurturing, and which opportunities are most likely to convert to sales.
Previously, administrators had to manually add new custom fields to Custom Report Types—an inefficient, time-draining task. In this latest release, Salesforce has added an automated feature for adding fields to custom report types, dramatically improving the efficiency of the process.
For all of you Flow enthusiasts out there, Salesforce is also making significant improvements. Previously, Flows could not be triggered on a record deletion; this could only be done using Apex code. But with this update, you now have the option to run the Flow with a "before delete" trigger.
Another new capability, Auto-Layout, dramatically streamlines the process of building Flows. This mode automates the connections between components and organizes the Flow on the canvas—for elegantly structured, easy to understand Flows. Plus, Auto-Layout greatly simplifies the process of adding functionality to existing Flows.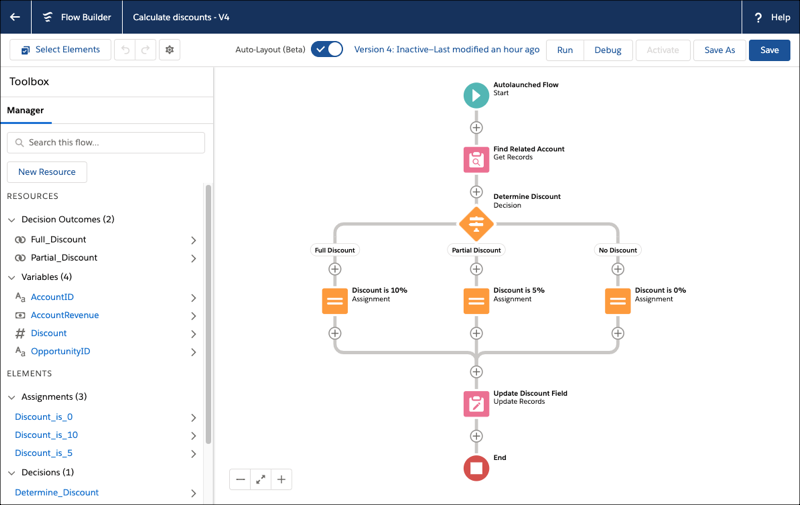 The new Auto-Layout Flow canvas (above). To add an element, click the + icon, and a list of elements available for this location is displayed (below).
With this latest release, Salesforce also allows administrators to debug Flows either directly on the canvas (no longer in a separate tab) or as a specific user—enabling them to quickly and easily identify problems in new and existing Flow builds.
The Compliance Data Sharing feature for Salesforce Financial Services Cloud provides a centralized location to help administrators easily control who can access specific records. Currently, this feature is only available for the Account and Opportunity object. But with the Winter '21 release, you can now use Compliance Data Sharing to seamlessly control sharing access across all account and opportunity records that a user is a participant of. This capability is particularly beneficial for Account or Opportunity teams where sharing is set on each record and becomes inconsistent throughout the Salesforce org.
This new feature supports familiar platform features such as Approval Process, Process Builders, Triggers and more. You can create process builders to automatically grant access to several different participant roles each time an account record is created. Or, you can create an approval process that requires users to request access to an opportunity and gain approval before being added as a participant to the record. Compliance Data Sharing also works alongside manual and criteria-based sharing; whichever method provides the highest level of access determines what the user can view or edit.
Taking advantage of this enhanced Compliance Data Sharing functionality, your company will be able to effortlessly comply with data sharing regulations.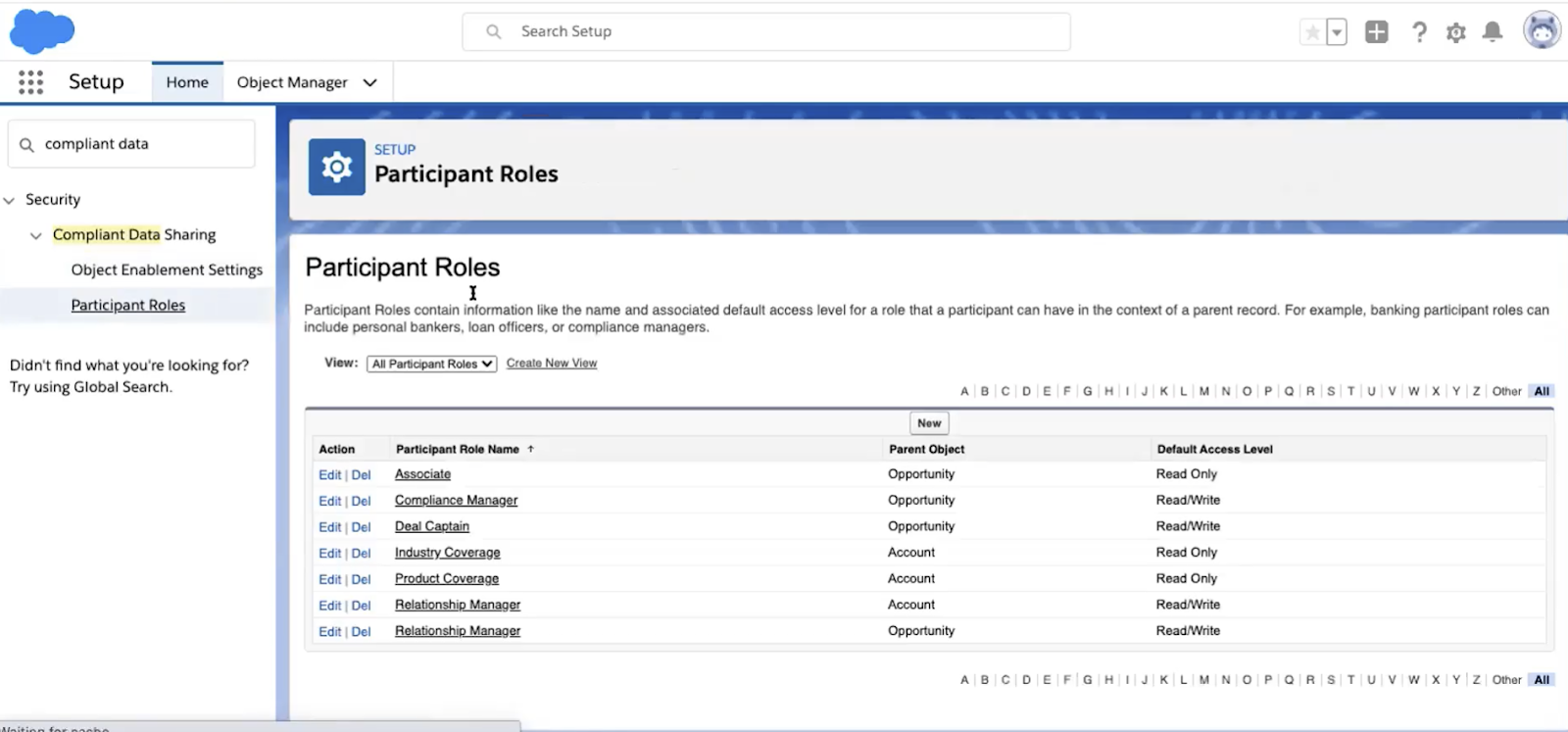 Configure Participant Roles at the global level. Updating a Participant Role's access levels from this page will automatically update the access levels of all users assigned to that role.


Add Participants to an Opportunity or Account. Users will not have access to the record until they are activated.
Make the most of Salesforce releases with Zennify
As you prepare for the Salesforce Winter '21 release and its many rich new features, we suggest focusing on those that bring you closer to your customers. If you need help along the way, Zennify offers both project-based consulting as well as our flexible Salesforce managed service, ZennSight. ZennSight gives you access to our skilled, experienced resources across multiple disciplines, all on a monthly retainer.
As a trusted premier advisor with over 400 Salesforce implementations to date, Zennify can help you take advantage of this exciting new release—and those to come in the future.