In a recent Lunch & Learn, Zennify showcased the new Salesforce functionality we built as part of our continued partnership with Crush the Curve Idaho (CTCI). These enhancements are helping the organization scale its technology platform, boost its COVID-19 testing and vaccination administration capabilities—and support our state in its fight against the pandemic.
Laying the groundwork with CTCI & Medical Network Solutions
Crush the Curve Idaho (CTCI) is a nonprofit organization founded by Idaho businesses, innovators and leaders in response to the COVID-19 pandemic. Its mission is to get Idaho back to work and empower Idahoans to defeat the novel coronavirus. CTCI does so by providing testing, promoting awareness, sharing resources and offering support to Idaho citizens, schools, businesses and others affected by the global pandemic.
Zennify's partnership with CTCI started in June 2020 when the Treasure Valley organization formed. At the time, we provided pro bono services to get CTCI up and running, but the organization soon found that in order to work effectively with lab partners, it needed to scale up.
Working closely with Medical Network Solutions, our Zennify team architected a Salesforce-based technology platform to support CTCI's fast-growing network of partners through multiple secure, individually branded Salesforce Community (Salesforce Experience) instances. In addition, Zennify configured case management, rapid response testing capabilities and even an online symptom checker.
Since then, CTCI has been able to manage testing and vaccination administration on a larger scale, while forming relationships with businesses, hospital systems, lab partners, long-term care facilities and school systems across the U.S. In fact, the joint solution between Medical Network Solutions and Zennify has been so successful at CTCI that Medical Network Solutions now licenses it out to its partners as a white-labeled solution.
Vaccine availability brings new challenges
When the COVID-19 vaccine became available to the public, CTCI and its testing partners, lab partners, Client Community Administrators and support staff faced a fresh set of challenges around vaccination administration for mass vaccine clinic events, as well as group and individual testing.
Vaccination management
CTCI required a way for qualified individuals to register for vaccination through its website.
Support staff at mass vaccination events needed to quickly and securely check in individuals for their appointments.
To safely administer required dosages, CTCI needed a way for vaccine administrators to access all necessary details about an individual's immunization history.
Group & individual testing
CTCI wanted to give Community Admins the ability to create and manage individual and group tests on the fly.
CTCI required a way to efficiently notify individuals of their test results. To support contact tracing in the event of a positive result, it also needed the capacity to alert other organization members to any possible exposure.
CTCI needed to give labs the ability to quickly associate test sample vials to individuals for immediate tracking of results.
Zennify builds the solution
To help CTCI address these challenges, Zennify designed and delivered a suite of enhanced, Salesforce-based capabilities, including:
Vaccination management
Vaccination registration:
To enable people to register for mass vaccination events on CTCI's website, Zennify configured a registration flow that determines an individual's vaccine eligibility through several pre-screening questions. Once they schedule an appointment, eligible registrants receive a branded email confirmation which includes their appointment details and a unique ID related to their Person Account in Salesforce (below).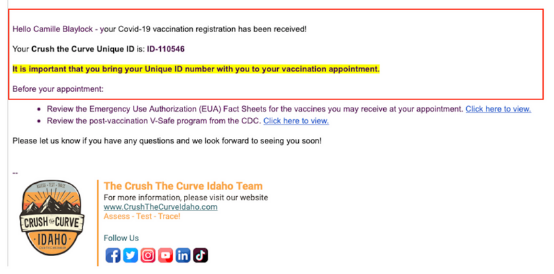 Vaccination check-in:
Zennify also configured a new check-in flow to help clinic support staff quickly and easily check patients in for their appointments through simple landing page icons (below). The unique ID included in the patient email confirmation verifies the associated patient with the Person Account record in Salesforce.

In addition, we added an extra layer of security by requiring support staff users to enter an authenticated pin before being able to check patients in: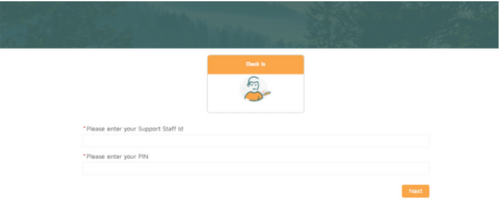 We also enhanced the ability for support staff to search for an individual by their unique Member ID or last name and date of birth (DOB):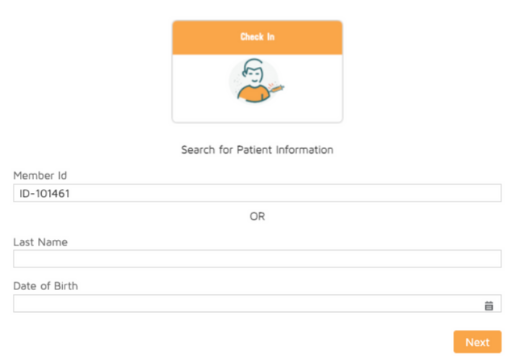 To make the check-in process more efficient, we configured a Visualforce page that generates a PDF of labels, each including a scannable QR code, the patient's name and the unique ID associated with their Person Account in Salesforce:

Vaccination reporting & adverse reactions:
Once they've administered a vaccine, administrators can enter the Vaccinate flow to create and/or update patient immunization records: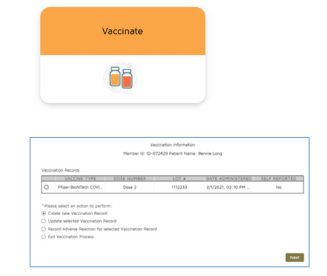 We also included the ability for users to edit and update a patient's immunization record to maintain accuracy in reporting per organizational and federal guidelines.

In the Adverse Effect flow, vaccine administrators can see all pertinent information related to a patient's current and previously administered vaccinations, including the brand, dose number, lot number, date administered, self-reported, right/left arm, adverse reactions, insurance and location/event.

By viewing all of this information on one screen, vaccine administrators are better equipped to administer the correct dose based on previous immunizations and take the proper precautions if a patient has suffered an adverse vaccine reaction in the past.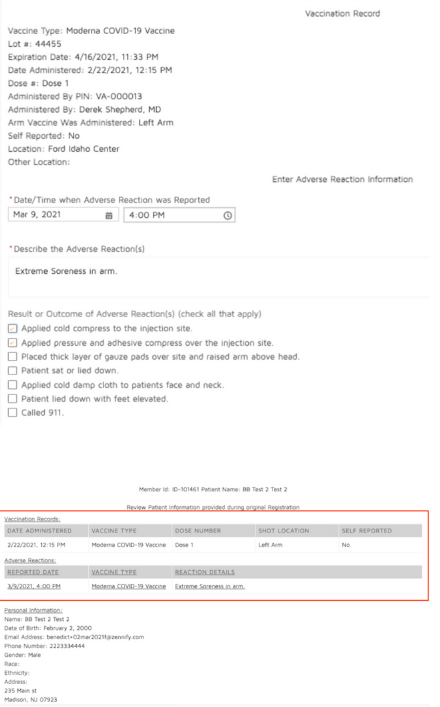 After their appointment, patients receive a branded vaccination confirmation email summarizing all of the pertinent details: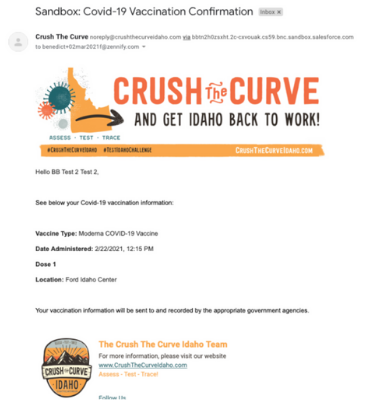 Group & individual testing
Individual & group testing/manage teams:
To help testing partners organize testing events for groups and individuals within a school or organization, Zennify configured a custom component that allows users to quickly see who needs to be tested for COVID-19. The component includes member search functionality, pagination and list views, and the capability to filter based on role and/or grade level, as well as add and remove team members.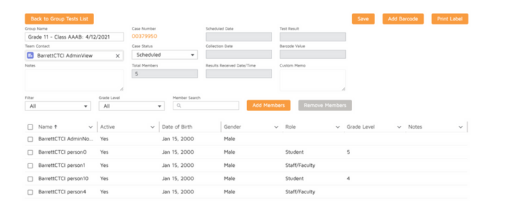 Client Community Admins can select and move multiple case records to a different status with a single click.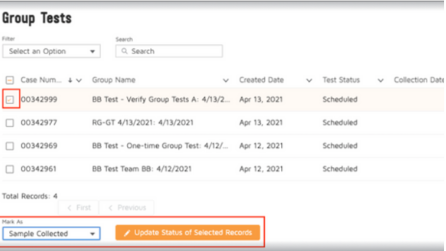 To assist in contact tracing, we added an indicator to alert if an individual has potentially been exposed to the virus by another team member who has tested positive. A branded email is also sent. In this way, Client Community Admins can quickly take the necessary actions required to reduce the spread of COVID-19 within their organizations.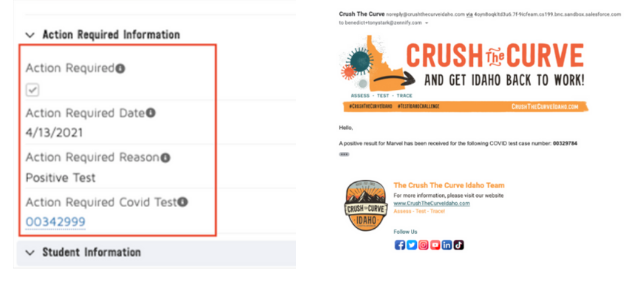 Barcode generation & labels:
To support efficient reporting, Zennify installed and configured Barcode Zone, a solution from AppExchange that generates scannable 1D barcodes. We also configured several Visualforce Pages that create a PDF of scannable, pre-populated labels related to a patient's Person Account record in Salesforce and immediately associate their test results.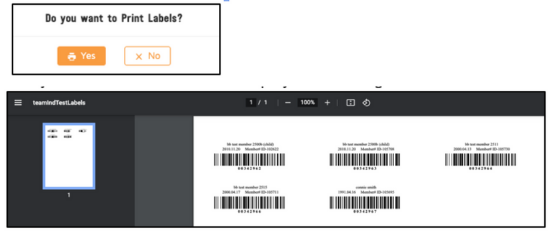 Doing our part to fight COVID-19
Even in the face of CTCI's rapidly changing needs, government requirements, vaccine availability and the ever-shifting landscape of the global pandemic, Zennify and CTCI have successfully worked together to streamline and scale COVID-19 testing and vaccination administration.
Zennify is proud to have played a role in "crushing the curve" in Idaho. Our mission is to be problem solvers and relationship builders that create solutions, opportunities and sustained success for our community, customers, employees and future generations. Taking part in such a crucial community project is precisely the "why" behind what we do.
Learn more about CTCI and Zennify's work with the organization.