Is it just us, or is Dreamforce like the adult-version of a kid in a candy store? Along with the excitement of this action-packed conference, it tends to be overwhelming with so many "have-to-see" sessions and even more happy hours and keynotes to attend. As your trusted advisor, we want to connect with you and ensure you know where to find our team!
Here are a few of the places you can find us:
ZennFest
Tuesday, November 19
6:00 pm – 2:00 am
Black Cat @ 400 Eddy St, San Francisco, CA 94109
The Official Financial Services After Party at Dreamforce
Zennify is hosting the second annual ZennFest at Black Cat on November 19th starting at 6:00 pm. This event is reserved for Zennify customers, Salesforce employees, and those looking to become Zennify customers in the Financial Services industry. If you're interested, please send an email to your Zennify contact to be added to the guest list.
Ag Banking Happy Hour
Thursday, November 21
6:30 – 10:00 pm
Westwood SF @ 2036 Lombard Street, San Francisco, CA 94123
The Official Ag Banking Event at Dreamforce
Salesforce, Zennify, and Docusign are excited to host an Ag Banking happy hour at Westwood SF Bar. There will be drinks, food, and live music to accompany a night of connecting with like-minded individuals in the Ag Banking space. In addition, Zennify is providing free transportation to and from the venue location thanks to Uber! If you're in the Ag Banking industry, and interested in attending this event, please register through the event link here.
Financial Services Focuses
Financial Services Keynote: Hear how State Farm, Barclays, and Good Return are accelerating transformation in financial services.
Customer Success Keynote: Learn best practices and tips from Trailblazers like you who are driving their companies forward.
Visit the Financial Services Campground experience at Moscone South to dive into interactive solution and product demos across banking, wealth, insurance, and lending.
Most Anticipated Sessions in the Financial Services Arena
There are over 1,500 Dreamforce sessions. Yes, you heard that right. 1,500!!
With that being said, our team has combed through every single session and listed our top session recommendations based on industry and product focus. Whether you're in the Banking, Insurance, Mortgage, Lending, or Wealth Management industry, we've got the session list just for you!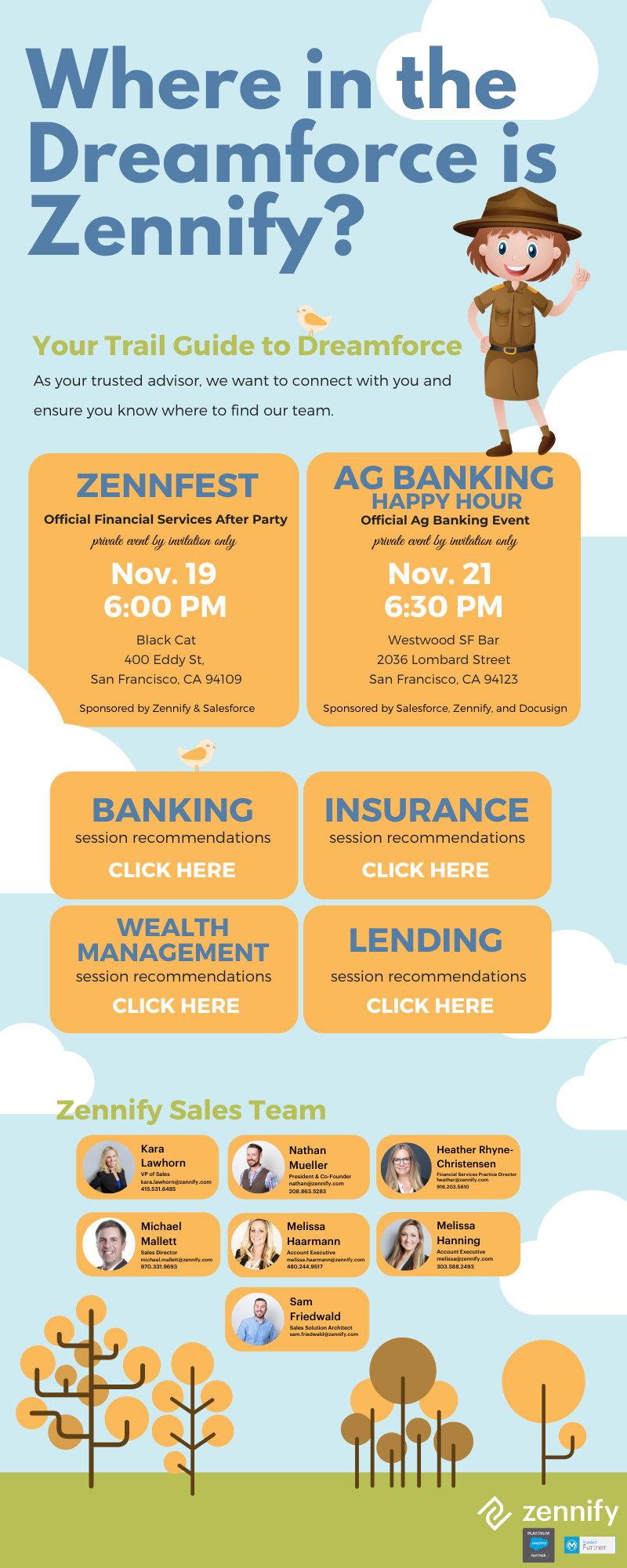 Your Trusted Advisor
As your trusted advisor, Zennify will be your navigator for all things Dreamforce related. Use the quick links below for resources but please contact us if you have any questions!
Quick Dreamforce Links
Leverage Dreamforce trail maps to get an idea of industry specific sessions and events
Connect with Zennify on social media to keep up-to-date with our Dreamforce adventures