A recent survey of executives by McKinsey reveals that companies have accelerated the digitization of their customer interactions and of their internal operations by three to four years because of COVID-19. This is staggering. We've been talking about the need for digital for decades. We all know customer behaviors have shifted, and many companies have put together roadmaps to make the operational, technological, and people changes needed to evolve. But these roadmaps are often plotted out in years.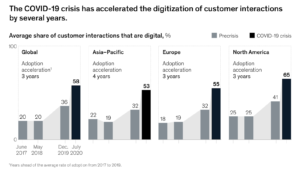 How is it possible that a global crisis cranked up the speed of these digital initiatives? This graph is so revealing — projects that companies thought would take a year+ were miraculously executed in less than a month in 2020.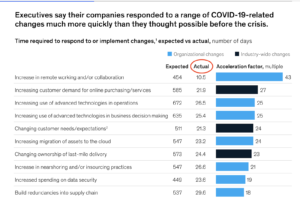 So how did they do this? MIT Sloan put out a really terrific read at the end of November called "What a Crisis Teaches Us About Innovation." In it, they isolate and explain the five conditions that characterize a crisis and boost innovation:
A crisis provides a sudden and real sense of urgency.
This urgency enables organizations to drop all other priorities and focus on a single challenge, reallocating resources as needed.
With this singular focus and reallocated resources, it's now everybody's job to come together to solve the problem, bringing a new diversity of viewpoints and perspectives.
This urgency and singular focus legitimizes what would otherwise constitute "waste," allowing for more experimentation and learning.
Because the crisis is only temporary, the organization can commit to a highly intense effort over a short period of time.
I acknowledge that many of these sound like common sense, but when they really delve into these, there are some amazing insights.
"In the absence of a crisis, people seek the status quo. The same is true for company leaders, who tend to wait until a problem becomes acute — the classic burning platform — before addressing it."
This makes sense. Why would the CEO allot money to eCommerce or a knowledge hub, for example, if they weren't losing market share to competitors with a more evolved digital presence? If revenue models show that these could result in profit gains, lower attrition rates etc., sure, these things probably make their way onto the roadmaps — but again, with a multi-year project timeline. MIT says they often run CEOs through doomsday exercises to see what comes up if they felt like they were on their last legs and how this would change their strategic directions / decisions. I think this is a useful tool for all companies, and can bring forward the kind of bold new thinking that we've seen out of 2020.
On a personal note, this made me think about my role as a marketer. When I interviewed with Zennify, I spoke with one of our co-founders Nathan Mueller and he asked me point blank, "You've been in services marketing for so long. How will you not be bored?" It's a good question as I know plenty of marketers (and beyond) that can get stuck on autopilot. It's known, it's comfortable, it's low risk. But the joy of being in my role, in this age, at this company, is the fun of experimentation. Of running low cost MVPs to see how they perform. One cool change our marketing team made this year, which did spawn from COVID-19, was that we took a totally different approach to holiday gifts. Instead of sending the same package to clients at their office address, we instead sent them an email, linking to a digital portal, where they could choose among a few gift options that would get sent directly to their door. If they didn't want any? No problem, no order and no items wasted. Using flexible technologies as our backbone made this pivot simple. We will definitely carry this "new way" into the future.
Another insight from MIT Sloan: "As long as parameters are clear, having a plurality of contributors generating a portfolio of different possible solutions is invariably a good thing, because it increases the chances that one of the generated solutions will work. This is the classic 'multiple shots on goal' approach, where the objective is clear but the best ways of achieving it are not yet understood."
Heterogeneous teams, diversity of backgrounds, using minds with experience from both in your industry and outside are all so valuable. I've seen this first-hand working in consulting. It is one of the many reasons to bring a consulting firm into the mix. For so many clients we are able to bring not only definitive technical expertise, but also perspective across industries to really look at the Art of the Possible.
McKinsey points out that technology-driven strategy is a huge competitive advantage and has facilitated this fast innovation. They show that executives will continue to grow their technology investments as the gains have been noteworthy.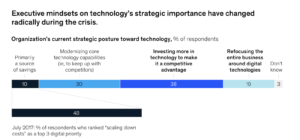 This is a storyline we know ever so well. We have seen many of our customers spin up a Salesforce Community virtually overnight to ingest PPP loans. With this greater understanding of the flexibility of the Salesforce platform, projects that were on hold, such as incentive compensation automation or vendor contract management are no longer on a long list of "nice to haves," but are being executed in a matter of weeks, not years.
As we end the year, beaten and battered to some extent, it's nice to realize that there were positives than came from 2020. The rapid pace of change made us foundationally believe we can make digital pivots faster than we ever thought we could. That having the right people, process, and technology make all the difference in shapeshifting. That we will march on.
I'd love to know what experiences sprung from COVID-19 you found most inspiring. Let me know.