Salesforce Financial Service Cloud (FSC) received some exciting updates as a part o the Salesforce Summer '22 Release. We combed through the release documentation to compile this list of must-know updates to Salesforce FSC.
Interaction Summaries & Interest Tags
The ability to add the "Interaction Attendee" related list to Person Accounts and Contacts, coupled with Interest Tagging, will allow users to add Interest Tags to the Interaction Attendee record, which can be filtered in order to drive quick insights into customer interactions.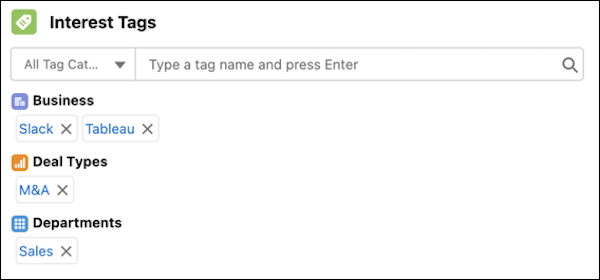 Actionable Relationship Center
Additional FSC improvements now allow the building of graphs with standard and custom objects, which can be displayed on page layouts leveraging the  "Arc Relationship Graph" component. Users can also edit nodes, show fields and object record actions.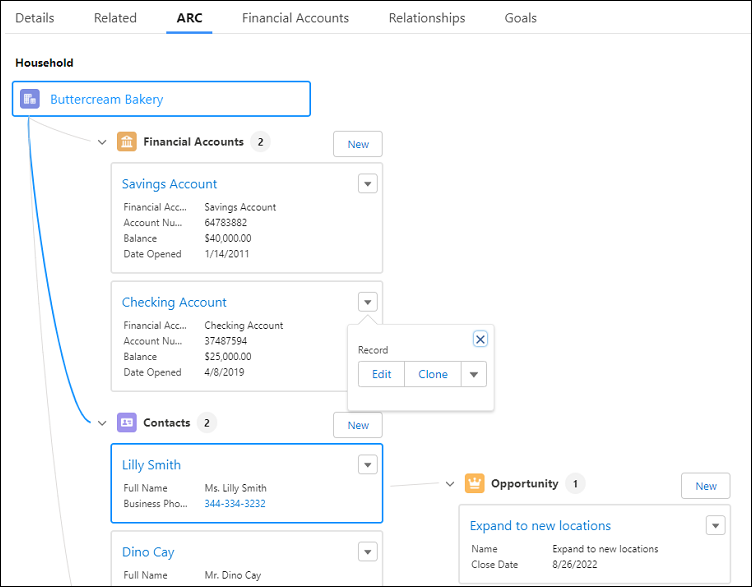 Discovery Framework
This provides a configurable framework that allows capturing Customer Information (KYC) and Analyze needs. This scalable assessment framework allows Financial Services Institutions to gather and validate customer information through digital and human channels, thus enhancing Customer 360 view.
Create & manage Question Banks: Create a question repository which acts as a single source of truth
Rich UI Capabilities: Create complex forms with field rendering logic out of the box. Drag and drop questions to easily create rich UI forms using power of OmniStudio
Deploy across Multiple Channels: Leverage multi-channel capabilities of Omnistudio for deploying the forms in a channel of your choice like mobile. Communities, portals and human assistant channels.
Audit & Version: End-to-End traceability of questions and responses for audit purposes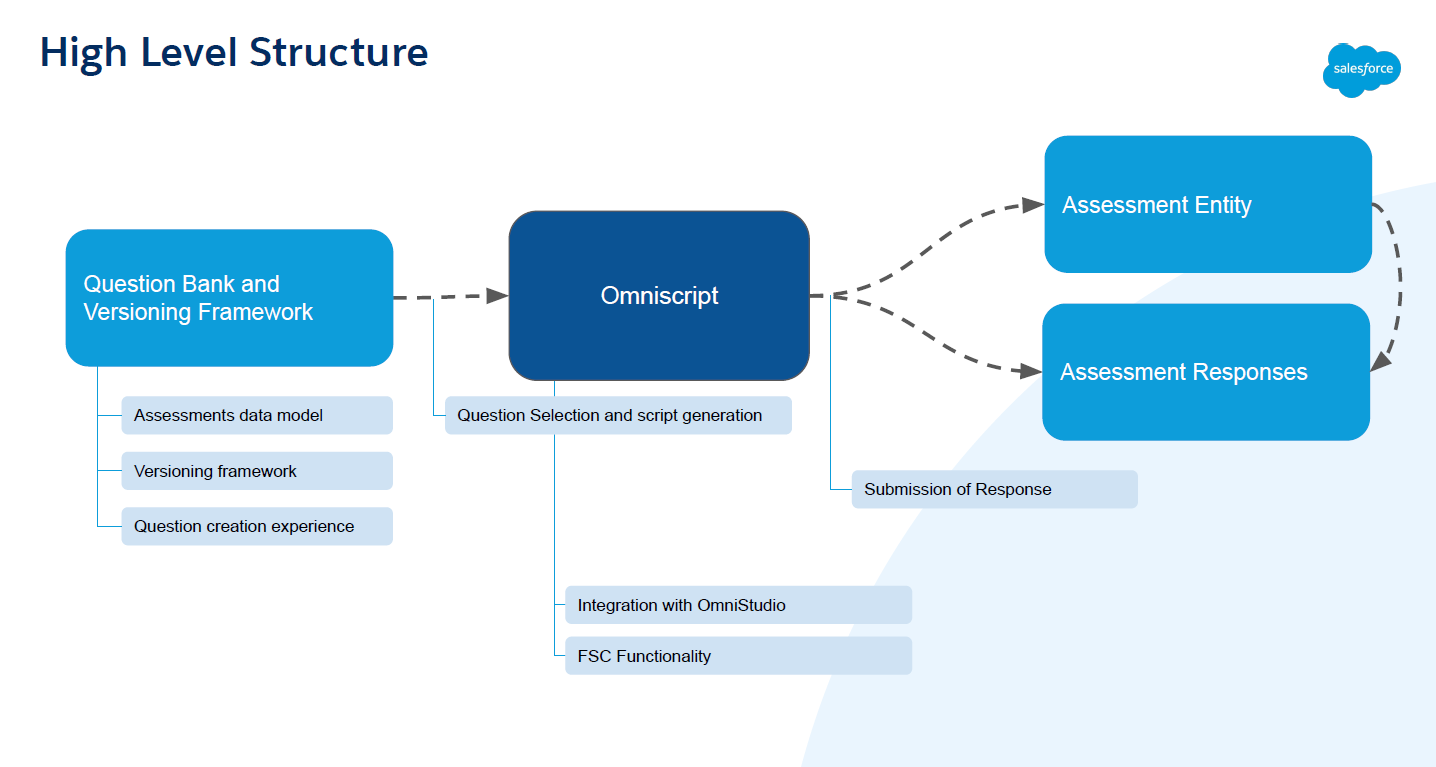 Financial Account 360 
Provide consolidated visibility of all Financial Accounts to gain rapid access to real time financial accounts information to provide superior service to customers.
Financial Accounts List – a New component with list of all financial accounts for a customer with the ability to expand each account to display additional  information
Financial Account Transactions – Display transactions for each financial account, search and filter transactions by Amount Range, Date Range, Keyword etc and pagination with upto ten transactions per page. This component works with transaction data in salesforce.
Financial Account Alerts – Surface alerts associated with financial account or any transaction
Financial Account details – A new component to display details of individual Financial Account
Built using Flexcards (Omnistudio) – Flexcards are available for banks to add to page layouts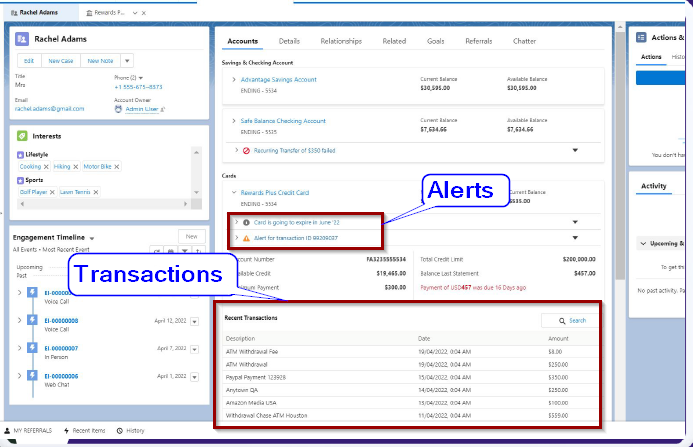 Industry Service Excellence
Record Alerts – Surface a true 360 degree view of the customer by displaying different flavors of alerts contextually.
Engagement – The Engagement Interaction capability provides Service Agents with visibility into current and past interactions with any customer, 360 context which translates to less repetition, better and faster resolution.
Identify Verification – A Flow that can be fully customized by admins and give Service Agents the ability to verify Customers when they contact the Support Center. Can also be configured to get verification data from an external source.
Timeline – Customizable component with ability to select what data to show by selecting fields and conditions. The component displays chronological listing of historical customer data for multiple anchor entities and data from related objects.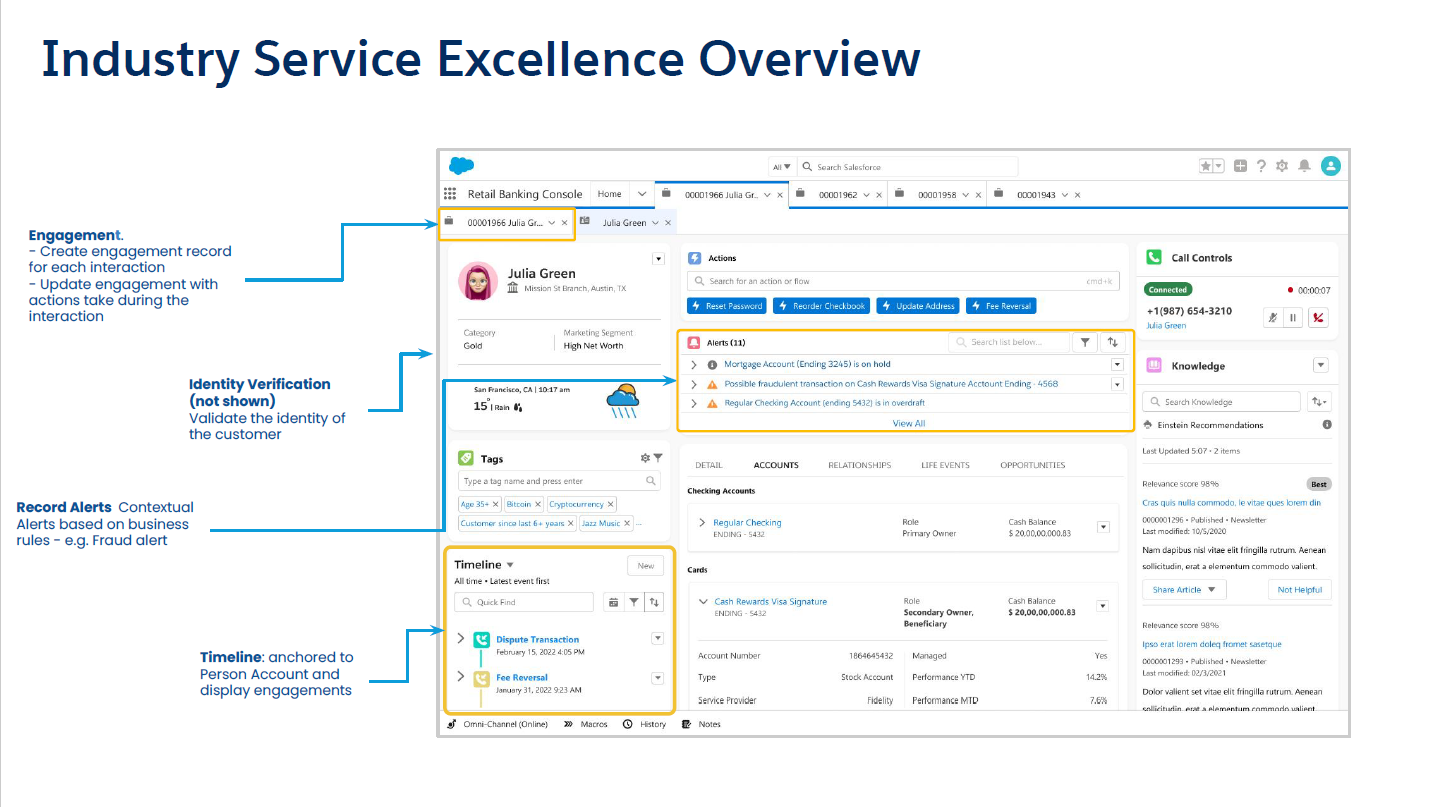 As a top-tier Salesforce partner, Zennify knows the Summer '22 Release inside and out and can provide you with a custom briefing.