What a week it was! This year marked nCino's 11th nSight, and its first in Charlotte, NC. It was my first time in the Queen City, so of course I had to fit in some exploring around the 3-day conference.
Day 1, Tuesday, May 9th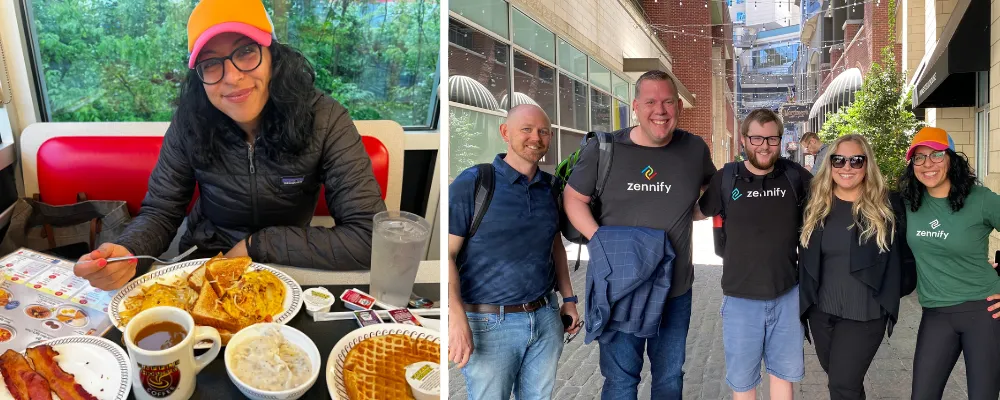 After arriving in North Carolina incredibly early in the morning, I made my way to the Southern cultural icon Waffle House for breakfast. Two notable takeaways: 
Waffle House has its own language with various ways to order hash browns (smothered, covered, scattered #iykyk)

It was the first of many times I heard, "I appreciate you," which really stuck with me and has now been integrated into my vocabulary
After a bit of exploring and a quick hello to the Zennify crew, it was off to the nSight Welcome Reception. Surrounded by dancers on stilts, music, beverages and more, our Zennify crew talked to many people at our booth about their current nCino usage, and had great detailed conversations about strategies to get more value from their platform (our nCino Optimization Services resonated big time).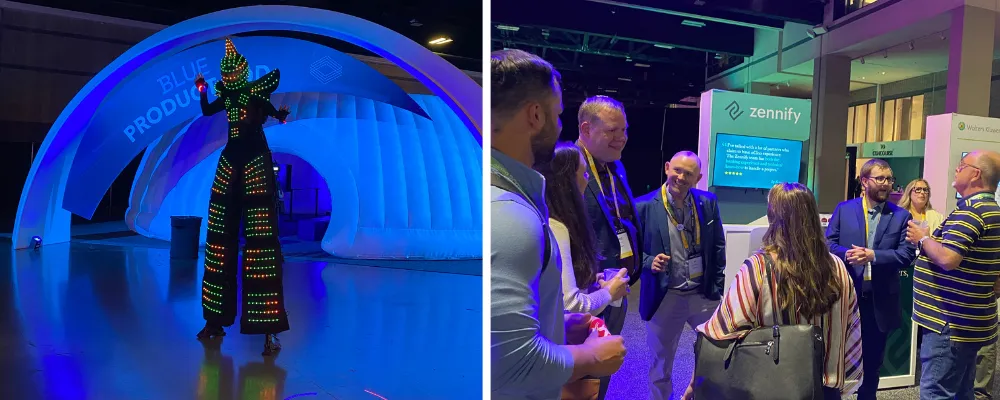 After the reception, Zennify hosted a VIP Happy Hour with RelPro. We loved hanging out with our clients, partners, and meeting new faces over bites, drinks, and conversation cards!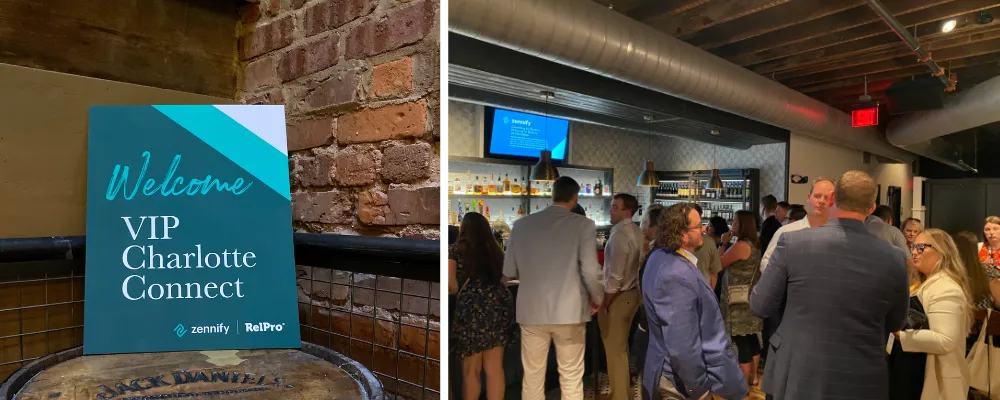 Day 2, Wednesday, May 10th
The nSight Keynote with CEO Pierre Naude kicked off day two with this theme loud and clear: intelligence and data are the future. Pierre said that we have to embrace these and automation as much we can for compliance, efficiency, and customer happiness. He also mentioned that the future is about portfolio management.
Pierre was joined by Well Fargo SVP Raj Sedani who talked about Wells Fargo getting live on nCino across four business units in less than a year! Raj shared that critical components to their successful launch have been:
Tech, product, business, and ops are all in it together; it is not a siloed initiative

Business change management has to happen up front

They they used change champions to create buzz early on
Taylor Nadauld, Chief Economist at nCino, shared some really interesting data and predictions, including that deposit concentration is clustered around a small number of people. "About 1%-2% of depositors at U.S. banks hold more than $250,000-but these uninsured deposits could represent more than 50% of the total deposits at a bank." He also predicted that inflation will cool in the back half of 2023 and that home sales would go back up as interest rates start to level out.
Wednesday night was nCino's big party at the NASCAR Hall of Fame, which was a neat venue featuring legendary cars from over the years.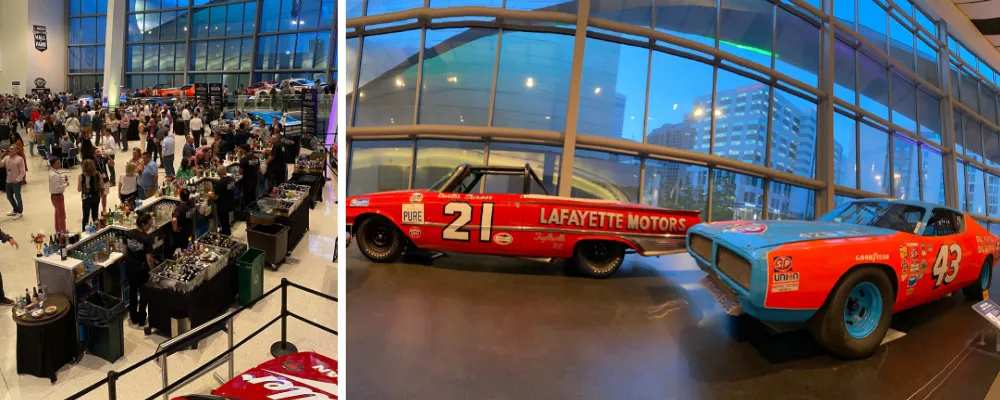 Day 3, Thursday, May 11th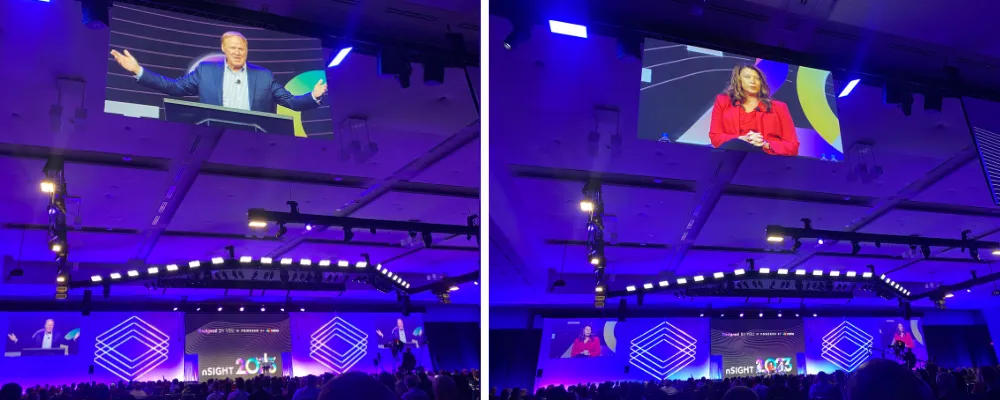 Day three kicked off with former NASCAR driver and Hall of Famer Rusty Wallace. Rusty focused on the importance of teamwork, recommending: "Have people around you that are smarter than you. Try to learn. Ask for help." He also mentioned that his car shops in Tennessee are successful in large part due to their focus on service after the sale. Rusty took questions from the room and had some wonderful moments with NASCAR fans asking to sign jerseys and recreate former photos.
We then heard from U.S. Bank about the ways in which they have been able to modernize their organization effectively and fast. A few nuggets about their approach:
Center of Excellence (COE) includes business plus tech

With 2+ releases a month, change management is critical and never ending

Put the decisions into the hands of the people that are most affected by them

Involved middle managers and frontline leaders

Get live, then keep releasing (don't wait for waterfall approach)

Use nCino data to make improvements, i.e. see where users are getting hung up in the systems, logins

Be the change you want to see! (credit Gandhi)
Afterwards, we heard from Australian bank Judo Bank, who shared some tips including:
Make a real case for customization or don't

Culture matters—every week they send a text check-in to their entire team and review sentiment in detail

Focus on purpose and context

Be front-lined obsessed; employee-focused

Make tech spend decisions based on outcomes
Breakout Sessions
Hands-Free Loan Origination
First step is to identify the segments of deals that require a medium level of touch

What are the key factors that are the best candidates for automation

Lastly need to identify where the guardrails are & what guardrails we're going to put in place

Figure out what components are structured with similarities across your business lines & see if you can automate them

Examples: Conditions, Policy Exceptions, Covenants

Make sure your admins & team have the understanding & capacity to maintain the automated process

Make sure the data you're using in your automation & decisions is good & quantifiable data
How to Navigate a Disruptive Commercial Real Estate Environment
Covid created an environment where banks were flush with cash & needed to lend capital; this caused a rush in the CRE environment

How can we restructure loans to keep in compliance with policy LTV when it's needed

Single system platforms, like nCino, create efficiency, data integrity, & data insights

New feature from nCino called Tenancy Management (Rent Roll)

Tenancy Snapshot

Cashflow Forecast (NOI)

Sensitivity Analysis

Using NIQ the Rent Roll, Excel docs can be brought into nCino & then brought into spreads

When adding periods, users will be able to pull in rent roll statements
Assessing Your Loan Portfolio Health
Why are reports & dashboards critical to your success?

Business value tracking

Transparency like never before

Drive adoption through data driven insights

Bottleneck identification

Platform optimization

What can you report on?

Production

Volume Growth

Conversion Rates

Pipelines

Operational

Workloads

Exception Monitoring

Upcoming Activities

Efficiency

Time-to-Approval

Time-to-Funding

Bottleneck Monitoring

Using SLA values to determine loans showing up on reports when their specific stage turn times exceed that SLA value

You will never be able to create the best version of a report/dashboard on day 1

Just get started and have something to build and iterate off of

Build your reports/dashboards in a way that enables your team to problem solve with data
Demo Portion
Industry Concentration reports

Having reports that are broken down by dollar amount or record numbers while also being drilled down further by product types

Surface your data using conditional highlighting
That's a Wrap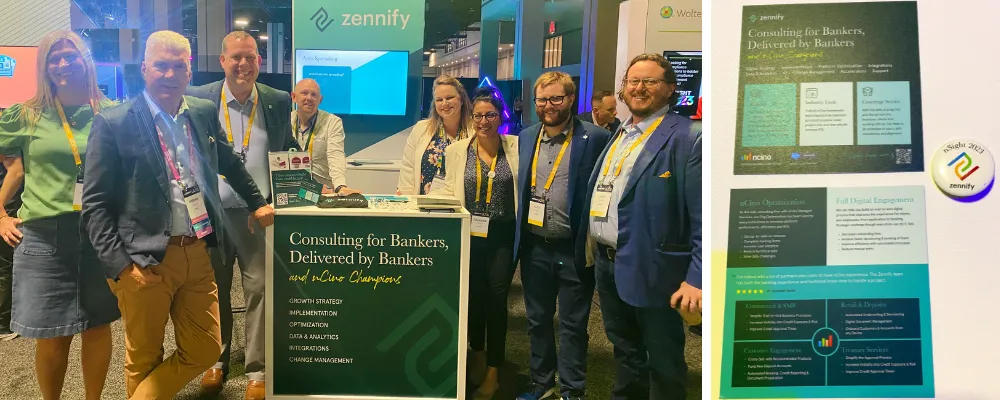 All in all, nCino put on a great event, full of learning, inspiration, and fun. In our conversations with Banks and Credit Unions, we heard loud and clear that there's room to realize even more value from the nCino platform. Zennify's nCino Optimization services resonated with many as a fast, flexible approach creating more business impact. 
nSight will be back in Charlotte, NC, next year, May 14-16, 2024, so mark your calendars!
If you'd like a debrief of nSight, don't hesitate to contact us.