Why should you care about Salesforce Financial Services Cloud?
If you are a leader of a financial institution in today's business world, then you are probably accustomed to frequently hearing the phrase "digital transformation." By offering a product specific to the Financial Services market, Salesforce Financial Service Cloud is positioned to enable financial services organizations as they move forward with their digital transformation.
First, let's clarify what we mean by "digital transformation." We can understand digital transformation as an ongoing cycle of managing information technology infrastructure, business processes, customer interactions, software applications, and data in ways that lead to better experiences for customers, vendors, employees, and most importantly, to the competitive advantage of a business. If this definition of digital transformation and its many facets sounds complex, then you're not alone. Digital transformation processes can be quite complex.
With that in mind, let's dig into it! In this post, we'll look at topics financial institutions should consider as they transition to Salesforce Financial Services Cloud. Whether or not your organization's switch to Financial Services Cloud will be from an existing Salesforce implementation, the below digital transformation areas are equally applicable:
Data Management and Governance—to ensure the accuracy and security of the organization's data
Robust Integration of External Data—to enable current IT infrastructure's efficient incorporation of external data sources into the business' overall data management framework
Modern Data Architecture—to fulfill requirements of storing critical business data and also securely analyzing and reporting on that data.
In short, digital transformation for financial institutions means "getting the most value out of your technology infrastructure" (and doing it quickly!) so that you can keep up with the rapid pace of business change.
Does that sound ambitious enough? So, how can financial organizations plan for digital transformation using Salesforce Financial Services Cloud?
Study the Data Roadmap
In order to properly do Data Management and Governance, your organization will need to understand the Financial Services Cloud Data Model—the data model to which you'll be migrating. In a very practical sense, you'll need to know where your current system's valuable data will migrate over to Financial Services Cloud.
How can you get better acquainted with this Data Model? We're glad you asked! If you are a current Salesforce customer, you can use the Financial Services Cloud Transition Assistant, built by Zennify for Salesforce.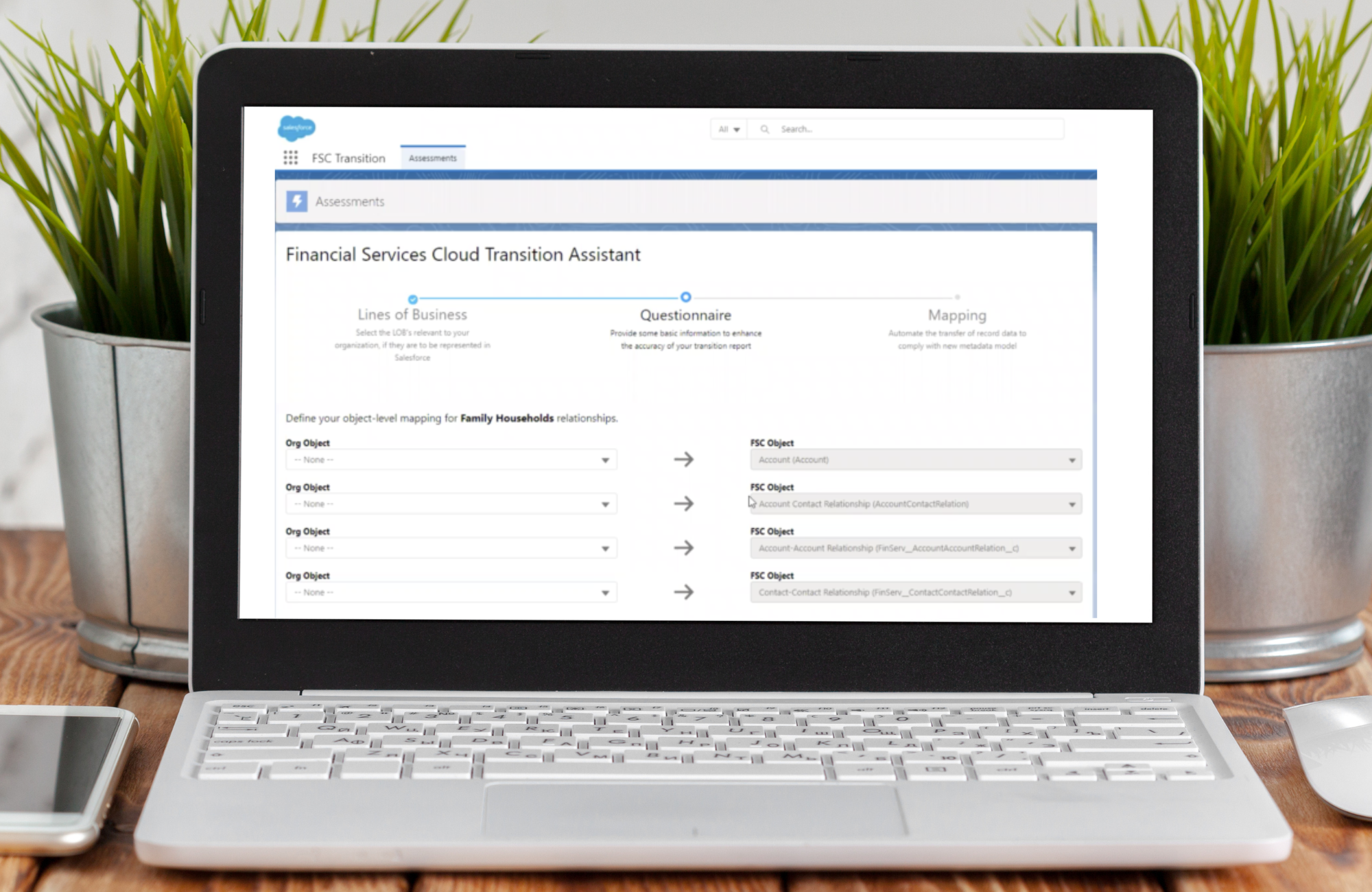 The Financial Services Cloud Transition Assistant can be run in a Salesforce Sandbox at no cost and produces a detailed report on the fastest path to migration with the lowest risk. Also, please note that your actual Salesforce data is never accessed by the Transition Assistant Tool.
The bottom line: The Financial Services Cloud Transition Assistant (along with Salesforce Product documentation and User Guides) can remove significant barriers to a smooth migration process.
Sample Financial Services Cloud Transition Assistant Tool Assessment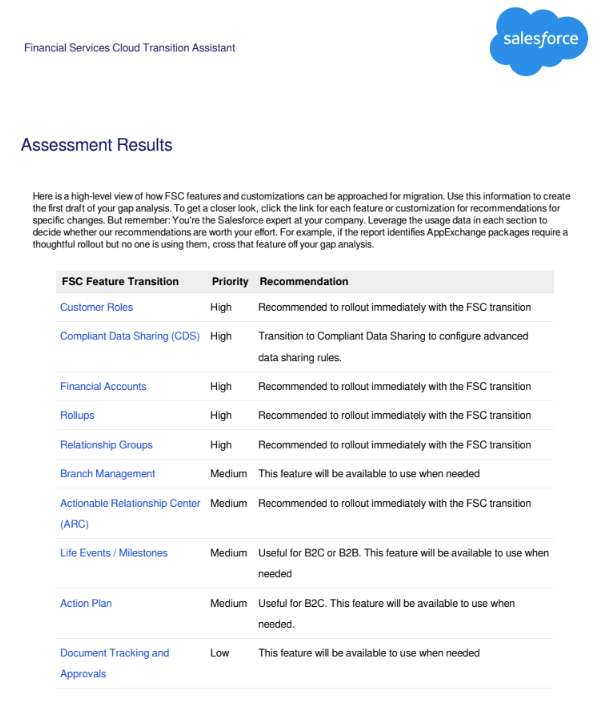 Get to Know Financial Services Cloud Features
Financial Services Cloud includes innovative User Experience and Productivity features that are purpose-built for Financial Institutions.
Take the following two specific features as an example:
Relationship Components:

these User Interface components provide Salesforce users with the complete picture of your customer's accounts, transactions, and needs.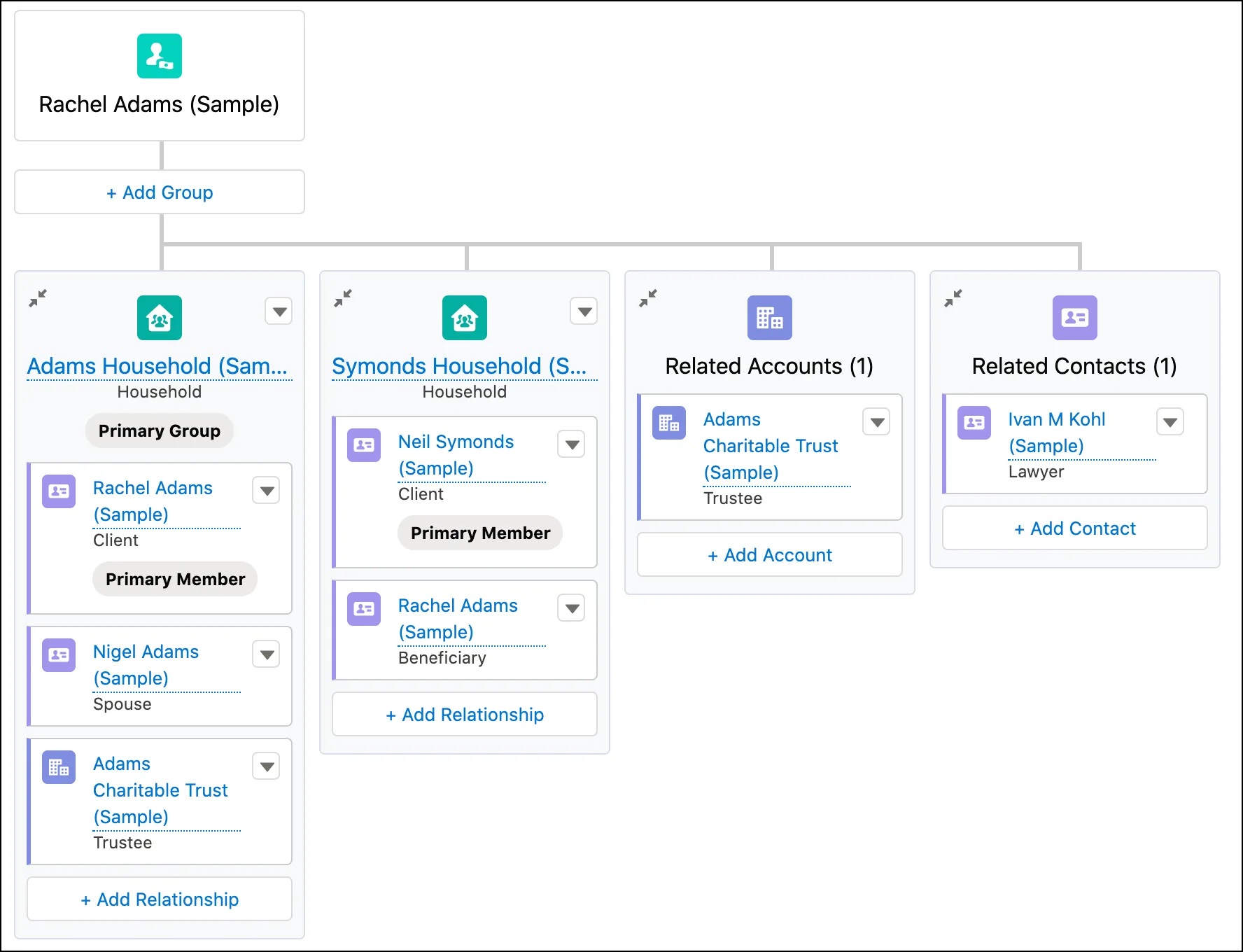 CRM Analytics Dashboards: embedded directly into Financial Services Cloud, these dashboards empower users to make more informed client decisions all within a single, integrated application. The dashboards surface key information can be used to turn an insight into an action right away.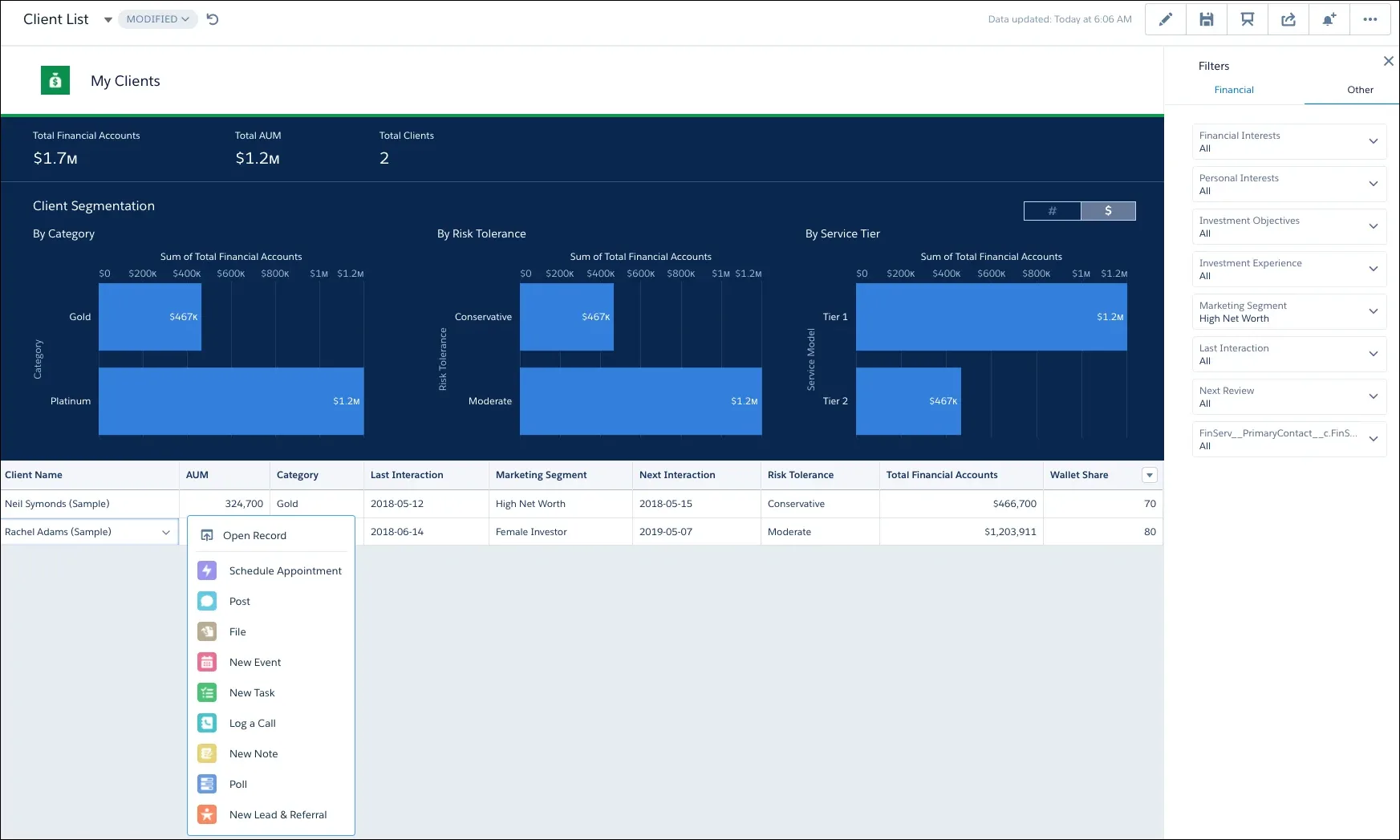 To read more on what Financial Services Cloud offers to financial customers, check out this resource: Virtual Banking: Get a seamless experience & one view of the customer
The bottom line: When your representatives have a more comprehensive view of your financial customers and can proactively generate leads, referrals, and cross-sell opportunities, they can use that advantage to better serve customer needs—and grow your business.
Can these Clouds Communicate?
Zennify's experts are experienced in Salesforce Financial Services Cloud data integrations. We have developed and implemented dozens of Financial Services Cloud integrations for our customers. Integration of External REST APIs, financial document generation, document storage management, and custom User Interface component development are a small sample of our capabilities.
Also, Zennify has developed an application that enables customers to configure external integration services using best practices: the API Integration Utility. Zennify's API Integration Utility is available in the Salesforce AppExchange.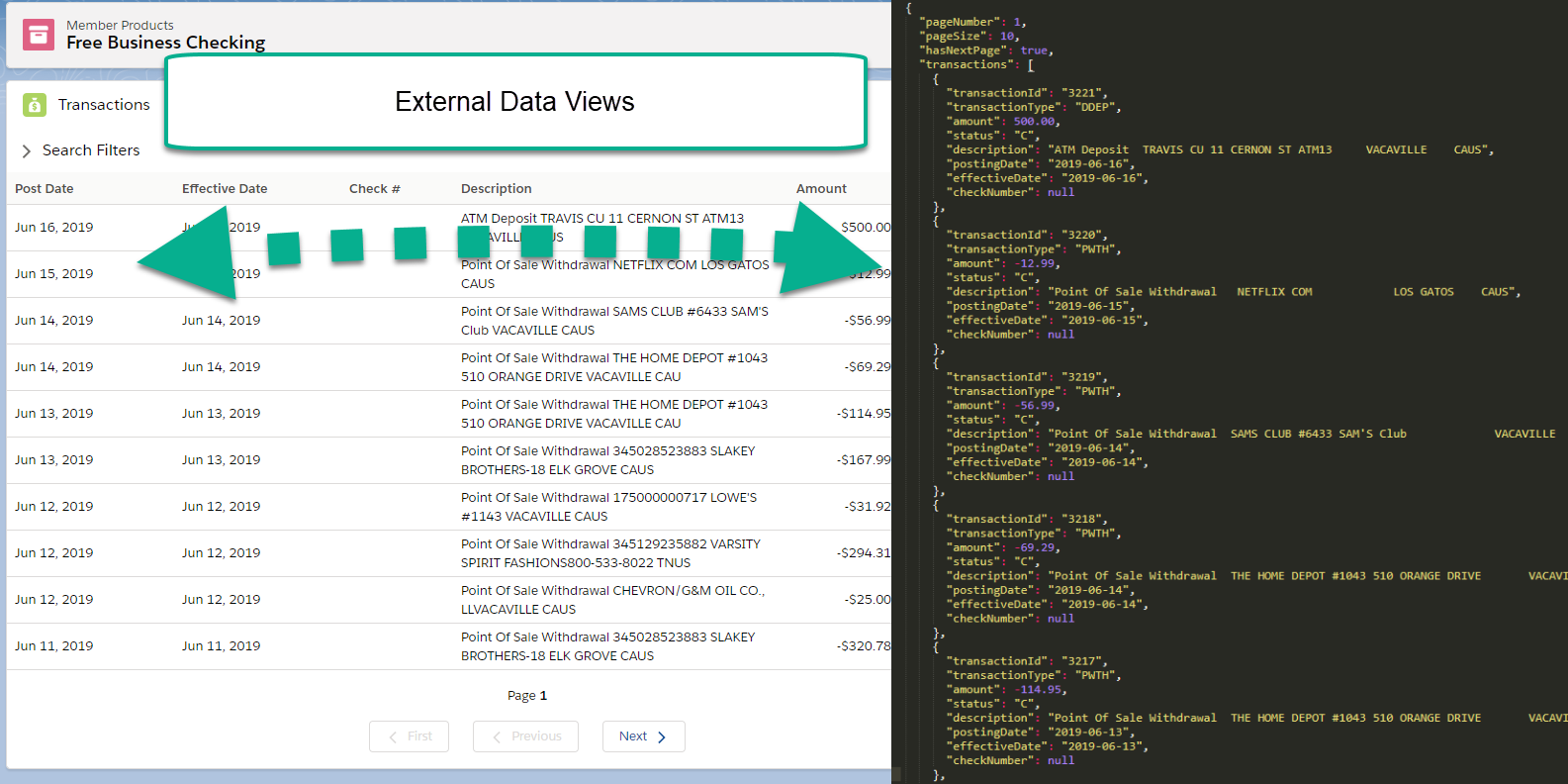 The bottom line: In today's competitive and changing environment, integrating external data sources must follow best practices. Zennify can help you with your Financial Services Cloud integration needs.
Get Value and Insight From Your Data
Plan to do more than simply re-creating your existing reports in the new Financial Service Cloud CRM? It is, of course, vital data governance to maintain data fidelity, but you also need a modern data architecture to surface critical business insights, measurements, and metrics.
Prepare to leverage Financial Services Cloud features and capabilities to amplify your CRM Analytics and unlock the value of your data–check out our latest Zennify Guide for more information: How to Use Your Data for a Trusted Customer 360

The bottom line: Set your organization up to succeed with a plan to grow towards a modern data architecture. It can be an incremental journey, but the time to start is NOW!
What's Next?
To summarize our overview of digital transformation in the context of migrating to Salesforce Financial Services Cloud, here are three action steps to take:
Our Financial Services Implementation Team has worked on the most complex of projects, including data architecture, data migrations, and integrations. We're here to help you with best practices and considerations when migrating to Financial Services Cloud.

Use the Salesforce Financial Services Cloud Transition Assistant Tool or reach out to our team for more information.

Dive into this Advisory Guide on Modern Data Architecture and plan your organization's vision for Financial Services CRM Data Architecture.

Have questions about Salesforce Financial Services Cloud?
We're here to help you with best practices and considerations. Get in touch with our team of experts to learn more!